Jonny Bairstow's hopes of playing in the Champions Trophy have been dealt a blow after Eoin Morgan, England's limited-overs captain, indicated the only way the Yorkshireman will get into the team is as an injury replacement.
Bairstow produced a stunning display of power hitting against Ireland at Lord's on Sunday, bludgeoning 72 from 44 balls to help England to a total of 328 that set up an 85-run win.
England's Test wicketkeeper had warmed up for the two-match series against Ireland by hitting 174 for Yorkshire in a Royal London One-Day Cup match against Durham last week.
However, such is England's batting depth, Bairstow is still likely to find himself on the sidelines when the Champions Trophy starts next month despite his rich vein of current form.
The 27-year-old has been one of his country's most consistent performers with the bat in Test cricket over the past 18 months. He has rarely failed when given the chance in 50-over cricket either.
But his route into the side is blocked by a succession of power hitters who have helped England establish themselves as one of the most exciting 50-over teams in the world over the past two years.
Bairstow played as a specialist batsman at No5 in the two matches against Ireland, but that was only because of the absence of Ben Stokes and Jos Buttler at the Indian Premier League.
Once that pair return, Bairstow could be shifted down to seven and remain in the team if England play one spinner – as they did against Ireland.

The fact Stokes is an all-rounder means England would not be a bowler short – especially with Joe Root performing so well as a second spinner against Ireland.
But Morgan has stated the all-round abilities of Moeen Ali, dropped for the Ireland matches, would offer more value.
"With Ben coming back into the side it allows us to play another all-rounder in the side with Mo at seven," he said.
"To justify an-out-and-out batter at seven, I'm not sure you can. The number of balls faced at seven, the spread on them is very small so over the course of say 10 games, if he faces 40 balls in one game is he going to face 40 balls that will win you a game, or could your all-rounder go in, do the same job, and then contribute more with the ball?"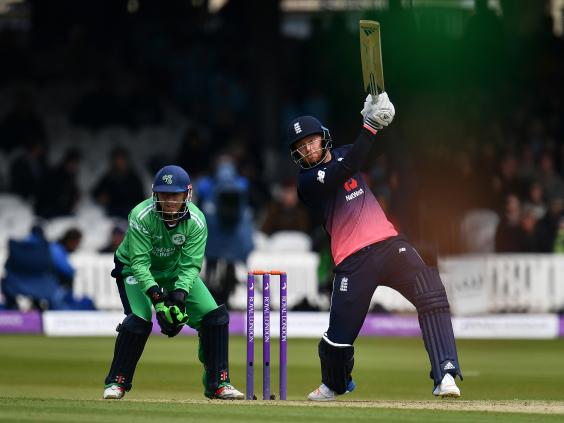 Challenged that Bairstow's 44-ball contribution at Lord's more or less won England the game, Morgan replied: "Yes but you can't guarantee that and how often would he be used? We've a really strong batting line-up, particularly when Stokes, [Chris] Woakes and Buttler come back in. To have Woakes coming in at eight, it is hard to justify [Bairstow at seven]."
So the only way Bairstow will play in the Champions Trophy is as an injury replacement? "It is looking like that at the moment, which is unfortunate for him," admitted Morgan.
Bairstow's plight is illustrative of just how strong England's chances are of winning a first major 50-over title when they host the Champions Trophy.
However, Morgan, speaking at the launch of NatWest's 'Cricket has no boundaries' campaign, says the comment last week from Sam Billings that the rest of the world are "petrified" of England are wide of the mark.
I think Sam is rediscovering the word 'petrified'. That is not true at all.
"I think Sam is rediscovering the word 'petrified'," he said. "That is not true at all. We are not favourites coming into the tournament.
"Experience wise we are further behind sides like India, Australia, who always go in as favourites for a big tournament.
"I think we need to earn the tag 'favourites' by beating top sides more often - we have not done it enough."
The eyebrow-raising comment from Billings on the eve of the first ODI against Ireland in Bristol last week was, according to the Kent player, the result of dressing-room talk he had been party to during his time in the IPL.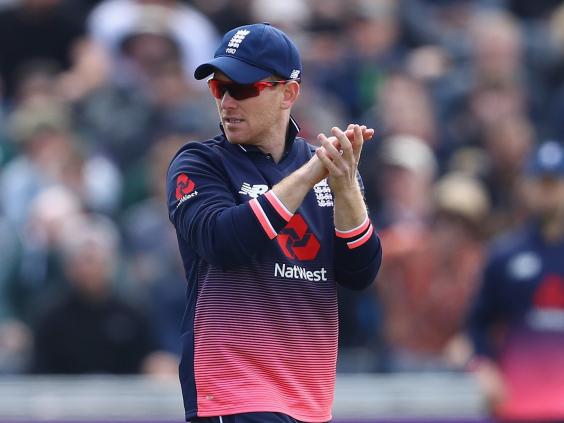 That's a tournament Morgan returned to on Monday evening, the Middlesex batsman deciding playing three T20 games for the Kings XI Punjab is better preparation for a home Champions Trophy than featuring in the Royal London One-Day Cup for his county.
It's an odd decision, especially as Morgan will return to India for just six days before flying back to the UK ahead of England's four-day training camp in Spain starting next Tuesday.
"This year is probably the hardest year to justify going back to India," he said. "But I've stuck to my guns and I still maintain that I always come back from India either striking the ball better or I'm more confident as a player.
"Whether I'm playing or not or working on my game or not it helps. When I come back I just feel like I'm good to go and I've no idea why."
Eoin Morgan was speaking during the launch of NatWest's 'Cricket has no boundaries' campaign which celebrates the sport's inclusivity. NatWest is the new Principal Partner of England Cricket having supported the game since 1981. Find out more at natwest.com/cricket #NoBoundaries
Reuse content