Just when England were wondering where their next wicket was coming from in Mohali, along comes two brilliant bits of fielding to keep them in this Test, the best of them by a wicket-keeper freed of his gloves. 
It was looking forlorn for England two thirds into day two at Mohali. Having gifted India most of their wickets the previous day, their bowlers and captain had tried everything they could in benign conditions to part Cheteshwar Pujara and Virat Kohli, whose alliance had taken their team to 148 for two at tea.
The pair have already been England's nemesis during this series but having resisted any of the soft dismissals that typified England's innings, Pujara suddenly got greedy in the first over after the break, when he tried to hit a long-hop from Adil Rashid for six.
The ball, the worst Rashid had sent down all day, could have been hit just about anywhere for four. But Pujara fancied two more runs for his troubles and tried to clear mid-wicket boundary, which at Mohali happens to be one of the biggest in India. 
Fortunately for England he didn't quite middle it, though it still needed a brilliant, running, tumbling catch from Woakes, who snaffled the ball just inches from the ground, to turn the batsman's avarice into a mistake.
The wicket was wholly against the run of play and scarcely deserved, given how bad the ball was. England had already dropped two half chances but this proved a redemptive and transformative bit of fielding from Woakes, one of a number of fine athletes in the England side.
It certainly lifted Rashid who until then had bowled well with only the wicket of Parthiv Patel to show for his endeavour. Six balls after his fortunate scalp he bagged a third, trapping the out of form Ajinkya Rahane lbw with a googly the batsman clearly did not pick. For some reason Rahane reviewed it but Hawkeye was damning in its judgment.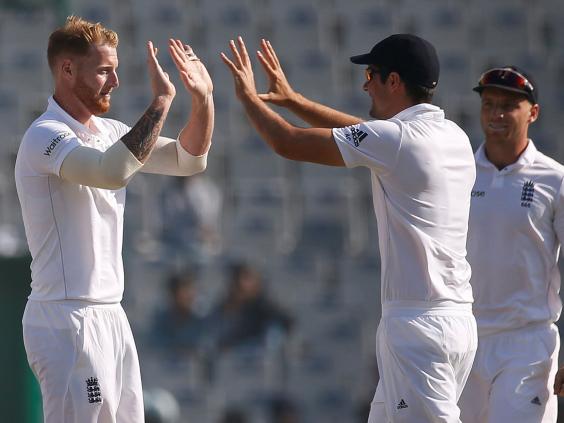 England's next wicket showed the versatility of their all-rounders and the value of them. Although shorn of his gloves, Jos Buttler, who had earlier dropped Murali Vijay at mid-wicket, a tough diving chance that he might have been better going for one handed (his keeper's instincts meant that he went with both hands), showed he is no slouch in the outfield. 
It was another wicket from nothing, after Kohli had pushed a length ball from Woakes into the covers. Although thinking about a run, India's captain did not seem to call despite advancing several yards down the pitch. Unfortunately, his partner, Karun Nair, a young man making his Test debut, was drawn down the pitch as a result, too far to regain his ground once Buttler's brilliant diving stop and throw had struck the stumps at the bowler's end.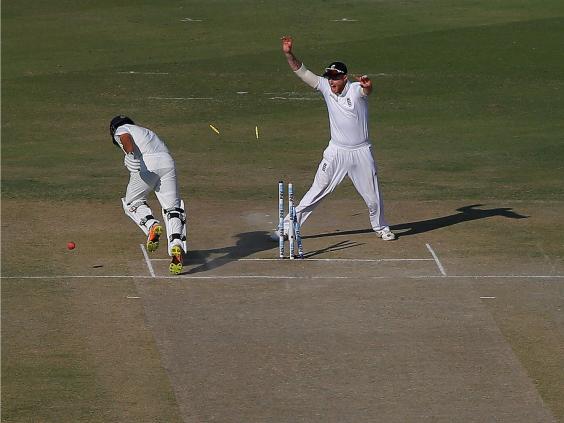 The sloppiness of India's cricket deserved to be punished but it needed a moment of brilliance that had many moving parts. First there was the impressive, diving stop. Then, with ball in right hand, there was the cobra-like rearing up to throw, which then possessed the accuracy, from 20 yards, to strike the stumps. Coaches will tell you such moments are why players practice so hard, but there was an inspirational element to Buttler's run-out rarely found on the training ground.
It ended three overs of madness for India in which they lost three wickets for eight runs. From a position of seeming dominance they had let England back in, all because of a few lapses in concentration.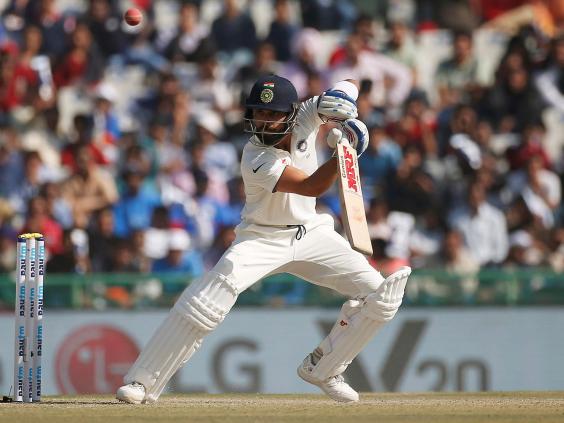 Kohli would have felt the weight of his fault, and looked determined to bat as long as he could to make up for it. But with India's captain ever impetuous, Alastair Cook had been preying on his patience by setting a seven to two off-side field, and having his pace bowlers hang the ball outside Kohli's off-stump. 
It was a battle of wills which was eventually won by Ben Stokes when Kohli edged behind after trying to nudge the ball down to third man. Stokes celebrated by turning his back on Kohli with whom he'd had a few words the previous day, words harsh enough for the International Cricket Council to hand Stokes a demerit point as a punishment.
Stokes now has two of those and will receive a one match ban should he receive two more within a 12-month period. But while he is often the team's hothead, airing its frustrations, it was England's calm and calculated tactics, elevated by some some inspirational fielding, that has kept them in this nip and tuck Test match.
Reuse content