England's labours brought them a solitary wicket in two sessions as India batsman Cheteshwar Pujara passed his century on his home ground just after tea on day three of the first Test.
After the early departure of Gautam Gambhir to Stuart Broad, Pujara (99 not out) and Murali Vijay (86no) took over in an unbroken stand of 160 to help their team to 228 for one in reply to 537. Pujara immediately ran the single he needed to bring up his century in the opening over after tea.
There was a false dawn for England in Rajkot when Broad provided them with an instant breakthrough on an otherwise barren morning.
India lost Gambhir to the first ball of the second over, only for his fellow opener Vijay and Pujara to shut the door for the next 55 overs - underlining the impression that, despite England's own fine efforts with the bat, it will be a tough task to take 20 wickets for victory in this series opener.
Broad struck immediately in the second spell of his 100th Test.
Gambhir had few problems the previous evening, and safely negotiated the first over of the day from Moeen Ali, but got himself in a tangle against Broad.
The left-hander thrust his pad into line and his bat nowhere as a delivery from round the wicket hit him bang in front. Sensibly, there was no review.
New batsman Pujara quickly got the better of Moeen.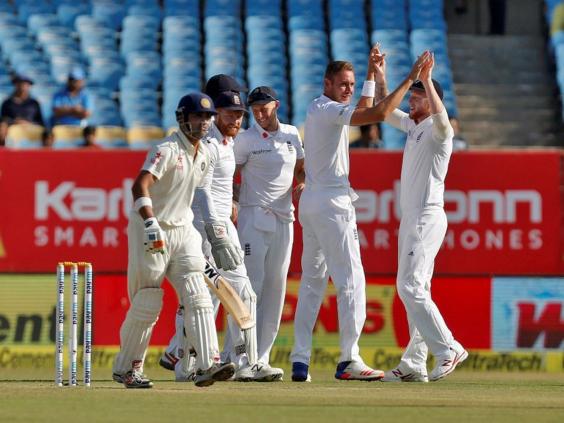 He made one flighted ball into a full toss with quick footwork, his expert placement beating the leg-side field for four; then the off-spinner dropped short and was cut for a second boundary in the over.
Alastair Cook brought Zafar Ansari on instead, and Vijay deposited the left-armer's second ball over long-on for his first of two sixes off him.
Chris Woakes replaced Broad, and tested Pujara with the short ball - hitting him twice on the helmet and once on the shoulder.
Three counts maybe, but India's consummate number three was far from out.
England have been pinning their hopes on an accelerated deterioration of this pitch, for their spinners especially.
But there was precious little sign of it yet.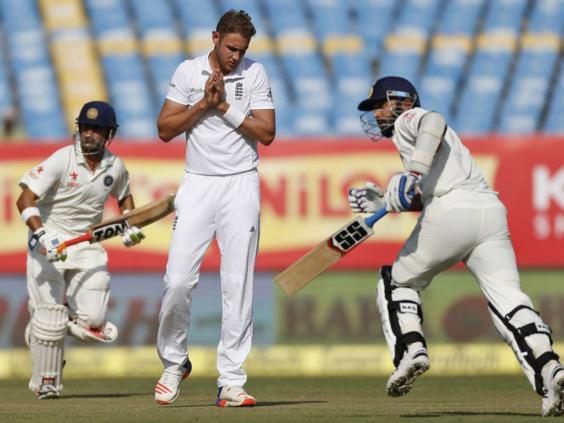 Cook deployed some inventive fields for Broad's afternoon spell, and gave Adil Rashid eight overs too, but the wicket would not come for either.
India's only mistake brought a dropped chance when Haseeb Hameed failed to hold on diving to his left at cover after Vijay mistimed a drive at Broad on 66.
The reintroduction of Ansari brought a close call too, an initial lbw verdict in fact as Pujara played outside one that hit the back leg when he had 86.
But India had reason to be thankful for DRS, adopted by them in this match for the first time, when Pujara called for a review which demonstrated the ball would have bounced over the stumps.
PA
Reuse content