Paris Saint-Germain right-back Serge Aurier has been ruled out of the Champions League clash with Arsenal on Wednesday after he was refused entry to the United Kingdom, according to the Ligue 1 club, with the Ivory Coast international barred from crossing the border due to a recent conviction.
PSG have accused British authorities of an "incomprehensible situation that attacks the very integrity of the Uefa Champions League" after a decision was made to refuse Aurier entry to the UK as the rest of the PSG squad travelled to north London, with the footballer denied a visa due to an assault conviction.
Follow The Independent's live coverage of Tuesday's Champions League action here
A club statement read: "Due to a sudden about-face by the British authorities, Serge Aurier has not been allowed to travel with Unai Emery's squad for the clash away to Arsenal. Paris Saint-Germain is stunned by this incomprehensible situation that attacks the very integrity of the Uefa Champions League."
23-year-old Aurier was arrested in May this year and found guilty in September of assaulting a police officer outside a nightclub in Paris after being stopped to take a breath test . Aurier was given a two-month jail sentence, though he remains free pending an appeal, and given a €600 [£521] fine.
Aurier was also ordered to pay damages of €1,500 [£1,304] to cover the court costs, although he denied the charge and argued that he was a victim of police violence.
He has appealed against the judgment, his French club said, declaring that on such a basis he should be presumed innocent.
PSG also say they have the support of Uefa, European football's governing body and the organiser of the Champions League.
The Ligue 1 champions said Aurier had been initially granted permission to travel with the rest of the squad to London, before a decision last Wednesday reversed the ruling.
The statement added: "After an initial application on 18 October, complete with all the necessary documents, the British authorities had originally granted Paris Saint-Germain's Cote d'Ivoire international an entry visa to the UK on 21 October. However, on 16 November, his visa was finally revoked by the British Ministry of the Interior (Home Office), who justified their about-face by citing Aurier's conviction on 30 September, 2016.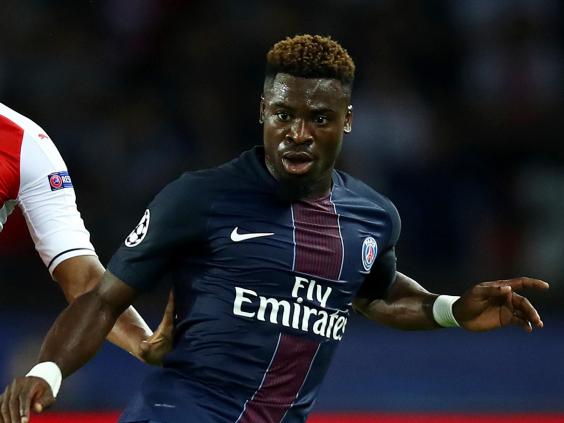 "Paris Saint-Germain had, in all transparency, informed the British authorities of this conviction, as well as Aurier's appeal against this decision (and the legal suspension of the ruling) from the outset.
"The club has argued several times that since the player has launched a legal appeal against the criminal ruling, he is therefore entitled to the presumption of innocence, as any other person exercising their right to appeal.
"Paris Saint-Germain strongly regrets that the presumption of innocence has not influenced Britain's decision. On several occasions, UEFA has also transmitted its total support of Paris Saint-Germain to the British authorities regarding this case, in order to preserve the integrity of its competitions.
Manchester United vs Arsenal player ratings
Manchester United vs Arsenal player ratings
1/22 David de Gea - 4 out of 10

With Arsenal scoring their only shot on target, it's not been the best day for the Spaniard. He had very little to do throughout.

2/22 Antonio Valencia - 8 out of 10

Performed exceptionally today, looking strong going forward and defensively.

3/22 Phil Jones - 5 out of 10

Did the simple stuff well at the back, but looked slow defensively at times.

4/22 Marcos Rojo - 6 out of 10

Defended well throughout proceedings, played safely and used possession well from the back.

5/22 Matteo Darmian - 5 out of 10

A mediocre performance from the Italian. He was lunging into challenges, despite already being armed with a yellow card.

6/22 Michael Carrick - 5 out of 10

The skipper played a very standard performance today. He played his role well and stuck to his position.

7/22 Ander Herrera - 7 out of 10

His work rate was faultless and he influenced play in the middle of the park – good overall performance.

8/22 Paul Pogba - 6 out of 10

He appeared to patrol the middle of the park in the first half, but in the second half he seemed to go off the boil. He did not make many chances and lacked any attacking prowess.

9/22 Juan Mata - 8 out of 10

An exceptional performance from the Spaniard today. His goal was an example of his immense technical ability and he created chances throughout.

10/22 Anthony Martial - 6 out of 10

A somewhat quiet performance from him today, but he showed glimpses of brilliance in the first half with a number of strikes that tested Cech.

11/22 Marcus Rashford - 6 out of 10

Despite being caught out for the late Arsenal goal, his performance throughout was positive. He attacked confidently and his crossing was inviting problems for the Arsenal defence.

12/22 Petr Cech - 6 out of 10

He made a number of important saves in the first half, but was out of position when Mata broke the deadlock.

13/22 Carl Jenkinson - 4 out of 10

It was a somewhat uncomfortable performance from him today, as he looked slow and unable to keep up with the pace of the United strike force.

14/22 Laurent Koscielny - 6 out of 10

He did well in the air today, but the United attack got the better of him at times as he was caught out of position.

Phil Noble

15/22 Shkodran Mustafi - 5 out of 10

It was an incredibly mediocre performance by the German. He did well in possession, but that wasn't enough at times.

16/22 Nacho Monreal - 5 out of 10

A questionable penalty call in the first half was the main incident for the Spainard. He failed to show his defensive ability against the quality of United going forward.

David Klein

17/22 Francis Coquelin - 6 out of 10

Made a number of important tackles, but it wasn't enough to stop his opponents running the midfield battle.

18/22 Mohamed Elneny - 4 out of 10

The Egyptian made a few unneeded and mistimed challenges and failed to show any sign of threat when going forward.

19/22 Aaron Ramsey - 5 out of 10

He had very little of the ball throughout, and when he did he failed to do much with it.

20/22 Mesut Ozil - 5 out of 10

Taking into account his huge talent, it was a rather dim performance. He failed to create chances and feed Sanchez which resulted in Arsenal having no spark going forward.

21/22 Theo Walcott - 4 out of 10

A very quiet performance from the winger today. He saw very little of the ball and was regularly caught playing too narrow which left Arsenal with no width to their attacks.

22/22 Alexis Sanchez - 6 out of 10

He looked dangerous when in possession, but a lack of service did not allow him to make a real impact on the game.
"The club also deplores that the final decision of the British authorities was only communicated at 14:00 CET on Tuesday, despite the club working for the last six days to find a solution to enable our player to travel with his team-mates to London. Paris Saint-Germain considers this extremely tardive response as a flagrant lack of respect for the club, given that its player could have been training with the team just hours later at Emirates Stadium.
"In the face of this decision, albeit difficult to understand in respect to European law, Paris Saint-Germain, who had planned to travel to London with its strongest possible squad, invites its fans to be more united than ever, in support of their club."
Additional reporting by PA
Reuse content