There are better ways to ease your way into the season than by playing 90 draining minutes away in Istanbul, under the heavy pressure of a fervent crowd and an incisive opposition, and coming away with bookings, knocks, and a red card.
But Arsenal came away with a clean sheet too, and while Arsene Wenger admitted he is worred about what this means for Saturday's trip to Everton, with captain Mikel Arteta likely to miss out, he should be confident about beating Besiktas at home next week and, more to the point, proud of his players.
Arsenal showed impressive character here to contain Slaven Bilic's brisk, feisty, dangerous side. Wojciech Szczesny made some good saves – one after just six seconds, while Calum Chambers, on his Champions League debut, was almost flawless in his shackling of Demba Ba. The midfield, often over-worked, fought ferociously and had to do even more after Aaron Ramsey's unfortunate dismissal with 10 minutes left.
There might even be a tinge of frustration, amid the pride, that Arsenal did not score the away goal that would have almost confirmed their passage into the group stage before next week. Alexis Sanchez was thrilling on the counter-attack in the first half, but is still cajoling his team-mates towards his wavelength, while Alex Oxlade-Chamberlain came closer than anyone when he hit the post in the dying moments.
Besiktas were the more dangerous side but they will also be the more disappointed. They come back to the Emirates next Wednesday, and the omens are not in their favour.
Arsenal player ratings vs Besiktas
Arsenal player ratings vs Besiktas
1/12 Wojciech Szczesny

Nearly caught out after just five seconds by Demba Ba's stunning kick-off effort, but made a couple of fine saves as the game progressed. 6/10

2/12 Mathieu Debuchy

A less attacking shift than usual. 5

3/12 Calum Chambers

For the majority kept to his task diligently alongside Koscielny. 6

4/12 Laurent Koscielny

Given a torrid time by Demba Ba in the first half but settled into the game more in the second. Handed the captain's armband after Arteta went off. 6

5/12 Nacho Monreal

A solid, if unspectacular performance. 6

6/12 Jack Wilshere

Grew in dominance as the game wore on. 7

7/12 Mikel Arteta

Night ended after ankle injury from clash with Demba Ba. 5

8/12 Santi Cazorla

Tricky run nearly warranted a goal but sliced his effort wide. 6

9/12 Alexis Sanchez

A menace that Besiktas could contain but not fully clicking with team-mates yet. 7

10/12 Aaron Ramsey

His delightful pass deserved a goal from Giroud. Two bookable offences saw his night end after 80 minutes. 6

GETTY IMAGES

11/12 Olivier Giroud

Touch eluded him when he needed it most in front of goal. 5

12/12 Best of the bench: ALex Oxlade-Chamberlain

Mesmerising run into the box deserved a goal, but shot tipped onto the post. 6
Arsenal are rather adept at overcoming these early-season hurdles; a reward, of sorts, for specialising in fourth place. They had won all 12 matches – and six ties – before last night's draw, and few of them were ever in doubt. Last year, they also came to Istanbul, to play Fenerbahce at the Sukru Saracoglu stadium, and won 3-0.
This was a different setting, not boxed-in, in central Istanbul, but out of town at the windy spacious Olympic Stadium, better known for hosting Liverpool's 2005 Champions League final victory. The Besiktas fans have to make this open bowl their own for now, but they did a good job: the noise beforehand was so loud that some Arsenal players had headphones on when they first came out onto the pitch, over an hour before the game started.
Arsenal hoped to subdue the atmosphere early on but in fact the opposite happened: Demba Ba spotted Wojciech Szczesny off his line from kick-off and shot, forcing a desperate backward scramble to prevent a six-second opener.
That ignited the home support – the Besiktas fans have already taken Ba to heart – and Arsenal were immediately pinned in by waves of noise and waves of attacks. Besiktas played brisk, intricate football, threatening to slice Arsenal open.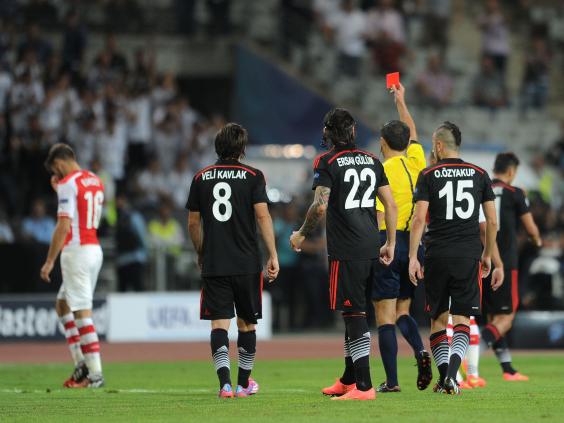 At this point it must have come as a relief to Arsene Wenger that he picked his strongest side, rather than preserving legs for Saturday's trip to Goodison Park. Calum Chambers, already looking like a senior centre-back in just his third performance there, handled Demba Ba well for the most part. Ba, who looked close to his athletic, imaginative best, got free to shoot twice in the first half: the first time, Szczesny dived to his left to save the volley, the second, just before the break, Ba skewed wide of the near post.
Digging in at one end, with just enough success, Arsenal tried to play on the counter-attack. The arrival of Alexis Sanchez – their quickest and strongest player – has transformed their ability to do this, and he made three early openings for his team-mates. Olivier Giroud missed two, Santi Cazorla the other. Just before the break, Jack Wilshere forced Tolga Zengin into a diving save while Giroud, in the last action of a hectic first-half, failed to connect with a shot when through on goal. Arsenal had made it to the interval.
Within two minutes of the restart their good work was nearly undermined when Olcay darted in behind Mathieu Debuchy, opened his body up and curled a shot just beyond Szczesny's far post. Mikel Arteta, so important at balancing the team defensively, was on the receiving end of a Ba tackle that Wenger described as "very bad". He went off for Mathieu Flamini, who was, not entirely uncharacteristically, booked within five minutes of coming on. Arsenal were under pressure again.
Nacho Monreal followed Flamini into the book, for a late tackle on Pektemek, after two short passes from Wilshere and Koscielny had set up a Besiktas counter-attack.
Arsenal scurried and scampered and fouled to stay in the game, Wilshere almost knocking Pektemek onto the running track, much to his displeasure. This was becoming a drain on their legs, ahead of Saturday's trip to Everton. There were flickers of openings on the break, but they never quite materialised into chances; Wilshere nearly set up Ramsey. Sanchez nearly set up Giroud.
The problem, with 10 minutes left, was that the necessary fouls had added up and Ramsey's tug on Ozyakup, bounding away from him, was his second bookable offence and saw him dismissed. As Wenger pointed out afterwards, worse fouls went unpunished, but Arsenal had to react. Survival was the only priority, Wenger switched to 4-4-1.
Besiktas thought that they had Arsenal just where they wanted them. Wenger had thrown Alex Oxlade-Chamberlain, with not many more options on the bench. Oxlade-Chamberlain, though, provided the pace and ambition that had drained out of Arsenal's game in the second half. He even nearly scored the crucial away goal, slaloming into the penalty area, beating Zengin with his left-footed shot but hitting the post in the penultimate minute of normal time.
That, in fact, was closer than Besiktas came to scoring in the final minutes. They were just as worn out, but they needed a goal more, and Slaven Bilic was sent off in stoppage time for showing his understandable frustration. Arsene Wenger, who was hit by a bottle thrown by Besiktas fans at the end, will be more relieved, if not relaxed quite yet.