They loved Didier Drogba at Stamford Bridge before tonight and they will love him just as much after his first return in the shirt of an opponent – because as far as Chelsea were concerned this was precisely the kind of final farewell to an old favourite that they had in mind.
Even the greats of the game have to accept that their powers wane at some point and there could be no greater illustration of that than seeing Drogba, scorer of 157 goals in eight seasons at Chelsea reduced to the periphery he so rarely occupied as a player here. Before the match at Stamford Bridge, they acclaimed Drogba as one of the greats of their club and then watched in quiet satisfaction as he turned in one of his least influential performances on this ground.
Panic over for Jose Mourinho, and those at Chelsea who feared a haunting from Drogba. Chelsea are safely through to the last eight of the Champions League where they wait to see whether they will be joined by Manchester United tomorrow night or proceed as the only English representatives. It could hardly have been more straightforward in a home leg that Chelsea controlled from start to finish.
Chelsea 2 Galatasaray 0: Player Ratings
Chelsea 2 Galatasaray 0: Player Ratings
1/11 Petr Cech 6/10

Had next to nothing to do all night long for Chelsea and in truth anyone could have done his job on the night. Galatasaray having only one shot on target all game shows the extent of Cech's requirement. Saved well from Drogba's effort on as simple a Champions League night as a 'keeper could wish for.

GETTY IMAGES

2/11 Cesar Azpilicueta 7

Helped down the wing without be a major threat and was kept honest by Drogba in defence. Did well to cope with the strength with of Drogba though and never looked in trouble.

GETTY IMAGES

3/11 Gary Cahill 9

Rifled home Chelsea's second from three yards out by being in the right place at the right time from Terry's saved header and was never going to miss. Defended with confidence and ease along side Terry.

GETTY IMAGES

4/11 John Terry 9

Dealt with everything that Galatasaray could muster with ease and could have got on the score sheet with well-connected volley that went just over. Set up Cahill's goal with a strong header from the corner on great night of the Chelsea captain.

GETTY IMAGES

5/11 Branislav Ivanovic 6

Was a threat down going forward without ever looking in trouble defensively. Steady display all round. Booked for blocking off Drogba.

6/11 Frank Lampard 8

Ran the midfield for Chelsea in a very controlled and mature performance showing all his experience. Picked off tackles and showed full range of passing. Set up Willian who might have scored and had some decent half chances himself that in years gone by might have found the net.

GETTY IMAGES

7/11 Ramires 7

Caught early on in his already injured face and looked shaken up a bit after but put in a strong performance in Chelsea's engine room. Broke up play well and his strong running helped start attacks.

GETTY IMAGES

8/11 Willian 7 (Kalas, 93)

The least effective of Chelsea's attacking midfield trio but still put in a good shift. Had a couple of decent efforts on goal but neither drew too much effort from the Galatasaray goalkeeper. Pacey all night long and gave Chelsea good width but not at his best.

GETTY IMAGES

9/11 Eden Hazard 8

Linked up well with Oscar all night long and looked a real threat with his pace and trickery. Touch over-elaborate at times but performed well and had the beating of Galatasaray defenders throughout.

GETTY IMAGES

10/11 Oscar 9 (Schürrle, 82)

Looked tricky and skilful all night long and had the numbers of several Galatasaray players. Set up Eto'o for the opening goal with a perfectly timed pass and won the corner for the second goal but not giving up on Lampard's over hit ball. Booked a touch unfairly for tackle on Selcuk Inan but a good night all round for the Brazilian.

GETTY IMAGES

11/11 Samuel Eto'o 7 (Torres, 85)

Put any Chelsea nerves to bed with just three minutes gone after staying onside well and firing low past Muslera to open the scoring. Found chances relatively hard to come by afterwards though but still linked up well with the attacking midfielders and held up the ball well.

GETTY IMAGES
The game barely looked in doubt from the fourth minute when Samuel Eto'o opened the scoring. Gary Cahill claimed the second before half-time and the home fans felt sufficiently confident to start singing Drogba's name again with five minutes of the match to play. On Friday, Mourinho's team are in what will surely be one of the most competitive quarter-final draws in the history of the competition, but they would not wish to be anywhere else.
Certainly the next round will be a great deal more competitive than this stroll against a poor Galatasaray side where there was not a save of note for Petr Cech to make and the anticipated fight-back from the away side never truly got underway. Even the away fans, who rarely require a second invitation to make some noise were uncharacteristically subdued by the end.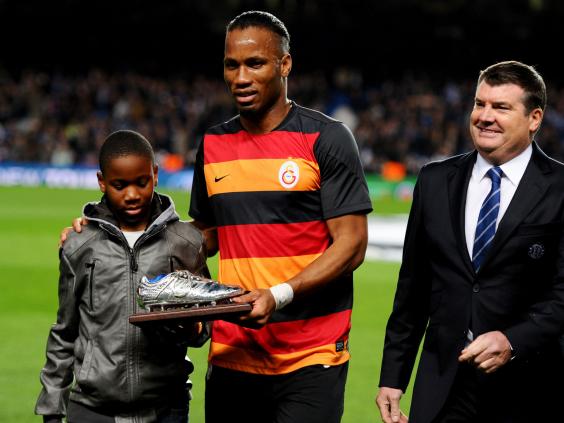 The blame could not solely be laid at the feet of Drogba, although he toiled at times to discover the touch and dominance that once came so easily. Wesley Sneijder offered little and the flanks were dominated by Eden Hazard and Willian who gave Galatasaray no room to breathe.
As with the first leg in Istanbul, this was a very poor start from Galatasaray who seemed utterly unprepared for the dynamics of European knock-out football and gave themselves the proverbial mountain to climb within four minutes.
There was a glowering response from Mancini on the touchline when his players conceded the first goal to Eto'o, almost as if it had nothing to do with the manager himself. His team had been cut apart through the middle where the rampaging Felipe Melo, later to get himself booked, went missing and Hazard opened up his opponent with ease.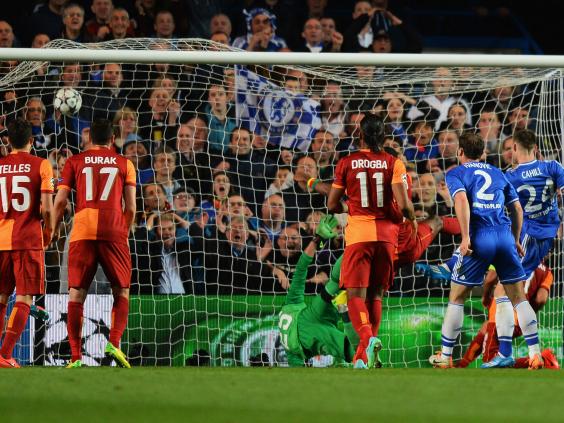 The Belgian took the ball on his chest, spun off, and laid it wide to Oscar while Eto'o hung on to the line of a very disjointed Galatasaray defence. There were wide spaces between the two centre-halves Aurelien Chedjou and Semih Kaya all night for the striker to exploit. On this occasion, Eto'o took his chance well, breaking at the right moment, moving the ball right with his right foot and then hitting it quickly past Fernando Muslera who got a hand to the shot.
Chelsea were up and running and they should have had more than the two goals they finished the half with. Hazard ran Emmanuel Eboue up and down the left wing. Melo was booked for a foul on Willian which meant that Galatasaray's Brazilian midfielder was obliged to apply the handbrake to all that he did.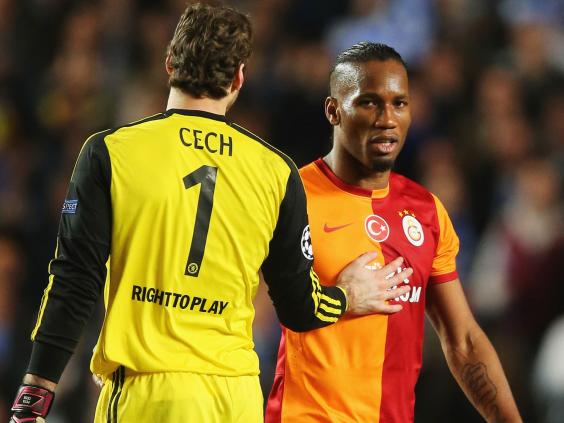 As for Drogba, his evening turned into a bit of a nightmare, on the pitch at least. The love-in with the Chelsea fans began with a presentation on the pitch before the match, where he was accompanied by his son Isaac, who is at the Chelsea academy. From then on, things went less smoothly for him. In the first half, there was an attempt at an overhead kick which went off a bit half-cocked.
Later a free-kick of Drogba's went so extravagantly high and wide that it struck the orange "DROGBA LEGEND" banner on the second tier of the Matthew Harding stand. The home fans at Stamford Bridge loved that moment and the close-up shot on the television cameras caught a smile creeping across the face of the old lion of Africa.
John Terry executed a very nice volley on the run from Frank Lampard's free-kick from the left on 33 minutes but having made the difficult connection just lifted it over the bar. A cut back from Eto'o to Willian on 38 minutes was the wrong choice with Oscar in more space. Then the second goal came two minutes before the break. Terry headed goalwards from Lampard's corner, Muslera saved but pushed the ball back into the six-yard area where Cahill lashed it in.
As there was in Istanbul in the first leg, Mancini worked a change in his formation, switching to 3-5-2 after the break, albeit with very little effect. Drogba's labours got even worse with the ball bouncing off him at times and then a booking for an attempt to trip Cesar Azpilicueta.
As for a response from Mancini's side, there was perilously little of note. They never looked like they had the confidence or the pace to break down a very solid Chelsea team with Ramires and Lampard bossing the midfield and Cahill and Terry unbreakable in the centre of defence. Chelsea should really have scored a third two minutes from time when Fernando Torres, a substitute for Eto'o, had just Muslera to beat but could not shape his shot around the goalkeeper.
At the end, Drogba left the pitch, having first acknowledged the Galatasaray fans, to a rapturous applause from the whole stadium. He did not milk it – that would have been a little insensitive to his current employers – but he lingered long enough to enjoy the moment. Goodness knows, he deserves it even if this, probably his last game at the ground, will be one he does not choose to remember with any fondness.
Chelsea (4-2-3-1): Cech; Ivanovic, Cahill, Terry, Azpilicueta; Lampard, Ramires; Willian, Oscar, Hazard; Eto'o
Subs: Schurrle/Oscar 83, Torres/Eto'o 85, Kalas/Willian 90
Galatasaray (4-2-3-1): Muslera; Eboue, Chedjou, Semih, Telles; Yekta, Melo; Inan, Sneijder, Burak Yilmaz; Drogba.
Subs: Bulut/Yilmaz 54, Balta/Yakta 67, Hajrovic/Eboue 77
Booked: Chelsea Oscar, Ivanovic Galatasaray Melo, Drogba, Inan
Referee: F Brych (Germany).
Man of the match: Cahill
Rating: 6/10
Reuse content