Rio Ferdinand joked that Cristiano Ronaldo's claim that he was not close with any of his Manchester United team-mates during his time at the Premier League club is only due to the abuse he received for wearing tight jeans.
Ronaldo was provoked into a sharp response when asked about his Barcelona rivals Lionel Messi, Neymar and Luis Suarez and the blossoming relationship they share.
Speaking in a press conference ahead of Wednesday's Champions League last-16 first leg against Roma, Ronaldo said: "I am going to tell you something. When I was at United, I didn't speak [off the pitch] to [Ryan] Giggs, [Paul] Scholes and [Rio] Ferdinand apart from the normal 'good morning' but we won the Champions League.
"We talked on the pitch and that is all that mattered. Does it matter that I don't go out for dinner with [Karim] Benzema or that [Gareth] Bale does not come around my house? It is not important. This thing about the little meals, the little hugs, the little kisses. To me that doesn't mean anything."
Messi's relationship with his two strike-partners was never more evident than on Sunday night, when the Argentine turned down the chance to score a penalty and register his 300th La Liga goal in order to pass the ball into the path on the on-rushing Suarez to finish – although it was later revealed to have been intended for Neymar.
Seven things we learnt in this weekend's Premier League
Seven things we learnt in this weekend's Premier League
1/7 North London triumphs – but wins are not convincing

Arsenal and Tottenham left it late to secure crucial victories over title rivals Leicester and Manchester City respectively in what could prove to be a pivotal day in the course of the season, yet the story could have so different. Had Danny Simpson not earned a second yellow card, or Marcin Wasilewski not charged into Arsenal defender Nacho Monreal to concede the free-kick that led to Danny Welbeck's winner, it's very possible that Leicester at least take home a point. Claudio Ranieri's claim afterwards that Leicester would have scored a second with 11 men was not as farfetched as it sounded. For Spurs, you would have put your mortgage on City taking a draw at least away from their encounter after substitute Kelechi Iheanacho equalised, yet it was Mauricio Pochettino's side who clinched all three points. Both victories could prove season-defining results, but neither Arsenal nor Spurs look running away with it. The title race is well and truly wide open.

2016 The Arsenal Football Club Plc

2/7 When the pressure is on, the referees take the blame

Ranieri was not alone in targeting the man in the middle for making an important decision. The Italian accused Martin Atkinson of being "severe" with his side in sending off Simpson for what were largely accepted as two bookable fouls. But City manager Manuel Pellegrini was furious in his criticism of Mark Clattenburg, with his post-match outburst likely to earn him a Football Association charge this week after he accused the referee of bias against his side. Had these decisions been made earlier in the season – such as the two "offside goals" that Pellegrini referenced yesterday from City's September defeat at Spurs – neither manager is likely to have made these outbursts, but when the pressure of a title challenge begins to increase it's the referees who will find a target on their back until the season is done with.

2016 Getty Images

3/7 Sunderland show stomach where Villa and Newcastle fall short

Is there such thing as the relegation nine-pointer? Of course not, otherwise Sunderland would be sitting on a points tally of 29 and well clear of the relegation zone they currently preside in. However, it felt like a crucial weekend in the Black Cats' ambitions of staying in the top flight as their two nearest rivals – Aston Villa and Newcastle – put in two of their worst performances ever seen in the Premier League to ship a combined 11 goals. Newcastle were blown off the park at Stamford Bridge in the opening 20 minutes as Chelsea ran riot to score three early goals on their way to a 5-1 victory, but at least the Magpies bothered to show up. The same can't be said for Villa, who put in their worst display of the season in the 6-0 defeat by Liverpool that suggests any hopes of staying up are long gone. While neither side showed he stomach required to be celebrating come 15 May, Sunderland certainly showed their up for the fight.

2016 Getty Images

4/7 Sturridge provides timely reminder to England boss Hodgson

Surprisingly, when the England national team manager appears on Match of the Day, fans still listen. Despite the recent abject performances in major competitions, the allure of Euro 2016 will prove more than enough to garner the full attention of football fans on these shores come the summer, and with a number of in-strikers for Hodgson to choose from, why shouldn't the Three Lions be optimistic. However, it was Hodgson's notable omission of mentioning Daniel Sturridge in his list of Euro 2016 contenders that made the most interesting comment, especially given that the Liverpool striker produced a goal-scoring return to the Liverpool starting line-up. With Jamie Vardy and Harry Kane among the goals, Wayne Rooney a shoe-in as captain and both Welbeck and Sturridge returning with a bang yesterday, the England attack may prove to be Hodgson's most difficult decision yet.

2016 Liverpool FC

5/7 Manchester United don't deserve to have any chance of a top-four finish

The fact that Manchester United are just two wins away from the top four is as bizarre as it is undeserving, given their terrible performances this season. Had Manchester City lived up to expectations this season and not slipped up when it mattered most, the gap between United and the top four would be a lot larger than the six points it currently is. Reports recently have suggested that Europe's top clubs want to ring fence the Champions League to ensure the best of the best are in the competition, but United – who would make the cut – are not even among the best in their own division. The 2-1 defeat at Sunderland summed up United's current ability to under-perform, and the simple matter of fact is they have shown nothing this season to deserve a place at Europe's elite table.

2016 Getty Images

6/7 West Ham show dogged spirit to suggest Bilic is not a million miles off the mark

Slaven Bilic believes that with Dimitri Payet secured to a new long-term contract, West Ham showing the resolve to battle back and draw 2-2 with Norwich and a Premier League that appears to be wide open for just about anyone to challenge for top honours, the east London side may become next season's Leicester City. And why not? With the Olympic Stadium on the horizon and the club likely to benefit hugely from ticket sales and the financial boost of next season's TV deal, West Ham will be able to lure a new calibre of players that has previously avoided them. If, as Bilic believes is possible during the season run-in, they can mount a late charge at the top four and secure an unprecedented shot at the Champions League, the opportunities for the Hammers could be greater than they ever imagined when the plans for the club were laid out following their most recent relegation in 2011.

2016 Getty Images

7/7 Martinez's defiance suggests he may not be the answer at Everton

John Stones, Ross Barkley, Romelu Lukaku. These are not names you associate with a bottom-half team, and neither is Roberto Martinez, if you believe the hype. However, Everton's profligacy in front of goal in the 1-0 defeat by West Bromwich Albion on Saturday – in which they did they failed to convert any of their 34 chances at goal – suggests the problem may be more severe than a simple dose of bad luck. Everton shouldn't be a team struggling in 11th, and each time they slip up, Martinez rolls out the familiar excuses – Saturday saw time-wasting and spoiling tactics to blame – but Baggies manager Tony Pulis wasn't too far off the mark when he jibed that Martinez is failing with a "top-five squad". The question now is when will the Spaniard be held accountable for their shortcomings?

2016 Getty Images
However, Ferdinand added his bit on Ronaldo's outburst and claimed that the stick Ronaldo received in the United changing room didn't quite register with the Portuguese, and often left him in a bad mood.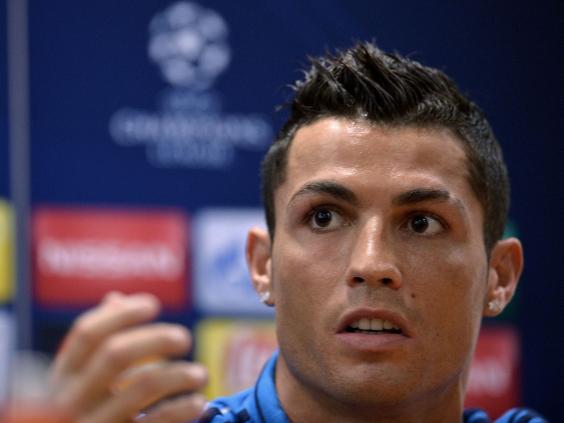 "He's gone off me! He used to live next door to me. Unbelievable!" Ferdinand joked during BT Sport's coverage of the Champions League clash between Paris Saint-Germain and Chelsea, before adding Ronaldo's comments might be to do with criticism the Portuguese received about his dress sense.
"I actually used to take the mick out of him in the changing rooms, I think he's got the hump. He used to come in in tight jeans and we used to murder him. He didn't get it."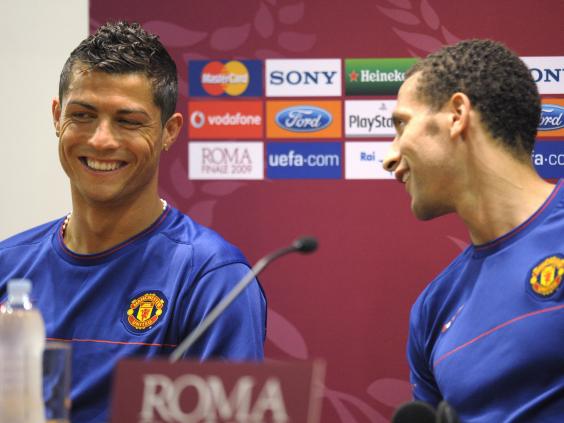 But taking a more serious approach to his former team-mate's comments, he believes that the fact that Ronaldo is irked by what he sees at Barcelona is not due to jealousy but more a reflection of his desire to win at all costs – and to ensure that it's Real Madrid that everyone wants to rave about.
"That just shows the emotion he's got in him and the desire to win and the desire to get back on top," added Ferdinand. "At the moment everyone's talking about Barcelona and he's not happy with that. And that's his competitive streak coming out."
Reuse content