1. Liverpool have no case  for the defence
It cost them the title last season and has not improved over the summer. Liverpool's defence just did not turn up. Again. James Rodriguez's delightful chip took out three players before Cristiano Ronaldo made the stupendous look simple, while there were no meaningful challenges for Karim Benzema's header.
2. Mario Balotelli fails to rise to the occasion yet again 
Struggling to adapt post-Luis Suarez and without Daniel Sturridge, the Reds expected more from Mario Balotelli. The Italian showed some neat touches but often tried too hard. His only goal for the club came in this competition but he was not on the same wavelength as his team-mates and seemed to know he was about to be subbed, swapping shirts with Pepe in the tunnel at the break.
3. Real Madrid are well set to end 25-year hoodoo
No one since Milan – including Real's coach Carlo Ancelotti – in 1990 have retained the European Cup but this Real side look increasingly well set to break the hoodoo, bewilderingly strong up front and steadier at the back. Ancelotti may be celebrating again in Berlin in June.
Liverpool 0 Real Madrid 3 player ratings
Liverpool 0 Real Madrid 3 player ratings
1/22 Liverpool: Simon Mignolet

Could do nothing about the first two goals but the third was a defensive mess. Made one very fine save from Cristiano Ronaldo - 6/10

2/22 Glen Johnson

If it was not Ronaldo sprinting down Real's left, it was full-back Marcelo, adding up to a difficult night for Johnson, who also allowed Karim Benzema a free header for the second goal - 5

3/22 Martin Skrtel

Beaten by the brilliance of Ronaldo for the first goal then outmuscled by Pepe for the third - 5

4/22 Dejan Lovren

This was a thoroughly uncomfortable night for the Liverpool defence as a whole, but Lovren fared a little better than his team-mates - 6

5/22 Alberto Moreno

An early threat going forward but given a tough time by Real's attacking triumvirate - 5

6/22 Jordan Henderson

Worked hard but gave the ball away too often as Real overpowered Liverpool in midfield - 5

7/22 Steven Gerrard

Began brightly and tested Iker Casillas with a fine shot in the 11th minute. Thereafter occupied trying to stifle Real's attacking threat - 6

8/22 Joe Allen

Had one of Liverpool's better efforts on goal in the first half but outclassed in midfield - 5

9/22 Raheem Sterling

Looked Liverpool's most dangerous attacker, with his pace troubling Real, but too often had to try to do the whole lot himself - 6

10/22 Mario Balotelli

Retained despite heavy criticism but very ineffective and hauled off at half-time - 4

11/22 Philippe Coutinho

Looked bright to start with before fading as Real took over. Hit the post with a fine effort at the end of the first half before being substituted in the second - 5

12/22 Iker Casillas

The veteran Spain goalkeeper was making his 143th Champions League appearance, equalling all-time record holder Xavi. His form has been shaky but dealt with the few threats that came his way very capably - 6

13/22 Alvaro Arbeloa

The former Liverpool full-back enjoyed a good tussle with Sterling and then Lallana - 6

14/22 Raphael Varane

Not too much to worry about for the young French defender - 6

15/22 Pepe

Set up the third goal with his persistence and had a comfortable night in defence - 6

16/22 Marcelo

A real presence in Real's attack and Liverpool did not manage to exploit the gaps he left - 7

17/22 Isco

A fine, energetic performance from the midfielder - 7

18/22 Luka Modric

Instrumental in Real's control of the midfield - 8

19/22 Toni Kroos

Immaculate in front of the back four and set up Benzema's goal with a fine cross. Booked for fouling Sterling - 8

20/22 James Rodriguez

Had to be patched up after an early blow to the head and had done little until his lovely chip set up Ronaldo - 7

21/22 James Rodriguez

Two goals for the Frenchman and it might have been more - 8

22/22 Cristiano Ronaldo

The former Manchester United man, not surprisingly, was greeted by plenty of boos. He had scored more goals this season than Liverpool's entire team and it took him only 23 minutes to add another sublime strike. A constant threat and substituted with Saturday's Clasico in mind - 8
4. No Bale? No problem, as Real cope without Welshman
Most sides deprived of their most expensive player  for a challenging match overseas would expect to struggle but Real made light of the absence of Gareth Bale. Isco is hardly an ineffectual replacement and fitted in seamlessly.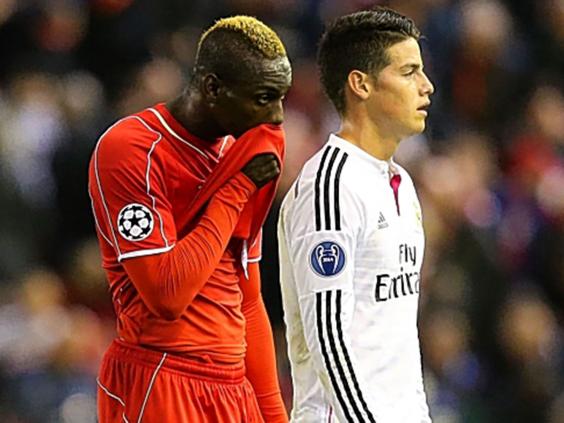 5. The Champions League has missed those Anfield nights
Everything about Liverpool v Real at Anfield sounds good and, despite the poor showing, that much-hyped atmosphere matched the occasion. You would hope Brendan Rodgers finds a solution to his problems as they belong in this competition, not least because of their fans.
Reuse content