He might be the first former Manchester United great to be applauded off Anfield by part of the home support and there are not many opposing players who cross the touchline here to have their hand shaken by the Liverpool manager. But then this is Cristiano Ronaldo, who strolled to his seat on the bench on 75 minutes with the insouciance of a man popping out for a paper.
Business as usual for the world's best, and goal No 70 in the Champions League that puts him within one of Raul's record in the competition. He had never scored at Anfield before last night and he will doubtless file his goal, his 21 of the season, along with the hundreds of others. For Brendan Rodgers and his Liverpool players it might be that much harder to consign to history.
It was a bad night for Liverpool back in the Champions League big-time, an occasion when they found themselves hopelessly out of their depth in defence in the first half and then, three goals down by the break, unable to do anything to remedy the situation. Each one of Madrid's substituted players was applauded off by the home crowd, including the marvellous Toni Kroos, but this was not an extraordinary performance from the away team. It was, nonetheless, more than enough to beat Liverpool.
They looked very ordinary, as they had against Queen's Park Rangers on Sunday, and matters were not helped by another Mario Balotelli performance to forget. His half-time shirt-swap with Pepe, a preface to his substitution, was a moment to make every Liverpool fan cringe, but that was a detail to the bigger picture. That, unfortunately for Rodgers, is that without the injured Daniel Sturridge, this is a team that lacks a sharp edge in attack.
Liverpool 0 Real Madrid 3 player ratings
Liverpool 0 Real Madrid 3 player ratings
1/22 Liverpool: Simon Mignolet

Could do nothing about the first two goals but the third was a defensive mess. Made one very fine save from Cristiano Ronaldo - 6/10

2/22 Glen Johnson

If it was not Ronaldo sprinting down Real's left, it was full-back Marcelo, adding up to a difficult night for Johnson, who also allowed Karim Benzema a free header for the second goal - 5

3/22 Martin Skrtel

Beaten by the brilliance of Ronaldo for the first goal then outmuscled by Pepe for the third - 5

4/22 Dejan Lovren

This was a thoroughly uncomfortable night for the Liverpool defence as a whole, but Lovren fared a little better than his team-mates - 6

5/22 Alberto Moreno

An early threat going forward but given a tough time by Real's attacking triumvirate - 5

6/22 Jordan Henderson

Worked hard but gave the ball away too often as Real overpowered Liverpool in midfield - 5

7/22 Steven Gerrard

Began brightly and tested Iker Casillas with a fine shot in the 11th minute. Thereafter occupied trying to stifle Real's attacking threat - 6

8/22 Joe Allen

Had one of Liverpool's better efforts on goal in the first half but outclassed in midfield - 5

9/22 Raheem Sterling

Looked Liverpool's most dangerous attacker, with his pace troubling Real, but too often had to try to do the whole lot himself - 6

10/22 Mario Balotelli

Retained despite heavy criticism but very ineffective and hauled off at half-time - 4

11/22 Philippe Coutinho

Looked bright to start with before fading as Real took over. Hit the post with a fine effort at the end of the first half before being substituted in the second - 5

12/22 Iker Casillas

The veteran Spain goalkeeper was making his 143th Champions League appearance, equalling all-time record holder Xavi. His form has been shaky but dealt with the few threats that came his way very capably - 6

13/22 Alvaro Arbeloa

The former Liverpool full-back enjoyed a good tussle with Sterling and then Lallana - 6

14/22 Raphael Varane

Not too much to worry about for the young French defender - 6

15/22 Pepe

Set up the third goal with his persistence and had a comfortable night in defence - 6

16/22 Marcelo

A real presence in Real's attack and Liverpool did not manage to exploit the gaps he left - 7

17/22 Isco

A fine, energetic performance from the midfielder - 7

18/22 Luka Modric

Instrumental in Real's control of the midfield - 8

19/22 Toni Kroos

Immaculate in front of the back four and set up Benzema's goal with a fine cross. Booked for fouling Sterling - 8

20/22 James Rodriguez

Had to be patched up after an early blow to the head and had done little until his lovely chip set up Ronaldo - 7

21/22 James Rodriguez

Two goals for the Frenchman and it might have been more - 8

22/22 Cristiano Ronaldo

The former Manchester United man, not surprisingly, was greeted by plenty of boos. He had scored more goals this season than Liverpool's entire team and it took him only 23 minutes to add another sublime strike. A constant threat and substituted with Saturday's Clasico in mind - 8
They defended woefully for the two Karim Benzema goals that followed Ronaldo's strike and from then on they seemed unable to wrest control of the game from Kroos and Luka Modric in midfield. There were periods when Madrid stroked the ball around on the halfway line and Liverpool's midfield seemed unsure whether stepping up to challenge them was to fall into a terrible trap.
It started with the usual noise and intensity that you would expect of a return to the big Anfield European nights and for a little while it seemed like home side were feeding off that energy, and then gradually, Liverpool discovered they were up against a very good team indeed.
Notice was served with Ronaldo's opening goal, one of those crushing reminders for the opposition of where they stand in the football universe. One only needs to leave the door fractionally ajar for Ronaldo and he will ransack the whole house. What's more, he will give you a cheery thumbs-up on the way out.
Without wishing to get too giddy about the finish, there was only one moment in the entire arc of the pass when it had to be hit, and one true trajectory for the shot that would take it past Simon Mignolet. When you score as many goals as Ronaldo does, the back-catalogue will feature many more that are better, but this was still a strike to take the breath away and hush a stadium.
We were 23 minutes in when Ronaldo pushed the ball to James Rodriguez on the edge of the box and darted forward for the return. With Dejan Lovren behind him and Martin Skrtel closing in from the other side he took the shot quickly, drifting it out of the reach of Mignolet.
Up to then, Liverpool had looked confident rather than dangerous. There was a case that Alvaro Arbeloa had fouled Raheem Sterling when the teenager ran through on six minutes. Sterling partnered Balotelli in attack ahead of a midfield diamond with Philippe Coutinho at the point of it. The Brazilian struck the post in the closing stages of the first half, as close as Liverpool got to scoring before the break.
Before then, there were two more goals and neither of them said much for Liverpool's defence. Kroos, running the midfield from a space that was all his own just inside the home side's half,  made the second. Madrid worked the ball to the left where Kroos had enough time to glance up and land a cross onto the head of Benzema, whose gentle header sailed beyond Mignolet.
By then, there had already been a gasp around the stadium – involuntary because they had booed Ronaldo at the start – when the Madrid No 7 killed another long ball from Rodriguez on the inside of his foot. The mild panic in Liverpool's ranks was best encapsulated in a moment when Glen Johnson tackled Steven Gerrard in midfield. The full-back had his work cut out with Ronaldo.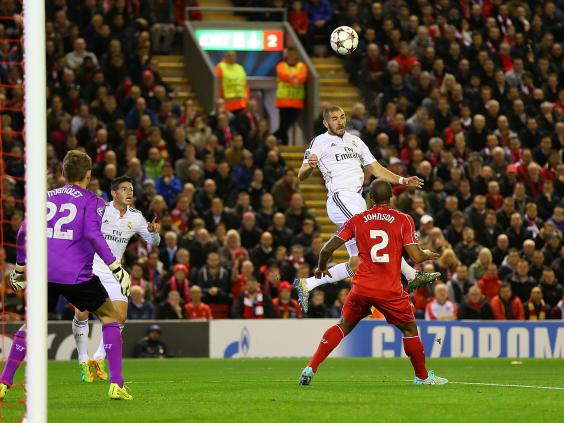 The third goal was the real blow, a corner from Kroos that Pepe took on his chest. The Madrid defender, along with Skrtel and Mignolet, converged on the ball and it was Pepe who got there first. He flicked it on to Benzema who had the routine task of poking it in. 
It was turning into something of a masterclass from Madrid who kept the ball for long periods around their halfway line, with Modric and Kroos exchanging passes while they pondered what to do with it. On the left side, in place of the injured Gareth Bale, Isco was a contender to be his team's outstanding player with his work-rate and productivity.
Ronaldo might have had his second at the tail-end of a move that began with Marcelo setting Isco free down the left. He cut the ball back intelligently to Benzema who picked out Ronaldo to his right with one good touch. They look for Ronaldo all the time, and who can blame them, but he does occasionally miss. This time Mignolet saved well with his legs.
As on Sunday against QPR, the key attacking threat for Liverpool – in fact the only man who seemed capable of making things happen – was Sterling. He had a shot tipped over by Iker Casillas on 70 minutes and he was the only player who, with the ball at his feet, gave the away side reason to worry.
In the end they went with a whimper, and a round of applause for Madrid, who won ahead of the weekend's game against Barcelona at a canter. There is no shame in losing to a team this good; the despair comes from how easy Madrid made it look.
Liverpool (4-1-3-2): Mignolet; Johnson, Skrtel, Lovren, Moreno; Gerrard; Allen, Coutinho, Henderson; Sterling, Balotelli.
Subs: Lallana/Balotelli ht, Can/Henderson 67, Markovic/Coutinho 67
Real Madrid (4-4-2): Casillas; Arbeloa, Varane, Pepe, Marcelo; Rodriguez, Kroos, Modric, Isco; Benzema, Ronaldo.
Subs: Khedira/Ronaldo 75, Illarramendi/Kroos 81, Nacho/Marcelo 85
Booked: Real Madrid Kroos
Referee: N Rizzoli (Italy).
Man of the match: Kroos
Rating: 7