Liverpool face Real Madrid at Anfield tonight with memories of the famous 4-0 victory in 2009 at the forefront of their minds.
But as all football fans will know, teams and squads change immeasurably in five years and just three of the Liverpool players who were in Rafael Benitez's squad for that game, Steven Gerrard, Martin Skrtel and Lucas Leiva, are still at the club.
Alvaro Arbeloa played for Liverpool in the win but is likely to start at right-back for Los Blancos at Anfield. Real Madrid have gone through a similar transformation – with just four players still at the club from that day – but have the changes been worth it?
We look at the line-up from that game and the possible line-up tonight and see if the two clubs have improved or regressed (preferred player in italics).
It would appear that Liverpool have taken a step backwards and Real a big step forwards...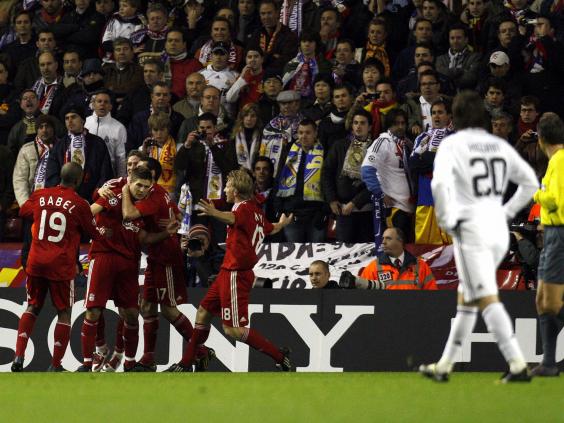 LIVERPOOL (8-3)
Pepe Reina vs Simon Mignolet
Reina experienced a significant dip in form during his later years at Anfield but the jury is still out on his replacement. Reina
Alvaro Arbeloa vs Glen Johnson
Johnson may be better at getting forward than the Spaniard but his defensive problems are well known; Arbeloa has been a hugely dependable right-back for club and country. Arbeloa
Martin Skrtel vs Martin Skrtel
The Slovakian has improved to become Liverpool's best defender and one of the first name on Brendan Rodgers' team-sheet. Skrtel 2014
Jamie Carragher vs Dejan Lovren
The £20m Lovren has had an extremely tricky start to life at Anfield; Liverpool would give anything to have a defender of Carragher's quality and commitment in the side. Carragher
Fabio Aurelio vs Alberto Moreno
Aurelio possessed great quality, especially from set-pieces, but was often injured, while Moreno has made a promising start in Red. Moreno
Xabi Alonso vs Jordan Henderson
As good as Henderson has become over the last 18 months he is at least a level below the Spanish great. Alonso
Javier Mascherano vs Joe Allen
Mascherano was instrumental in getting Argentina to the World Cup and continues to be a key man for a dominant Barcelona team, whether in defence or midfield; Joe Allen doesn't come close. Mascherano
Steven Gerrard vs Steven Gerrard
Father time catches up with all but Gerrard, at 34, is still one of Liverpool's most inspirational players. Gerrard 2009
Ryan Babel vs Raheem Sterling
A clear victory for the 2014 team, Babel had talent but often found himself distracted – Raheem Sterling is one of the most talented teenagers in the world. Sterling
Dirk Kuyt vs Philippe Coutinho
Hard to pick a winner between these two as they are so stylistically different; like comparing a shire horse to a gazelle. But Kuyt always performed in the big games. Kuyt
Fernando Torres vs Mario Balotelli
Forget what has happened in between, in 2009 Fernando Torres was probably the world's best No 9. Balotelli still has plenty to prove in Red. Torres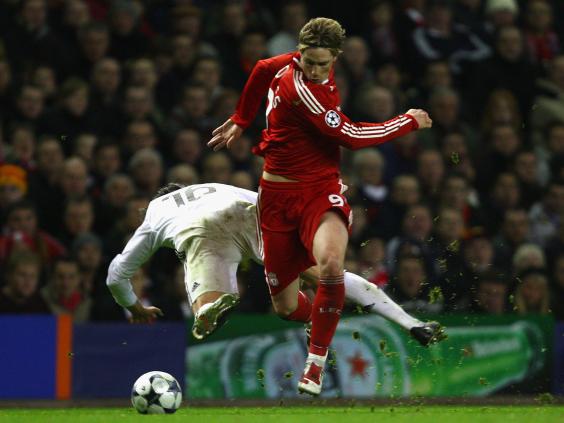 REAL MADRID (3-8)
Iker Casillas vs Iker Casillas
In 2009 Casillas was one of the world's best, his decline has been so dramatic he is being hounded out of the club by some parts of the fanbase. Casillas 2009
Sergio Ramos vs Alvaro Arbeloa
Ramos has since been converted into an excellent, if red-card prone centre-back. Ramos
Fabio Cannavaro vs Raphael Varane
By 2009, a 36-year-old Cannavaro's great career was on the decline, 21-year-old Varane is a man of immense talent who should become one of the world's best. Varane
Pepe vs Pepe
Despite being into his 30s, Pepe remains unable to control his emotions and is a liability. Pepe 2014
Gabriel Heinze vs Marcelo
The former Manchester United man is a much better defender than Marcelo, but the Brazilian is a huge threat going forward. Marcelo
Lassana Diarra vs Toni Kroos
Kroos is worlds apart from Diarra in terms of talent, as a clear an upgrade as you could hope for. Kroos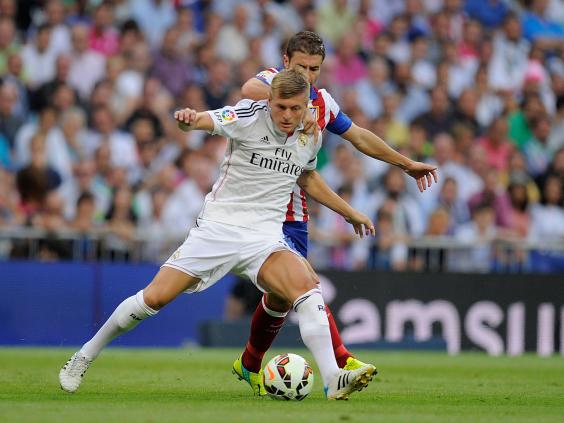 Fernando Gago vs Luka Modric
See above. Modric
Arjen Robben vs Isco
Robben struggled in Spain but his form for Bayern Munich and the Netherlands has proved that Los Blancos gave up on him too easily. Robben
Wesley Sneijder vs James Rodriguez
Another Dutchman who struggled in white, Sneijder became one of the world's greats at Inter but is now languishing in Turkey. Rodriguez is a huge talent off to a good start in Spain. Rodriguez
Raul vs Cristiano Ronaldo
The 2009 Raul was a man almost at the end of his 16-year stay with the club; both are all-time greats but at these stages in their careers Ronaldo is better. Ronaldo
Gonzalo Higuain vs Karim Benzema
Another question of style, Higuain is the better goalscorer but Benzema's pace and movement opens up a lot of space for Real's other talents. Benzema
--
LIVERPOOL 2009: Reina, Arbeloa, Skrtel, Carragher, Aurelio, Alonso (Lucas 60), Mascherano, Kuyt, Gerrard (Spearing 74), Babel, Torres (Dossena 83).
REAL MADRID 2009: Casillas, Sergio Ramos, Cannavaro (Van der Vaart 64), Pepe, Heinze, Robben (Marcelo 46), Lassana Diarra, Gago (Guti 77), Sneijder, Raul, Higuain.
--
LIVERPOOL 2014 (likely): Mignolet, Johnson, Skrtel, Lovren, Moreno, Henderson, Gerrard, Allen, Sterling, Balotelli, Coutinho
REAL MADRID 2014 (likely): Casillas, Arbeloa, Pepe, Varane, Marcelo, Kroos, Modric, Isco, Ronaldo, Rodriguez, Benzema
Reuse content