If Antonio Conte has his team close to perfect on the pitch, that has also allowed him to get his responses pitch-perfect for anything controversial off it. Take when another manager's spikier comments are put to him, or he's questioned about anything that could remotely add a bit of an edge to the hyperactive and hyperemotional Premier League news cycle.
Conte smiles, speaks politely and diplomatically, plays a little dumb to it… but then leaves just enough of something in there so you know he's thinking about it all in a very calculated way while ensuring his own side remains fully focused.
Friday's press conference ahead of the FA Cup sixth-round tie with Manchester United was a classic example, as he claimed to entirely reject the idea of - yes - mind games, before offering one of his own for Jose Mourinho.
Chelsea vs Manchester United: Five memorable matches
Chelsea vs Manchester United: Five memorable matches
1/5 Chelsea 3 Manchester United 1

January 19, 2014: Samuel Eto'o rolled back the years against David Moyes' United to become one of a very exclusive group to have scored a Premier League hat-trick against the Red Devils.

Getty Images

2/5 Chelsea 2 Manchester United 3

October 28, 2012: Javier Hernandez was the match-winner as Branislav Ivanovic and Fernando Torres saw red in the last time United beat Chelsea at Stamford Bridge.

Man Utd via Getty Images

3/5 Chelsea 5 Manchester United 4

October 31, 2012: Only coming three days after their previous encounter and this time in the League Cup. The game went to extra time thanks to a 90th-minute Hazard penalty before Daniel Sturridge and Ramires secured the win for the Blues.

Getty Images

4/5 Chelsea 3 Manchester United 0

April 29, 2006: Chelsea emulated United in become only the second team to retain the Premier League title as William Gallas, Joe Cole and Ricardo Carvalho secured the win for Jose Mourinho's side.

AFP/Getty Images

5/5 Chelsea 0 Manchester United 3

April 20, 2002: Paul Scholes, Ruud van Nistelrooy and Ole Gunnar Solksjaer all scored in a dominant performance as United marched to their third consecutive Premier League title.

Getty Images
It's one of the best way to plays it, of course, especially when your team's results speak for themselves. There's little reason to needlessly get drawn into anything distracting. Mourinho - his predecessor at Chelsea and opposite number for Manchester United at Stamford Bridge on Monday night - naturally has a different view on all that. He revels in drawing others in, no matter how he is doing, as Didier Drogba has revealed.
"His provocations were almost like entertainment to him," the Ivorian wrote in 2008. "He also believed that the more time opposing managers spent getting angry, the less time they had to dissect his game. Shrewd of him."
The wonder, then, is what Mourinho thinks of Conte in this regard. The Italian doesn't get angry, or any way intimidated. Sure, the Manchester United manager may not have had any direct goes at Chelsea, but there have been enough indirect mentions: how some clubs are doing so well because they don't have European football; how some clubs are supposedly being praised for the type of counter-attacking football he was one criticised for…
There have also been enough for Conte to be asked on Friday why he just doesn't engage in Mourinho's mind games.
"The mind games... they're strange no," Conte initially said. "It's strange to ask me this. I'm very focused on the pitch. The mind games don't bring you to win.
"The most important thing is what happens on the pitch. To prepare the team in the right way, with good organisation. This is the most important thing. To talk football, to think about my team, to try through work to improve my players."
Except, when asked about how United have not been beaten in the league since their 4-0 defeat to Chelsea in October, Conte seemed to make a point of saying that Mourinho and Pep Guardiola have something else probably more important than anything: the best squads in the league.
"In October, before the game, I was sure we'd face a great team," Conte said. "The same now. I think Manchester United, with City, have the best squad in the league. They have a lot, a number of great players with great talent and great experience to win. For sure, it can be a really tough game, for us and for them. I think that now, for us, it's better.
"In October we didn't know our future. Now we are in March and we stay on top of the table. We have a good identity, a good team. So we are showing good football. But, for sure, it will be a really tough game against United. We are facing a good team, very strong."
Whatever the actual reality as to whether mind games do have a genuine effect, or just end up as a pantomime game of public one-upmanship between two managers, the comments do touch on an undeniable reality for both ahead of this FA Cup tie.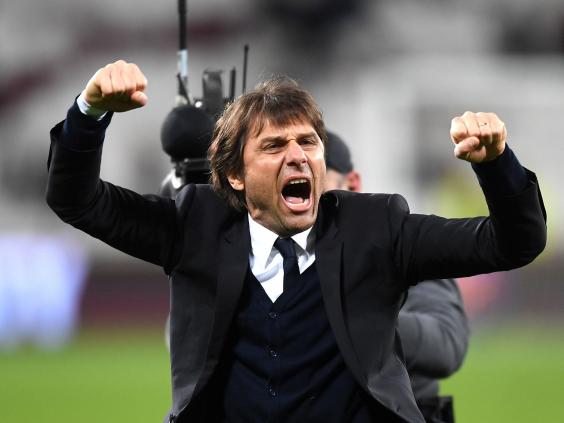 Conte is over-performing with Mourinho's old squad, while Mourinho is under-performing with United - at least in the league. The Old Trafford club just shouldn't be sixth. All that, however, makes this game even more important to the Portuguese. He needs to prove that position really is unrepresentative, that United genuinely are a better side - and close to title challengers - than results like a series of draws suggest.
There would be no better way to do that than by winning all of the cup competitions possible - and doing so by beating his league-leading old team along the way. It would be the true statement this United side need, especially since it has become a match all the more meaningful for Chelsea.
With Conte's side having found a rhythm at the top of the league that means it would take at least another two defeats for them to have another fixture that feels like it really has something on the line, the FA Cup offers a rare sense of tension, now that they also have a rare double in their sights.
Conte winning the league in his debut season would obviously be emphatic on its own, but adding such a historically significant feat would really be an achievement apart. As such, a United win couldn't be waved away as just a cup win. It would mean so much more.
The problem for Mourinho is that he could probably do with Chelsea getting some way distracted. Because, while Conte has a full and fully-rested squad on fine form to choose from, United are on their way back from the centre of Russia following their Europa League draw with Rostov, and without the suspended Zlatan Ibrahimovic. It's all the more important because the Swede is probably the one obvious choice in United's front six, given it's still so hard to know what Mourinho's best team is. He now must reconfigure it, to really convince against Chelsea.
That is just another contrast. Conte knows his best XI. Mourinho does not.
The Portuguese does know, however, he needs to play this one perfectly. It could set up an actual game far more interesting than any off-pitch pantomime.