If there has been a feeling - and a criticism - that Tottenham Hotspur are taking the knock-out competitions a little lighter than they should be given that this specific squad and manager have not yet won any silverware whatsoever, it should be banished.
Christian Eriksen says Spurs are well aware that the FA Cup is their best route to a trophy this season, and seems to be conscious of the fact that discussion is growing that they need to offer something tangible to complement and maybe fire their obvious improvement. There seems to be a desire in this squad now to end a nine-year drought.
There is also an opportunity, given that it is Sunday's home match with League One Millwall that bars their way to a semi-final that will see one of Chelsea or Manchester United knocked out.
"Everyone would be happy if we win anything," Eriksen says. "If it is in the FA Cup or the Premier League, we want to take that chance. It would be very special for this group to do that. Everybody has the feeling we want to win something.
"We have shown everyone we are capable of beating the best and being part of the best group. Of course winning something would be very special to everyone. We know this is a true route to a trophy."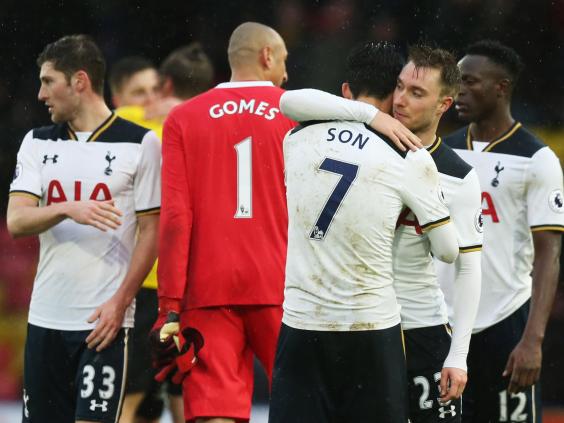 While Tottenham have been supreme in defying early-season struggles and the financial power of their rivals to rise to second in the league behind Chelsea, some doubts remain because of a perceived failure of this side to take that next step when really required.
The ongoing trophy drought is one aspect, but so is the way they ended last season. Just when they seemed to be properly pushing Leicester City, they suffered two calamitous draws to West Brom and Chelsea, in games where they'd taken the lead.
"I think we have matured a bit," Eriksen says. "We want to avoid what happened last season in the last three games. We know that we can finish better than we did. We were there last season and we know how it feels. We need to show we are capable of staying there.
"We know how we need to play now. We have played together for a few years now and everyone knows what we have to do. We are more mature now."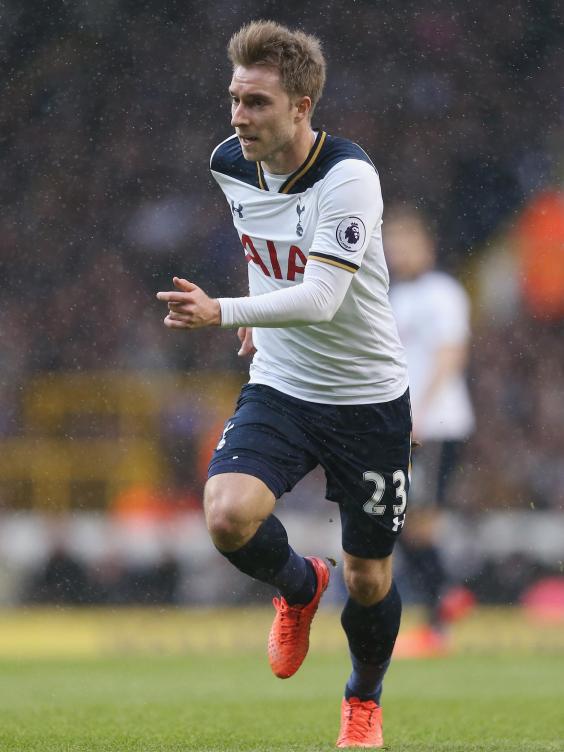 He also feels they have more assurance through the team, and are more cohesive and connected. The signing of Victor Wanyama has also specifically freed Eriksen, the 25-year-old believes, and allowed him to become the top assist-provider in the Premier League with 10.
"Victor has given us a bit of stability in that midfield role. It is not easy to get past him. As a player, it makes me free to do my thing and go forward and I know there is someone there to cover me if I lose the ball.
"I think the team has a pretty good balance. When we don't have the ball we know where we need to be and we need to help each other out. And we have been doing that very well I think. If somebody is in trouble, you help them. Whether it is left, right back or centre midfield, Everyone is giving their best."
Tottenham vs Everton player ratings
Tottenham vs Everton player ratings
1/22 Hugo Lloris – 5 out of 10

Aside from Lukaku's strike, it was a very quiet afternoon for Lloris.

2/22 Eric Dier – 6 out of 10

Held the shape well and used possession efficiently to begin moves from the back.

3/22 Toby Alderweireld – 6 out of 10

Another encouraging display. Cleverly marked Lukaku out of the game for the majority.

4/22 Jan Vertonghen – 7 out of 10

Aside from his slip for the Everton goal, he was on exquisite form. He tackled hard and worked relentlessly.

5/22 Kyle Walker – 7 out of 10

Was good defensively, but even better going forward. He caused problems for the Everton defence with his deliveries.

6/22 Victor Wanyama – 6 out of 10

Rattled the woodwork with a sublime strike. Began a number of Spurs moves going forward.

7/22 Mousa Dembele – 5 out of 10

Made a habit of giving possession away with unnecessary inputs of skill.

Getty

8/22 Ben Davies – 6 out of 10

Caused problems for Coleman all day and he was tracking back well to support the defence.

9/22 Christian Eriksen – 7 out of 10

His deliveries throughout were difficult to defend for Everton. He was a key element to every Spurs attack.

10/22 Dele Alli – 6 out of 10

Drifted out of the game at times, but deserved his goal to cap off a great team performance.

11/22 Harry Kane – 9 out of 10

Began the scoring with a moment of magic and doubled his tally with another clinical finish. He's a defenders worst nightmare.

12/22 Joel Robles – 4 out of 10

His poor decision to roll the ball out gave Kane his second goal on a plate – should be doing better than that.

13/22 Seamus Coleman – 5 out of 10

Gave Davies too much space out wide and should have had more of an input from an attacking perspective.

14/22 Ashley Williams – 6 out of 10

Lost the ball for Kane's second, but it arguably was not his fault. Had a tough day defending the likes of Kane and Eriksen.

15/22 Ramiro Funes Mori – 5 out of 10

Looked lost against such striking ability. However, he did make a number of vital tackles throughout.

16/22 Leighton Baines – 6 out of 10

Defensively he did his job at the back, but it would have been encouraging to see him moving up the pitch more.

17/22 Idrissa Gueye – 7 out of 10

Worked relentlessly throughout and found himself on the end of every loose ball. Clumsy in his challenges at times though.

18/22 Morgan Schneiderlin – 5 out of 10

Was also at fault for Kane's second goal. Incredibly quiet throughout and failed to make an impact.

19/22 Gareth Barry – 6 out of 10

Read the game well, but lost most midfield battles – needed to be stronger.

20/22 Tom Davies – 5 out of 10

Struggled to find his feet in his new attacking position. Failed to show his ability in possession.

21/22 Ross Barkley – 7 out of 10

Continued to create chances from nowhere and was hunting for possession constantly. His work rate is faultless.

22/22 Romelu Lukaku – 6 out of 10

Aside from his goal, it was a quiet display from the team's top goal scorer. He was marked out of the game and received very little service from the midfield.
No player has made more assists in the Premier League this season than Eriksen and the midfielder has also contributed five goals to the cause. However he insists the focus should not be on him, but the team as a whole.
Premier League
Leading assist makers
1. Christian Eriksen, 10.
1. Gylfi Sigurdsson, 10.
3. Kevin de Bruyne, 9.
3. Alexis Sanchez, 9.
5. Matt Phillips, 8.
"That is always something to be proud of when you see something like that," Eriksen says when asked if he has looked at the leading assists table. "But the season is not over yet. I am always trying to create chances and hopefully they are taken.
"When the team is doing well, you go with the flow. You get confidence and you just build on that. I just trying to be the one to create something and make something happen. And now I know how the Premier League works and how the teams play. There is nothing to surprise me. It gives me a positive way of feeling before the game."
Reuse content