Reading FC co-chairwoman Khunying Sasima Srivikorn caused a bit of a stir ahead of the season when it was revealed she had penned a new club song.
'They Call us the Royals', which even contains an excruciating rap verse, didn't exactly get rave reviews when it was first heard ahead of the opening game of the season against Leeds.
The song, given as "a gift" to the club by Lady Svrikorn, has now got its own music video.
It's as bad as you would expect.
Unfortunately for Lady Srivikorn, the song has not got the rave reviews she may have expected.
Fans of Reading and other clubs took to social media in their droves to slate the unintentionally hilarious song and cringeworthy video.
Wtf have I just watched  reading fc thanks for making me laugh  what a song!

— Katie Lou scfc  (@xkatielouscfcx) October 1, 2015
Everybody associated with Reading FC should be ashamed of that song. Just tragic.

— Chris (@ChrisW93_) October 1, 2015
The rap bit in that Reading FC song is the greatest thing I've ever heard

— Joe (@JOK1990) October 1, 2015
The Reading song is either an incredibly good piece of advertising or a self obsessed wannabe celeb owner showing who runs the club

— Steve Adamson (@sadamson84) October 1, 2015
Stand by the Royals for Reading FC is quite possibly the worst sports song ever. It makes Here we go by Everton look like a masterpiece.

— The Middle Stump (@TheMiddleStump) October 1, 2015
that reading song

— holly (@hollyjoee) October 1, 2015
Just seen that #readingfc song honestly think they've overtaken Fulham as the most irrelevant and tinpot club in England

— Dominic White (@domwhite8) September 30, 2015
So whens the song being released on to Spotify and becoming the UK no. 1? @ReadingFC 

— Churchy (@Churchy1871) September 30, 2015
That reading fc song makes me want to jump in a bath holding a radio.

— Charlie (@ItsCharlie_C) September 30, 2015
That new club song is the worst thing I've ever heard #readingfc

— Stark (@jamesstarkRFC) September 30, 2015
Who at @ReadingFC actually thought that song was a) any good? And b) a good idea to do in the first place?

— James Kemble (@Kemble24) September 30, 2015
Poor Reading fans.
Here are the lyrics in full:
We Are The Royals
Verse 1
We started when all the odds defied us
Through passion and dreams we reached new heights
We were marching proudly from Elm Park into the stadium
We forced our rivals to make way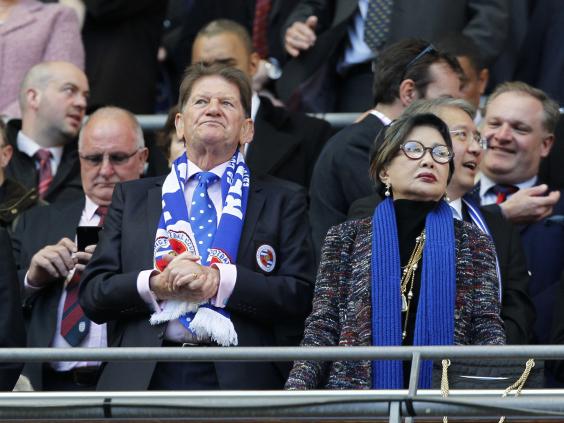 Pre-chorus
Now we're here and we're strong, we're going to bring it on
Can you hear when we shout come on
Chorus
We will fight til the end, they call us the Royals
With our might we'll defend, the glory of Reading
Like the kings of our land, they call us the Royals
Let us sing every man, we stand by the Royals
Verse 2
We rise to the challenge of our rivals
We're fighting the butterflies tonight
It's our moment, feel the expectations rising
We smell a victory today
Rap
How we love the thrill of a good game
How we like the smell of the fame
Doesn't matter if we learn or win
Unstoppably we burn within
Getting ready to shed our sweat
Everybody get ready and set
Let's celebrate tonight. Or blood is blue our wings are white.
Chant
Blue and white, blue and white, blue and white
Give us blue and white, blue and white. Everybody come on.
A capella
Like the kings of our land. they call us the Royals
Let us sing every man, we stand by the Royals
Reuse content