If you listen to those senior British officers already preparing to police England fans at the Russia World Cup next summer, you will find signs of genuine optimism. The first diplomatic mission to Moscow recently concluded and it is clear that Russian football police have a good intelligence network, know exactly where the criminal element resides and can handle these crowds with more sophistication than the outside world might think.
It is England who present the problem. When the nation's fans were involved in open warfare with French and Russian gangs at last summer's European Championships, talk among football's authorities turned to how they might be persuaded that watching the national team should not involve colonising some unsuspecting town and singing about the RAF and the war. Nothing has changed.
Last summer's hooliganism storm burned out as fast as it took hold and what we have been left with Dortmund this week has been the same sense of embarrassment to be English. The occupation of the German town was one thing, but the chanting and absence of respect during England's match against Joachim Löw's side took things up onto another level. 
Germany 1 England 0 player ratings
Germany 1 England 0 player ratings
1/22 Marc-Andre ter Stegen – 6 out of 10

Rash when coming out to challenge Vardy early on, but stood firm to block Alli's decent chance towards the end of the first half.

2/22 Joshua Kimmich – 7 out of 10

One of the few young German players to have a decent evening and potentially sent a message to Carlo Ancelotti, who has not offered him much playing time this season.

3/22 Mats Hummels – 7 out of 10

Germany's best all-round performer, rarely looked troubled by England's attacking talents.

4/22 Antonio Rudiger – 6 out of 10

A solid display, if unspectacular. Did well on the rare occasions when England went aerial.

5/22 Jonas Hector – 7 out of 10

Impressed after taking his time to grow into the game. His link-up play with Sane in the second-half was at the root of all England's problems.

6/22 Julian Weigl – 5 out of 10

The main culprit in Germany's surprising struggle to who Hauled off for Liverpool's Emre Can midway through the second half.

7/22 Toni Kroos – 5 out of 10

Surprisingly poor when it came to the simple stuff, misplaced several passes when not under pressure. Struggled to win his battle against the lesser light of Livermore.

8/22 Leroy Sane – 6 out of 10

Did not crackle like we know he can from his recent Manchester City form, but another who improved as the evening went on. Perhaps should've doubled Germany's lead.

9/22 Julian Brandt – 4 out of 10

Another player reportedly attracting Premier League interest, he did not show why here. Switched for Andre Schurrle.

10/22 Lukas Podolski – 6 out of 10

The equivalent of a testimonial for the veteran and you could tell from his first-half performance. Then came Der Hammer, as Germany's support calls his left peg. A stunning winner.

11/22 Timo Werner – 4 out of 10

The RB Leipzig frontman, a reported target for Liverpool, failed to translate his exciting form at club level to the international stage. Disappointing, but it was only his debut.

12/22 Joe Hart – 7 out of 10

Could do little for Podolski's goal, but did well shortly after to deny Sane with an excellent stop down low to his left.

13/22 Gary Cahill – 4 out of 10

Lucky not to concede a penalty for needlessly leaning into a cross in the first-half and could have done better to stop Podolski's screamer.

14/22 Michael Keane – 6 out of 10

Asked to play in a back three on his debut after excelling in a rigid four at Turf Moor all season, but coped admirably. One lapse in concentration was almost punished by Sane.

15/22 Chris Smalling – 5 out of 10

An indifferent night from the centre-half. Unlike Cahill, he was rarely called into question, but still did not convince.

16/22 Kyle Walker – 6 out of 10

Showed why he will be integral to Southgate's England in his forays down the right flank, but only did so in glimpses. Hector and Sane began to cause him problems has the game went on.

17/22 Eric Dier – 6 out of 10

A lucky boy not to be severely punished for a late, robust tackle on Weigl. That aside, he helped to stifle Germany's midfield.

18/22 Jake Livermore – 7 out of 10

Not everyone's idea of a no 7, but combined well with Dier in the centre of the park to disrupt Germany's passing, particularly in the first half.

19/22 Ryan Bertrand – 6 out of 10

Not as threatening as Walker was in moments, but defensively solid and frustrated Brandt in the first-half. Schurrle gave him a few more problems after the break.

20/22 Dele Alli – 7 out of 10

England's main creative outlet, but also found himself on the end of several chances. Should have opened the scoring with the first-half's best chance but hit it straight at Ter Stegen.

21/22 Adam Lallana – 7 out of 10

Came close to scoring in his fourth straight England appearance, but thwacked the post after an impressive burst forward.

22/22 Jamie Vardy – 5 out of 10

Aggrieved to have not won a penalty early on, but you could tell he was looking for it. Too deep at times too, despite Germany's defensive line offering him space in behind.
Just when you thought it might have vanished, those so-familiar strains of the '10 German bombers' song issued out again like the return of a recurring nightmare. And it was not an intellectually-challenged few who were happy to sing for fully 15 minutes of how "the RAF from England shot them down." Dozens did so. There's a bit of choreography at the end of the song where everyone puts their arms out like a plane. It is no exaggeration to say that the corner housing the English component was full of wretched planes. You just hoped that the Germans couldn't work out what they were singing.
That was half way through the first half of what, in retrospect, we can say was one of the most promising performances from an England side for years – a display of intelligence, positional awareness and confidence, provided by a group of young England players quite clearly up to the intellectual challenge of a new tactical system. Yet throughout that first 45-minute period there was not a single song about an England player.
The Geman contingent had shown what an interest in football looked like with their send-off for Lukas Podolski, of course, though the braying English saw fit to howl through that and to boo through the German national anthem. The ugliness of the hand gestures for Podolski when he left the field are almost beyond words. This was the behaviour of scum. Such are the liberties for which our forebears laid down their lives. What would they think to see these people now?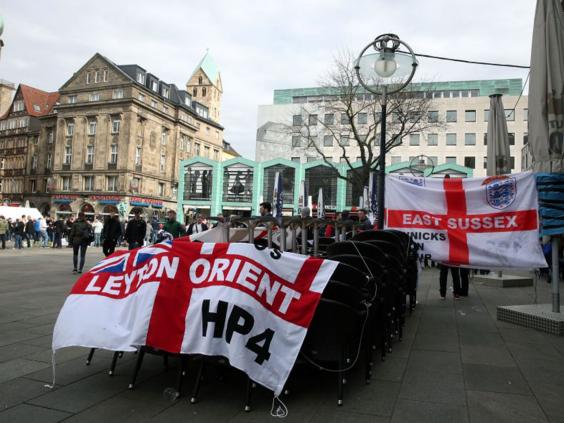 The only mercy about next summer in Moscow is that the tournament is too far away and its locations too far removed from each other to send England supporters out in vast numbers. But a few Russia songs are doing the rounds already and from where we stand now, it seems very likely that English football's reputation will be dragged through the mud again, with more episodes of juvenile delinquency with a beer-fuelled, nationalistic twist.
The challenge is how to hammer home the point that this is socially unacceptable – and no doubt, the British police will tread carefully. The issue was a hospital pass for Gareth Southgate on his first night as international manager and seems to be a delicate one for a Football Association which does not want to alienate those who travel. But Southgate's comments were, frankly, not nearly strong enough.
The FA strengthened its position late on Thursday when its chairman Greg Clarke described the behaviour as "inappropriate, disrespectful and disappointing" and urged travelling England supporters to "show respect and not to chant songs that could be regarded as insulting to others". The governing body will review video footage to identify those involved in anti-social behaviour in Dortmund and they could become the subject of banning orders and prevened from travelling to watch England.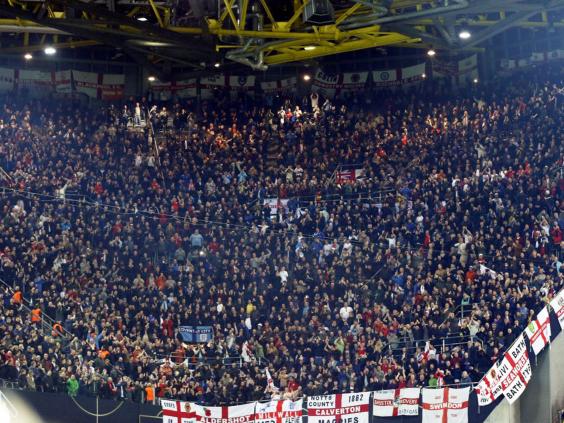 The Russian state is determined that its event will not be scarred by images of violence, though there will be little slack cut for any who arrive on Russian soil and behave like an invading English army. Any such individuals can expect to get holy hell beaten out of them. In the aftermath, they will no doubt want to claim they are victims. Don't let them say they weren't told.
Reuse content