Where English football is concerned, it's the year we'll remember for Iceland, the 'Huh', and the ignominy of that night in Nice, though before we reach too many conclusions about the national team's irrelevance, consider the TV ratings. That match on the French Riviera remains the most watched programme of 2016, from which only 298 people tuned out.
Then compare the Argentinian viewing public last week, during the 3-0 defeat to Brazil which has left qualification for the 2018 World Cup looking like a stretch. At half time, with their team trailing 2-0, millions in that football obsessed country switched channels to watch the last episode of a Brazilian mini-series called 'Moses and the Ten Plagues.'
Though the 3-0 win over Colombia in Buenos Aires on Tuesday improved the picture slightly, the night ended with the farcical spectacle of the entire team standing, po-faced and arms folded, on a platform behind Lionel Messi, as he declared through a microphone that, because of a radio report that Ezequiel Lavezzi had smoked marijuana – which the player denies – "we have decided not to speak any more with the press. Getting into someone's personal space is very grave."
England are certainly well ahead of this nation in the popularity stakes. Though there's something in the characteristic swagger of the Albiceleste which makes other South Americans always desperate to beat them, it's far more bitter than sweet between the players and their public, too. The mass overseas exodus of the best talent lies at the heart of it. "When the national team is playing we feel like a First World country," says La Nacion's distinguished football columnist Ezequiel Fernandez Moores. "Then they go off to play for their clubs and leave us alone. We need them but when they leave we feel they are traitors."
This is nothing new. Even when Diego Maradona was punching the ball into Peter Shilton's net at the Estadio Azteca on the way to World Cup victory in 1986, most of the players were playing their club football outside of Argentina, though the nation is now engulfed by that English disease of yearning for days when the sun never set on their success.
It's 23 years since they last lifted a trophy – the 1993 Copa America – and losing in finals is their equivalent to our runners-up position in penalty shoot-outs. Since Mexico '86, the side have been defeated in the finals of two World Cup and three Copa Americas. The FA would have certainly taken that record but for the Argentinians, an innate braggadocio comes into play. Everyone quotes the legendary Carlos Bilardo, coach of that 1986 team. "Football is winning and nothing else," he said.
England vs Spain player ratings
England vs Spain player ratings
1/22 Joe Hart – 6 out of 10

Didn't see much of the ball at all and had very little to do from a blunted Spain attack.

2/22 Danny Rose – 7 out of 10

Attacked and defended well down the action-packed left flank but picked up a silly yellow.

3/22 Nathaniel Clyne – 7 out of 10

Attacked well down the right-hand side and didn't see much coming his direction in the way of defending.

4/22 Gary Cahill – 7 out of 10

Solid and controlled the back line well throughout, albeit it with little threat coming his way.

5/22 John Stones – 6 out of 10

Still not looking like a settling presence and played one awful pass to Dier which nearly put caused Spain to win the ball in a dangerous area.

6/22 Jordan Henderson – 7 out of 10

Won the midfield battle with Busquets and looked comfortable with the armband on yet again.

7/22 Eric Dier – 7 out of 10

Needed to be strong in the tackle to stop Stones' poor pass from being a costly one.

8/22 Raheem Sterling – 9 out of 10

Carvajal will wake up in a fit of sweats tonight with memories of what Sterling did to him. Tortured the Spanish defence and was brilliant throughout.

9/22 Adam Lallana – 8 out of 10

Flawless in the 24 minutes he played before going off injured. His teasing cross drew the penalty and he converted it brilliantly.

10/22 Jesse Lingard – 7 out of 10

Started strongly in the No 10 role but faded as the game went on. His pace was always a threat though.

11/22 Jamie Vardy – 9 out of 10

Was clever in winning the penalty and luring Reina's challenge and there was no one stopping him getting his head on the ball from his goal. Good celebration too.

12/22 Pepe Reina – 5 out of 10

Was made to look like a fool by Vardy for the penalty in the first half but saved well from Henderson in the second.

13/22 Cesar Azpilicueta – 6 out of 10

Attacked well down the left and avoided most of England's attacking threat, which was all down the other channel.

14/22 Inigo Martinez – 5 out of 10

Got a cynical yellow for a challenge on Walcott and didn't really look comfortable.

15/22 Nacho – 5 out of 10

Another to struggle with England's attack and was left chasing shadows.

16/22 Dani Carvajal – 5 out of 10

Struggled with the pace of Sterling, Lingard and Vardy throughout and didn't manage to get forward as he would have liked.

17/22 Sergio Busquets – 5 out of 10

Failed to stem the midfield flow as he usually does for Barca and was another to struggle with England's pace.

18/22 Thiago Alcantara – 6 out of 10

Played in a slightly deeper role and looked classy in everything he did – although failed to create anything of any substance.

19/22 Vitolo – 4 out of 10

Had a shot in the first half which he dragged wide but had a tough evening at Wembley.

20/22 Juan Mata – 5 out of 10

Exchanged a couple of neat passes with Silva but failed to create anything of note.

21/22 David Silva – 6 out of 10

The leader of the team on the night and did all he could to get Spain in it.

22/22 Artiz Aduriz – 4 out of 10

Barely saw the ball and wasted a good chance in the first half with an under-hit pass to Vitolo.
The introspection is worse because this nation's production line of players is so phenomenal, while Bilardo, Cesar Luis Menotti, Marcello Bielsa, Diego Simeone and Mauricio Pochettino have made coaching a revered art form. As Jonathan Wilson puts it in the conclusion to his powerful new history of the Argentinian football nation 'Angels with Dirty Faces', no side has ever produced such success at Under-20 World Cup level – five tournament victories in 12 years - and yet failed to win a trophy at senior level.
The burden of history has weighed down the shirt, with everyone currently analysing what is wrong with the Argentinian football psyche. "We are one of those Sigmund Freud countries - like you in England," says Fernandez Moores. "It is a psychological affliction now. You can see that in the players' faces."
Before Messi decided that the players would not be talking, he surprised Argentinians by declaring, "We need to get out of this s***," after the defeat to Brazil. The nation is not accustomed to such phraseology from its celebrities. Javier Mascherano, who looked even more beaten down that night, has been in the throes of one of his worst runs of form in the national team. His catastrophic backpass gifted Peru an equalising goal last month.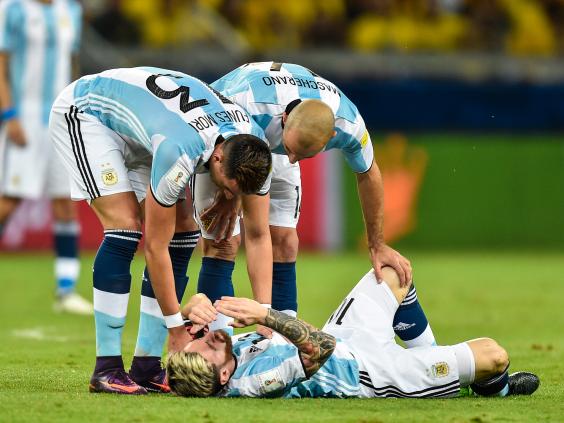 The introspective search for an explanation for all this within the nation's domestic game is just like England's. The administration and structures are certainly chaotic, with the Argentina FA currently under emergency Fifa control. Wilson writes that 1,869 Argentinians were playing professionally abroad last year. Who can blame them for leaving Third World club standards behind?
Messi's media boycott has been received philosophically. "It's Messi. He knows that journalists need him and he doesn't need journalists," says Fernandez Moores. But the same may not apply to the entire squad. Argentina, still outside of the qualification places, now face games against Chile and in La Paz, Bolivia, whose high altitude grounds are fiendishly difficult to get results from.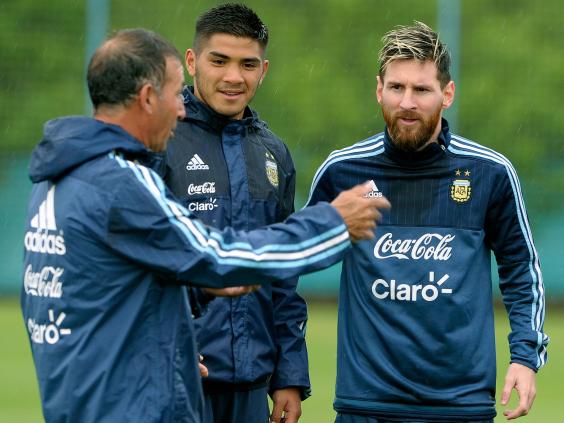 There is no sense of collective strength, despite Tuesday's much needed win. "It was Messi FC 3 Colombia 0. Argentina remains in darkness," says one paper. England's next opponents? Lithuania and Scotland. Be thankful for small mercies.
Reuse content