One of the themes of the last week has been England working to ensure the very feel of future tournaments is different to the last few years, and it seems one ostentatious scene could already be a thing of the past.
We may no longer see an overly-motivated and loud Joe Hart in the tunnel before games - but not because he won't be in the team. It is because he has been working on precisely that, as Gareth Southgate revealed in the aftermath of the 2-2 draw with Scotland, when the goalkeeper's "composure" naturally came up after conceding two free-kicks.
"He has been really honest about that being an area he felt he needed to develop and there is no question he has developed it," the England manager explained. "His preparation is different."
Scotland vs England player ratings
Scotland vs England player ratings
1/22 Craig Gordon – 4 out of 10

Will be disappointed with himself. Should have saved Oxlade-Chamberlain's strike, which itself stemmed from him misjudging a backpass from Tierney.

2/22 Christophe Berra – 6 out of 10

A decent display and cannot be blamed for either of England's goals, though could have organised his backline better.

3/22 Charlie Mulgrew – 5 out of 10

Guilty of ball-watching for England's late equaliser and losing track of Kane, though could have done with a shout from Robertson.

4/22 Kieran Tierney - 7 out of 10

Impressive from the youngster. One goal-line clearance, one vital block to deny Rashford a clear shot at goal, but let himself down on the Oxlade-Chamberlain goal.

5/22 Ikechi Anya - 6 out of 10

Had an opportunity to get at a nervy Walker but did not take it.

6/22 Andrew Robertson – 6 out of 10

Troubled England's right flank, though benefitted from Rashford's hesitancy to track back. Mix-up with Mulgrew cost his side.

7/22 James Morrison – 5 out of 10

Hampered by an early knock, failed to find his rhythm in the game. Substituted at half-time.

8/22 Scott Brown – 6 out of 10

Took only three minutes to pick up a yellow card. If only he had put as strong a foot in on Oxlade-Chamberlain in the build-up to the goal.

9/22 Stuart Armstrong – 6 out of 10

Showed neat touches around England's box and his movement troubled red shirts at times, but should have held the ball up better before Kane's equaliser.

10/22 Robert Snodgrass – 5 out of 10

Scotland needed a performance from him, but he was quiet and ineffective, much like he was throughout the second half of the season.

11/22 Leigh Griffiths - 9 out of 10

Two incredible late free-kicks and both deserved. Suffered from poor service but did not let that deter him, pressing England's backline throughout.

12/22 Joe Hart – 4 out of 10

Largely untroubled until the late goals, both of which he should have saved. Questions have to be asked whether he is still England's best 'keeper.

13/22 Kyle Walker – 5 out of 10

Poor. Penalty call against him for the trip on Griffiths could have gone either way, but it was just one of several mistakes.

14/22 Chris Smalling – 6 out of 10

Recovered from a nervy start that included one horribly shanked clearance over his own goalmouth.

15/22 Gary Cahill – 7 out of 10

More assured than his defensive partner for the majority of the game, until that reckless challenge to concede first fatal free-kick.

16/22 Ryan Bertrand – 7 out of 10

Bright down the left, especially going forward.

17/22 Jake Livermore – 7 out of 10

His selection raised the odd eyebrow but, particularly in the first half, he was England's most composed player.

18/22 Eric Dier – 5 out of 10

Paled in comparison to Livermore on a real off-day for the Tottenham midfielder. Picked up a needless yellow card, too.

19/22 Marcus Rashford – 5 out of 10

On his first competitive international start, a display that suggested he remains only an impact player for now. Did not take to his role on the right flank.

20/22 Dele Alli – 5 out of 10

Totally failed to get going, looking tired and cumbersome at times. England's best player on his day, but that was not today.

21/22 Adam Lallana – 7 out of 10

England's best attacking outlet and particularly came the fore after half-time, once he began to find more space in Scotland's half.

22/22 Harry Kane – 7 out of 10

Missing his usual composure in front of goal but found it when it mattered. A simple finish but one he needed to make.
Then again, life is now different for England's No 1, with that very position no longer so secure as he contemplates his uncertain future at Manchester City. Hart's externally abrasive personality has often been commented upon through all that time, but that very insight from Southgate illustrates introspectiveness and a certain thoughtfulness, as did some of the 30-year-old's own comments after the game.
If he often seems so vigorously sure of himself, and it did feel so pointed that he pretty much denied any culpability for either of Leigh Griffiths' goals on Saturday - "sometimes there's nothing you can do" - there is clearly a vulnerability there too.
"I am no robot," he said, regarding his future, before saying something just as conspicuous when he was asked about going up to Griffiths to chat at full-time.
"That's me, that's who I am. I want to win. I'll do anything for the cause but once the game's done sometimes you've got to say 'well done' to someone and that's my personality, hate it or love it, that's who I am.
"I wanted to congratulate him, and talk about it because I'm interested. I'm interested about his thought process, you know, football interests me."
He is clearly well aware of how he is viewed in some quarters. It's also why it's difficult not to feel some sympathy for him in the situation. Whatever people think of Hart, he is a City legend who has been a key player in two of their four title wins, but now finds himself cast aside just at what most would consider his prime and as the club looks to enter a new era.
That in itself is a tough new reality to adjust to, but one further complicated by what Hart calls 'the strange world of goalkeeping', especially when the very fact he has been dropped has itself further sparked debate about his actual quality. Southgate, however, was keen to remind everyone of the quality of his save in the 0-0 draw against Slovenia in October.
It is just another way the position is so unique, and why goalkeeping is the most psychological of positions.
Hart repeatedly said in the Hampden Park mixed zone that he wants to play at the "highest possible level" but the problem is that needs movement at one of the clubs at the highest levels, something not guaranteed, meaning he has so far had no guaranteed offers. There is no obvious choice of club.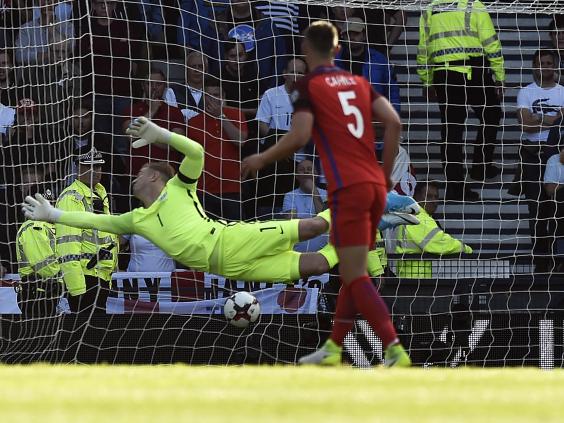 "You look at some of the top teams in the world that have got the best strikers, and they are looking to buy another top striker," Hart said. "If you have got a top goalkeeper, you are not often looking to buy another goalkeeper. It's a game of chess and my situation is different to everyone else's, and we are going wait and see how it plays out.
"It looks like it is easy for some goalies. But my personal situation is interesting, and patience is going to have to be the key. I'm lucky that I've got this great distraction of being involved with my country for the next couple of days, and then we will see. I'd love to be withholding information about my future but I don't have the information to withhold…"
Hart could actually do with Real Madrid properly reviving their interest in David De Gea. That is not necessarily for him to go to Manchester United, although Jose Mourinho does rate him, but because it would start up the carousel; get goalkeepers moving. Until that happens, he might be left frustrated.
"I just want to play football, I love football," Hart said, quite innocently. "I don't know if you guys can see it but that's what I live and breathe and I want to play football at the highest possible level I can play, that's the plan."
That's probably why Southgate's completely justified plan of trying one of the other goalkeepers for Tuesday's friendly with France comes at exactly wrong the time for Hart, and it was interesting that the manager was at pains to point out how it shouldn't be seen as his current number-one getting dropped.
"Our intention was always to give someone else a game - however that looks I will have to ride that out," Southgate said. "I am seeing a headline that says "Hart is not safe"...hut we need competition. Who knows who will be fit and available and too many times we have got to a tournament when a key player is not fully fit. We cannot rely on one or two players… we need players who can perform at a high level."
Hart is all too aware of that.
"I've got to respect this career, this shirt's not mine, it's not nailed on mine, it's no-one's, and we've got high quality and I have to be playing football at a good, well… at the top level, to the maximum of my ability to even get in the squad at the moment. That's the plan, it's a strange world the goalkeeping world and patience is probably going to have to be key at the moment."
He's going to have to stay composed.
Reuse content