One of Sepp Blatter's most senior aides Walter De Gregorio has resigned from his role at Fifa with immediate effect.
However, it has been reported that De Gregorio, director of communications and public affairs, was "forced to quit" after making a joke about Fifa on Swiss TV.
A video emerged of De Gregorio on the Roger Schawinksi show where he made a joke referencing the current FBI investigation into alleged corruption among Fifa.
De Gregorio said: "The Fifa president Sepp Blatter, the director of communications and the general secretary are all sitting in a car – who is driving?"
Schawinski replied: "The answer is?" De Gregorio responded: "The police."
Hearing DeGregorio fired after making joke on a Swiss TV. Q: FIFA president, gen sec + comms dir are in a car. Who's driving? A: The police

; Martyn Ziegler (@martynziegler) June 11, 2015
Genuinely true that joke story - was on Roger Schawinksi show

; Martyn Ziegler (@martynziegler) June 11, 2015
This is the joke in question https://t.co/lmuSmApNJf

; Martyn Ziegler (@martynziegler) June 11, 2015
Watch De Gregorio make the joke in the video below (forward to 32:00):
The joke appears to refer to the outgoing Fifa president Sepp Blatter, general secretary Jerome Valcke and himself.
Contenders to replace Sepp Blatter as Fifa president
Contenders to replace Sepp Blatter as Fifa president
1/6 Michel Platini

Current president of Uefa. Voted for the Qatar World Cup, which makes position somewhat difficult. Asked Blatter to resign before elections.

Getty Images

2/6 Prince Ali Al-Hussein

The Jordanian was the only contender against Blatter when the elections took place. Managed to pick up 73 votes from the Fifa executive committee to Blatter's 133. Has already confirmed he will stand again.

PA

3/6 David Gill

The former Manchester United chief executive refused to take up his place on the Uefa executive committee after Blatter's re-election. 'My professional reputation is critical to me and I simply do not see how there will be change for the good of world football while Mr Blatter remains in post,' he said at the time.

Reuters

4/6 Luis Figo

Former Real Madrid and Barcelona player announced himself as a candidate for the most recent election but pulled out in protest at how it was being run, saying the process was 'anything but an election'.

AFP/Getty Images

5/6 Jerome Champagne

Also announced himself as president contender but failed to gain the minimum five nominations required. The Frenchman is a former Fifa deputy general secretary and has been a fierce critic of Uefa.

GETTY IMAGES

6/6 Michael van Praag

Dutch FA president was also a contender for president before pulling out in order not to split support between himself and Price Ali.

GETTY IMAGES
A statement from Fifa said that De Gregorio has decided to step down from his role.
"Walter De Gregorio has decided to relinquish his office with immediate effect as director of communications & public affairs," read the statement.
"Mr De Gregorio joined Fifa on September 14, 2011 and will serve Fifa on a consultancy basis until the end of this year.
"His deputy Nicolas Maingot will resume the role ad interim."
The statement also contained a thank you from Valcke and praise for what he has down since taken on the job in 2011.
"Walter has worked incredibly hard for the past four years and we are immensely grateful for all he has done," he said.
"I am glad we will be able to continue to draw on his expertise until the end of the year."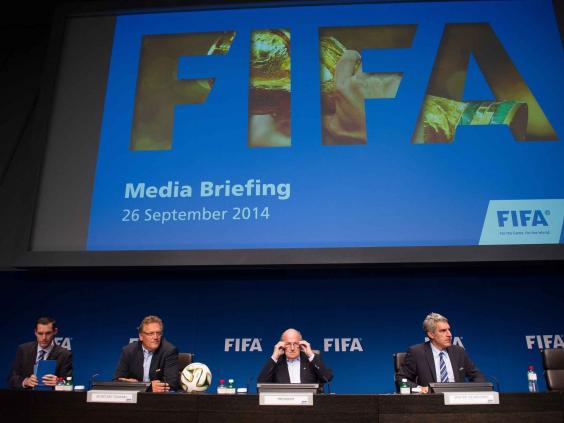 De Gregorio introduced Blatter to the press conference where he confirmed he would be resigning from his role as president of Fifa on 02 June, just four days after beating Prince Ali bin al-Hussein in the presidency election at the Fifa Congress in Zurich last month.
Having won a fifth term as president, Blatter made the astonishing announcement less than a week after seven Fifa officials were arrested in the Swiss city as part of an FBI and Swiss led investigation into corruption charges.
18 current and former Fifa members have been indicted since the arrests were made at the end of May.
The Independent has contacted Fifa for clarification over De Gregorio's departure.