Wayne Rooney has admitted he has reached a key moment in his career and accepted he is no longer the "first name on the team-sheet" after being dropped by England interim manager Gareth Southgate for Tuesday night's World Cup qualifier against Slovenia.
Southgate, in caretaker charge until mid-November following Sam Allardyce's departure last week, claimed it was a "very straightforward" decision to drop the England captain for the first time in his international career here in Ljubljana.
With Rooney, who turns 31 later this month, also having lost his first-team place at Manchester United this season, his prospects for club and country are now shrouded in doubt for the first time. But despite the setback of being dropped – Tottenham midfielder Eric Dier will take Rooney's place, with Jordan Henderson assuming the captaincy – Rooney insists he can fight back and reclaim his England position.
"I've played 13 years non-stop for England and given everything," Rooney said. "But a time comes when you're not the first name on the team-sheet, like I have been in the past. I've done it 117 times, but of course a time comes where there might be a bit of a change, but all I can do is keep working and turning up, so that I am ready when called upon.
"There is no embarrassment. I show great pride playing for my country. [If] it is from the bench, it is from the bench - nothing has changed in terms of my future. I understand this is part of football. It is something which you have to go through and I am big enough to deal with it.
"Of course, I do [believe I can come back from this]. I am 30 years of age, I am not 35 or 36 where you are thinking: 'Can you get back from it?' I will just keep working. I have said before that I will not stop playing for England and then think of going to Dubai for a few days in the international break. I will turn up when called upon and be ready."
Having won his 117th cap against Malta, Rooney stands just eight short of equalling Peter Shilton's all-time England appearance record. The former Everton youngster is confident he can still eclipse Shilton before ending his international career after Russia 2018, but he admits he must now resolve the dilemma over where he plays out the remainder of his career after recently stating a desire to play in midfield rather than as a forward.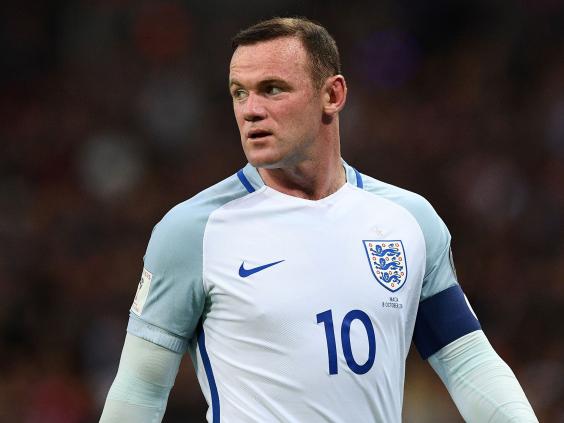 "I am not naive in terms of thinking that I am still a 20-year-old who could do what I could do when I was 20," he said. "I understand that. I feel my game is different to that of a 20-year-old, but I also think I have qualities that can help move this team forward. Ryan Giggs at 30 wasn't the same player at 18. And he played till he was 40.
"There's lots of examples out there you can use – players re-evaluate and work out the best way to move forwards. I'm sure that will happen with me. But I'm not someone who wants to be in for the benefit of me if it will harm the team. It's never been the player I am and I'm not going to start now.
"I want to be part of a winning team. I always want to be in the starting XI but if being part of a winning team is from the bench at the minute then so be it."
Southgate has done his prospects of securing the England job on a full-time basis little harm by being so decisive with Rooney. But the former Middlesbrough manager insists the decision to drop his captain was purely rooted in the best interests of the team.
England vs Malta player ratings
England vs Malta player ratings
1/11 Joe Hart - 6 out 10

Had next to nothing to do. Delivered when called upon late in the game.

Getty

2/11 Kyle Walker - 7

Up to his usual tricks bombing down the right flank, delivering multiple balls into the box. Untested on the back foot.

Getty

3/11 John Stones - 6

Composed on the ball and enjoyed a surging run or two down the centre of the park. Faced no real challenges with Malta's front line.

Getty

4/11 Gary Cahill - 6

Like his partner, never really put out of his comfort zone. Showed some good cover play.

Getty

5/11 Ryan Bertrand - N/A

Exited early through injury.

Getty

6/11 Wayne Rooney - 5

Mediocre performance. Distributed well to the flanks with inch-perfect precision but rarely pressed forward when he needed to.

Getty

7/11 Jordan Henderson - 7

Created chances with his probing balls into the box and ventured into Matla's final third to link up neatly with his teammates.

Getty

8/11 Dele Alli - 6

Missed a series of chances throughout but made up for it with his goal.

Getty

9/11 Jesse Lingard - 5

Struggled to deliver on the occasion. Missed too many chances. Marcus Rashford would have given England more.

Getty

10/11 Theo Walcott - 5

Quiet throughout. Didn't see much of the ball and missed his only opportunity in front of goal.

Getty

11/11 Daniel Sturridge - 6

Took his goal well to get England off the mark. A busy presence at times around the opposition box but occasionally went missing.

Getty
"It's not something I take any pleasure from at all, but you put emotion and feeling to one side and make a decision that you think is right for tactical reasons," he said. "That's part of the responsibility of being the head coach. Again, I was well aware of the implications of it, especially for Wayne and that's why I felt it needed to dealt with in a certain way.
"But it's very straightforward. We have looked at how Slovenia play and when I looked at that midway through last week I knew in my mind the profile of midfield that we need for this game."
Having been in the England squad when Paul Gascoigne reacted angrily to being left out of Glenn Hoddle's World Cup squad in 1998, however, Southgate admitted a need to be respectful of Rooney's status as captain and contribution to the team.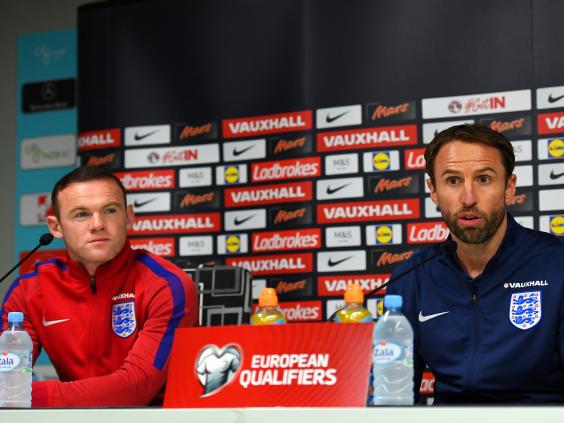 "I think there is a thing of respect and unfortunately very often we don't see it fully until players retire and they are finished," he said. "I know that is the case. But we have an opportunity still with Wayne, there is still time ahead and his impact on the whole squad is huge.
"I have been more aware of that over the last few days because of his contribution, the things he talks about, that experience he passes on, the players fully appreciate the gold dust he is giving them. It is massive, especially for a relatively young group of players.
"He is still captain of this team while I am in charge. Everything I have seen this week has only improved and reinforced the feeling of how impressive a leader he is of this squad."
Reuse content