Having previously ruled himself out of the running, the Football Association's vice-chairman David Gill has declared he will stand for Britain's Fifa vice-presidency next year.
His decision means he is highly likely to have to work directly with Fifa President Sepp Blatter, having said over the summer that the Swiss should not seek re-election.
Gill, the former Manchester United Chief Executive will almost certainly face competition from the Scottish Fa President Campbell Ogilvie and Welsh FA President Trevor Lloyd Hughes. Uefa, the body that oversees European football will select one candidate from Britain's four separate football associations to replace Northern Ireland's Jim Boyce in May next year.
Gill's decision to stand closes the door on Rio Ferdinand and Graeme Le Saux, who had been considered by the FA when Gill, the obvious candidate ruled himself out earlier this year.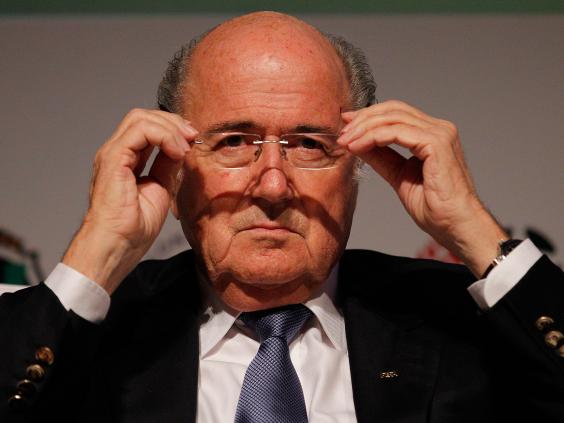 "This is a decision I have been thinking about for some time," he said in a statement. "Although I had initially wanted to focus on developing my relatively new role within UEFA, I believe there is an opportunity, if elected, to use the FIFA position to make a real difference while complementing that ongoing work.
'Having sounded out many people across the game including fellow board members at Manchester United, the FA and UEFA, I would hope to make a positive contribution and use my candidacy to drive a debate for continued reform.'
Having said four years ago that he would not seek re-election, Sepp Blatter has confirmed he will stand for another term as Fifa President. He will almost certainly win, although he faces a challenge from former Fifa Official Jerome Champagne and, possibly, the former head of Chilean Federation Harold Mayne-Nicholls, who is thought to be considering running.
Mayne-Nicholls was essentially the only voice in Fifa warning that Qatar is hot in the summer, has indicated he is considering running.
53 year old Mayne-Nicholls was head of Fifa's technical commission that assessed the bids for 2018 and 2022, when the contests for both games were run concurrently in three years ago. His assessment drew attention to the the summer heat in the Gulf, which regularly rises above 50 degrees, and has since then devised a schedule that would allow all of the tournament's matches to take place in the evening and later at night, raising the possibility of still playing the tournament in summer, without disrupting Europe's top leagues.
In June, David Gill told a conference of Europe's leading football officials that Mr Blatter "should have stuck with his comment in 2011" about not running again.
"He has done some good work over the years," he said. "However, you can change the structure but unless you have the right people within it, the structure is irrelevant."
Meanwhile, a film about the history of Fifa, United Passions, in which Blatter is played by Oscar nominated Shawshank Redemption star Tim Roth, has taken £125,000 at global box offices. In the UK it will not be released. The film cost £19m to make, with 90 per cent of the funding coming from Fifa.
Reuse content