Radamel Falcao could have played for England had his father got his wish after he enquired whether the Colombian striker could gain a British passport due to his great-grandfather being born in Yorkshire.
Falcao is currently on-loan with Manchester United from French side Monaco, and the 28-year-old notched his first goal for the club since completing the deadline day transfer during the 2-1 victory over Everton 11 days ago.
However, he was just 13 years old when his father Radamel Falcao Snr attempted to gain a British passport for his son, only to be informed that he was one generation too far down the family tree.
Speaking to the Daily Mail, Falcao Snr said: "I'm proud of my English blood.
Manchester United injury list
Manchester United injury list
1/5 Wayne Rooney

There is uncertainty over the extent of the Manchester United captain's injury, with fears he may have suffered ligament damage to his knee during the 3-0 defeat to Everton. Unlikely to feature against West Brom and could miss the rest of the season.

GETTY IMAGES

2/5 Michael Carrick

Having limped off in the 4-2 derby victory over Manchester City, it's uncertain if the England midfielder will fit for this weekend. Was unable to even make the bench for the defeat to Everton.

GETTY IMAGES

3/5 Rafael

The right-back's return to action has suffered a set-back. After making a short appearance in the 3-0 win over Tottenham in March, the Brazilian has been pushing for full fitness. However he suffered a blow to the ribs in an Under-21 match against Leicester and could miss the rest of the season.

GETTY IMAGES

4/5 Marcos Rojo

Having missed the games against Chelsea and Everton due to a groin injury, the Argentina international is pushing for a return and could feature this weekend.

GETTY IMAGES

5/5 Phil Jones

Fellow defender Phil Jones also missed the defeats to Chelsea and Evertton but the England international has returned to training after a foot complaint and could play at against West Brom.
"Falcao was probably about 13 so I went down to the embassy thinking that a British passport would help him with a move to Europe. But unfortunately it got rejected."
Falcao's great-grandfather, George King, was born in Yorkshire and was an accountant by trade and a keen golfer. He upped sticks in 1932 when he chose to move to Colombia to begin a new life in South America.
He began working for the United Fruit Company, but was sadly widowed when his wife died during childbirth. King would go on to remarry after meeting a Colombian woman by the name of Juliana, and the two had five children which included Falcao's grandmother, Denis.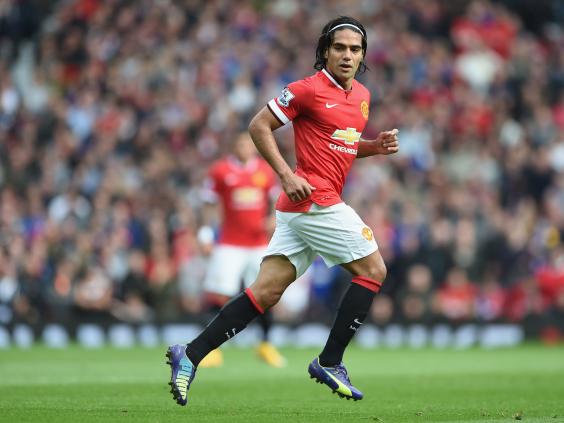 Tragically, King was murdered when the company closed down and he was charged with distributing their finances, as Denis explained.
"They gave him the money to sort out, but as he was leaving he was murdered by people who stole the money," she revealed.
Reuse content