Sir Alex Ferguson has absolved himself of any blame in Manchester United's disastrous season under David Moyes, describing suggestions that he left behind a squad that was in decline as "nonsense" and expressing confidence that his sacked successor will go on to have a good career in management.
Ferguson's updated autobiography is on sale in branches of Waterstone's, two days ahead of its official launch date on Thursday. The new chapter 27 focussing on last season is the first time that Ferguson has commented extensively on the Moyes era, including the decisions that contributed to the appointment, and subsequent sacking, of the man who was handpicked to succeed him.
In general it is a sympathetic take on Moyes' ten months in charge – "it was always going to be difficult for whoever follows me" – but he is at his most insightful when he talks about the changes he witnessed in United's playing style under their new manager.
Ferguson writes: "The pace of play slowed down a touch. I could see that. But every manager has his preferred style. The reason for playing at speed was that United players had been accustomed to operating that way. If the tempo slowed for any reason, I would be into them at half-time. 'This is not us,' I would say. Playing with speed never hindered our results. It was our way: energy and determination in the last third of the pitch."
There is an evocative description of the pressure taking its toll on Moyes, in which Ferguson draws comparisons with his own difficult times at the club, especially 1989. "As the results deteriorated, each defeat was a hammer blow to him. I could see that in his demeanour. In January we bought Juan Mata and that gave everyone a lift but I could see the walls squeezing in, leaving David with less and less room to breathe. I know that feeling from 1989, when we went through a terrible spell. You feel like you are being crushed."
Ferguson says that Moyes will go on to have a good career in management, picking out the example of his predecessor at Old Trafford, Ron Atkinson. "On his record it will show that he was selected to be manager of Manchester United, a rare occurrence." In terms of Moyes' appointment, he writes that "a process was followed" and that it was not his decision alone.
As far as Moyes' sacking went, Ferguson said he was not part of any meeting on the evening of 20 April, after the lacklustre away defeat to Everton. Instead he was in Aberdeen and only became aware that events were in train when he spotted a newspaper headline announcing Moyes was to be sacked on the flight home.
Ferguson writes: "At the same time, David Moyes texted me. I wasn't sure what to say to him because I was unsure what was happening." He says that he then spoke to vice-chairman Ed Woodward "and established a final decision had been made".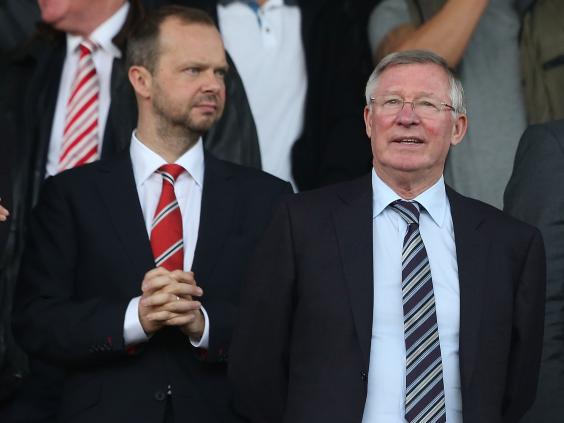 In defence of his own legacy, Ferguson even goes to the extent of naming the eight players under the age of 25 who he left behind as Premier League champions. Four of them, Javier Hernandez, Tom Cleverley, Shinji Kagawa and Danny Welbeck – have already been sold or loaned since then. Ferguson writes: "There appeared to be a consensus of opinion that the group was too old … nonsense."
Ferguson writes: "Ferdinand, Evra, Vidic, Carrick, Giggs and Scholes were all in their thirties. Chelsea started the current season as favourites for the title with a squad that also had six players in their thirties; I don't hear any grumbles about the age of their group."
In fact, Chelsea have just four players in their thirties in the current first team squad: Petr Cech, Branislav Ivanovic, Didier Drogba and John Terry. Ferguson goes on to cite the point that Liverpool have bought Rickie Lambert at 32 as evidence that players at that age are no longer regarded as over the hill.
Ferguson offers a robust defence that his presence at many of United's games, home and away had any effect. Or indeed that he left behind an "antiquated" infrastructure at the club. "Antiquated was a bizarre description of the structure I left behind at Manchester United," he writes. "Have you seen our new training ground … [it] is one of the things I am most proud of from my time at Manchester United."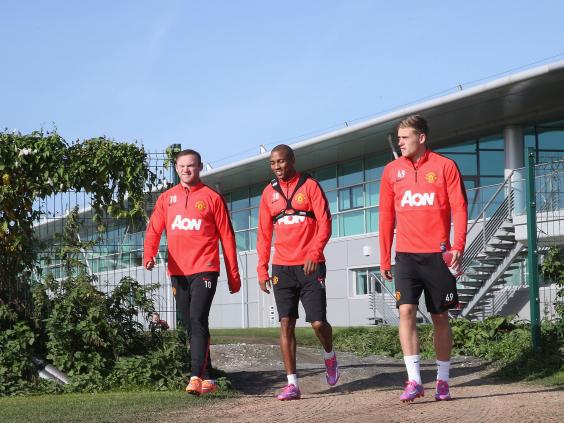 He denies that he was ever abused by United fans during the Moyes era – "I wouldn't ever expect to be abused by Manchester United fans" – and the final two pages are in praise of new manager Louis Van Gaal and his assistant Ryan Giggs. "He [Van Gaal] is one of these committed ultra-professionals. Football is his life."
Reuse content