It's mid-December somewhere in the bowels of Wembley Stadium and Greg (Dyke) and Roy (Hodgson) are knocking off early. Party hats on, Quality Street everywhere, the cherry brandy fetched up from the cellar, and the Football Association Christmas party is about to tear up Wembley High Road.
Roy wobbles his half-cut way to the corner of the room and, as is tradition, breaks open the swear jar.
"How much this year?" Greg asks.
"Erm, it looks like about 75 grand to me," says Roy.
Greg's shoulders slump. "Not bad, not bad. We've had better."
If the FA were a publicly traded company, it would have to list "Footballers swearing on Twitter" as a recognised revenue stream.
Rio Ferdinand's £25,000 worth of "sket", added to 50 grand worth of fascist hand gesture support from Benoît Assou-Ekotto, pushes the FA's total income from such incidents since 2011 to a quite unbelievable £350,000.
As Greg and Roy will know, 2012 remains a bumper year. Ashley Cole's £90,000 "#bunchoftwats" windfall came then, as did a £20,000 playfully racist joke from Carlton Cole.
As these offenders now know, the trouble with doing one's abusing on Twitter and not on the pitch is it leaves very little room for manoeuvre. On the internet, no one walks past the camera at the opportune time, to create that crucial ambiguity over whether the offending tweet in fact said: "Oi, The FA, I didn't call you a #bunchoftwats", or "Don't get your mum in. She doesn't play the field well, and isn't a sket."
Pricing up the various obscenities as the FA has been forced to do makes it possible to imagine a periodic table of vulgarity. At £90,000 "twat" is quite rightly an alkali metal (and may well burn green in a naked flame) but, as the Australian Rugby League authorities have found out, it's when someone dares to drop the C-bomb that things turn radioactive.
The blast radius from Cronulla second row Paul Gallen's rapidly deleted explosion has been so wide that even high-ranking officials from the very organisation he insulted have been obliterated by it.
"Steve Noice [sic] actually cared about players from Cronulla's feelings. Couldn't say that about any other [C-bomb] from NRL," he tweeted. It was only live for a matter of moments.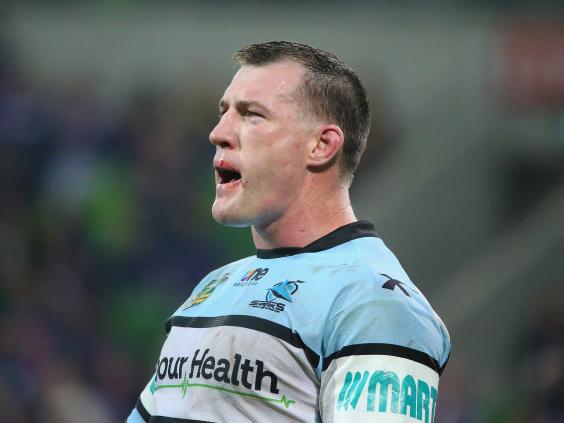 The aforementioned NRL – the National Rugby League – has hit him with the maximum available fine and banned from international rugby league for a year, a punishment felt to be so severe by the National Rugby League's judiciary chairman, Paul Conlon, that he has walked out in protest.
It's a highly complex tale, that also involves Gallen having been under investigation by Australian anti-doping authorities over banned supplements. That he is the captain of his team hasn't helped. Nor has his burgeoning career as a boxer, and an attempt to schedule a fight against a former team-mate who also fancies himself as a boxer, but who, it has been suggested, wants the fight chiefly to help him in a bail application, and who was also banned for eight games last year over accusations he bit an opposition player's penis. (The opposing player, Anthony Watts, was refused bail in the end, so stormed out of court telling the magistrate to "get fucked", which is impressive in that it breaks the laws of contempt of court in three separate ways in just two words.)
Twitter is still in a Wild West phase of the type the entire internet once was around a decade ago. How long can it be before the powers that be take action? Footballers' contracts all outlaw high-risk activities, like skiing or riding a motorbike. One tweet, with the red mist down, has landed Rio Ferdinand, in his final season as a player, with a three-match ban. The £25,000 he will pay is significantly less than Queen's Park Rangers will be wasting on his wages in that time.
Arsenal's Arsène Wenger admitted on Friday he is "concerned at statements on Twitter, things going out of the club that should not go out." His Chelsea counterpart, Jose Mourinho, just shrugged and said "Everybody uses Twitter." That is, one imagines, until a sketbomb lands on Stamford Bridge. Then he'll be filling up the Christmas swear jar himself.
CSKA manager's attitude follows The Skull's lead
It was with both gladness and relief that we observed this week the miraculous recovery of CSKA Sofia's manager, from having been felled by a snowball launched by a rival fan in the Sofia derby.
So total was the collapse of poor Stoycho Mladenov in the frozen dugout there was brief but real concern it may have been fatal.
He has also decided to "be a man and move on" and not make public the medical documents he originally claimed confirmed he had been seriously injured. It would not, we agree, be very CSKA.
Some time ago, this column just so happened briefly to be university friends with the then CSKA chairman's son, a man referred to in leaked US diplomatic cables on the Bulgarian mafia as "The Skull", and was a far more serious prospect than his associates, "The Beret", "The Chicken" and "The Billy Goat".
It was on a casual walk down the high street one day that Skull Jr was stopped and asked by a woman with a clipboard if he'd recently been injured in an accident in the workplace that wasn't his fault. Biceps suddenly raised in the air and flexed, his answer – in a briefly adopted Eastern European accent – was unambiguous. "Me? Niet. I am strong. Like bull."
Such circles are not the place to admit to having been mortally wounded by  a snowball.