Arsenal chief executive Ivan Gazidis has insisted there is "no complacency anywhere at this club" after the north Londoners handed manager Arsene Wenger a two-year contract following another season of controversy.
The contract was agreed on Monday between Wenger and majority shareholder Stan Kroenke, before being ratified by the club's board on Tuesday. The club confirmed the news on Wednesday afternoon.
The decision to prolong Wenger's time at the club to an astonishing 23 years comes in the wake of significant fan unrest, with large sections of the Arsenal faithful calling for the 67-year-old to step down.
Arsene Wenger's best moments as Arsenal manager
Arsene Wenger's best moments as Arsenal manager
1/11 1996 – Becomes Arsenal Manager

Wenger leaves Japanese side Grampus Eight to become the Arsenal Manager.

2/11 1998 – Wins League and FA Cup double

Arsenal win the league setting a new club record of 10 consecutive wins and also secure FA Cup glory beating Newcastle 2-0 in the final.

3/11 1999 – Signs Thierry Henry from Juventus

Arsenal signed Thierry Henry from Serie A side Juventus for £11 million. Henry went on to become the club's all-time top goalscorer with 228 goals in 377 appearances.

4/11 2002 – Second League and FA Cup double

The Frenchman wins his second double with Arsenal tipping Manchester United and Liverpool to top spot in the league and defeating Chelsea 2-0 in the FA Cup final.

5/11 2003 - OBE from the Queen and FA Cup victory

Wenger's men beat Southampton 1-0 at Cardiff's Millennium Stadium and in the same year he given an honouree OBE by the Queen.

6/11 2004 – The 'Invincibles'

In 2004, Arsenal were at the peak of their powers under Wenger. His philosophy of possession-based free-flowing football, combined with the talent of players such as Henry and Dennis Bergkamp, led Wenger's men to the league title and an unbeaten 49 game streak.

7/11 2005 – FA Cup victory against Manchester United

Arsenal beat Sir Alex Ferguson's Manchester United 5-4 on penalties for Wenger's fourth FA Cup trophy.

8/11 2006 – Champions League final v Barcelona

Wenger's team came the closest they have ever been to European glory, narrowly losing 2-1 to Barcelona, after going a goal up through Sol Campbell in the first-half.

9/11 2014 - FA Cup victory against Hull City

Having not won a piece of silverware in nine years, the pressure was certainly on for Wenger as Arsenal took on Hull City at Wembley. It only got worse for Wenger as Hull took a 2-0 lead in the opening 10 minutes. However, his team managed to fight their way back into the game and sealed victory with a dramatic 3-2 comeback in extra-time.

10/11 2015 – FA Cup winners against Aston Villa

After the drama of the previous year's final against Hull, Wenger's side cruised to a 4-0 victory over Aston Villa in front of a packed Wembley crowd.

11/11 2017 - The FA Cup master

Having faced called for his head all season from his own fans, Wenger ended the year with his hand around that familiar trophy yet again for a record seventh time - more than any other manager.

Getty
Despite securing a record-breaking seventh FA Cup title under Wenger, this is the first season that Arsenal have finished outside of the top four since the Frenchman took over in 1996.
But chief executive Gazidis has no concerns that Arsenal are at risk of further stagnating under Wenger, stating the club has "the platform to be successful" in the years to come.
"There is no complacency anywhere at this club," Gazidis said.
"Our goal is to compete for and win trophies here and in Europe. Everything we do is designed to make that happen and we will be working hard on and off the pitch this summer to improve and make a strong challenge next season. 
"The club has grown beyond recognition in every aspect in recent years and we have the platform to be successful and meet the ambitions we and our fans share."
Majority shareholder Kroenke was also insistent that Wenger is the man to take Arsenal forward in their search for domestic and European titles.
"Our ambition is to win the Premier League and other major trophies in Europe," the American added. 
"It's what the fans, players, staff, manager and board expect and we won't rest until that is achieved. Arsène is the best person to help us make that happen. He has a fantastic track record and has our full backing."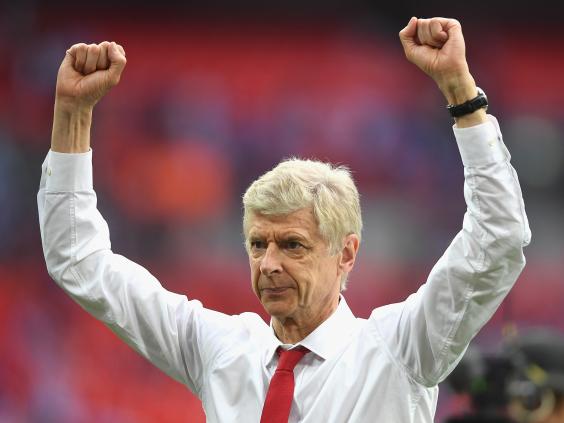 Wenger himself said: "I love this club and I am looking forward to the future with optimism and excitement. 
"We are looking at what we do well and how we can be stronger everywhere. This is a strong group of players and with some additions we can be even more successful. We're committed to mounting a sustained league challenge and that will be our focus this summer and next season."
Reuse content