Former Arsenal goalkeeper David Seaman has urged his old club to address the mounting uncertainty surrounding Arsene Wenger and confirm whether the Frenchman will be stepping down as manager this summer – for the sake of all involved at the Emirates.
 As another "same old, same old" season plays out, with Arsenal's title hopes in ruin and the prospect of a last-16 Champions League exit on the cards, Wenger has once again found himself subject to intense scrutiny from fans and pundits alike.
While the Frenchman has faced pressure to stand down before during his 21 years of service, calls for the 67-year-old to leave reached new heights in the wake of Arsenal's 5-1 humiliation by Bayern Munich last month.
But although Seaman refused to say whether his old coach should walk away this summer, the ex-England international argued the on-going uncertainty was unsettling the club and insisted a resolution needed to be reached sooner rather than later.
Seaman, who played seven of 13 years at Arsenal under Wenger, said: "I wouldn't say whether he should stay or go because I've got more respect for the guy. He was my coach for six, seven years, we had some great, great times there. I'll leave it to Arsene, he does that superbly!
"But at the moment it's the same old, same old.
"I just want the club to come out and say what's happening. Is Arsene going to stay or is he going to leave or whatever, but just come out and say it because all the unrest that's happening is building and building while nobody knows what's going on.
Arsenal candidates to replace Arsene Wenger
Arsenal candidates to replace Arsene Wenger
1/6 Diego Simeone

Age: 46
Current club: Atletico Madrid
Honours: Argentine Primera Division x2 (Estudiantes de La Plata and River Plate)
La Liga
Copa del Rey
Spanish Supercup
Europa League
Uefa Super Cup

Getty

2/6 Eddie Howe

Age: 39
Current club: Bournemouth
Honours: Championship

Getty

3/6 Massimiliano Allegri

Age: 49
Current club: Juventus
Honours: Serie C1 (Sassuolo)
Serie A x3 (AC Milan, 2x Juventus)
Italian Super Cup x 2 (AC Milan, Juventus)
Coppa Italia x 2 (Juventus)

Getty

4/6 Thomas Tuchel

Age: 43
Current club: Borussia Dortmund
Honours: Bundesliga II (Mainz)

Getty

5/6 Roger Schmidt

Age: 49
Current club: Bayer Leverkusen
Honours: Austrian League (Red Bull Salzburg)
Austrian Cup (Red Bull Salzburg)

Getty

6/6 Ralph Hasenhuttl

Age: 49
Current club: RB Leipzig
Honours: N/A

Getty
"It's just that at the end of the season there's a lot of stuff to be decided. With Arsene I just wish it'd be decided really soon."
The former England No 1 also admitted that speculation over Wenger was hindering the Arsenal's chances of tying down Alexis Sanchez and Mesut Ozil, both of whom who have yet to sign new contracts at the club.
"Well that's it, but if the club comes out and says what's happening, then we can move on or build on or whatever," he added. "But at the moment while nobody knows then it just doesn't help."
When put to him whether Sanchez was the more disillusioned player of the two, Seaman replied: "Yeah, he's a bit more frustrated. Of course he is, he's a quality player. You know, he demands the best from his team-mates. You can actually see the frustration in him. But what will be will be."
The 53-year-old's comments follow Ozil's own admission earlier in the season that his future at the Emirates depended on Wenger's, stating: "He is the one who signed me and he is the one whose trust I have. The club also knows that I want to be clear what the manager is going to [in the future]."
Regardless of the criticism Wenger has faced, Seaman was quick to praise his old boss and believes the Frenchman was "miles ahead" of his time when he arrived at Highbury in 1996.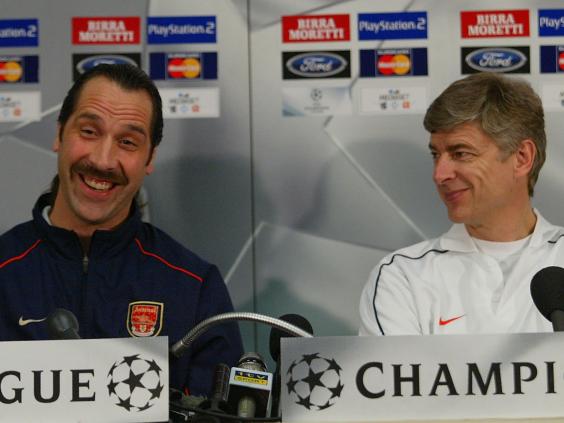 "Well in English football he's been my best club manager that's all I can say," said Seaman, who also played for Leeds, Peterborough, Birmingham, QPR and Manchester City during his career.
"With England, Terry Venables was my best England manager but he (Arsene) was totally different to George Graham. George Graham didn't have the budget that Arsene did but George still won trophies.
"But Arsene was brilliant and he was miles ahead of everybody when he first came. People have caught up and probably gone past but he was brilliant."
David Seaman was speaking at London's Football Awards which raises funds for former Gunners goalkeeper Bob Wilson's charity Willow Foundation.
Reuse content