The mood at Stamford Bridge was unequivocal. The final trill from Mike Dean's whistle sparked enough celebration to suggest that it is no longer a case of 'if' but 'when' Chelsea win the Premier League. But while this victory over Manchester City was, in effect, a title-winning evening it was not really a title-winning performance.
Chelsea can feel they got away with one here, encountering a City side that was a combination of undercooked – as Pep Guardiola's men have looked for much of the campaign – and half-cooked, in terms of ideas.
Antonio Conte's stellar first season has shone a light on the underachievement of both Jose Mourinho, his predecessor, and Guardiola himself, another star young coach who was installed at the same time but has seen his team fall way short of Chelsea's standard.
Some of that is to be expected.
Chelsea vs Manchester City player ratings
Chelsea vs Manchester City player ratings
1/22 Thibaut Courtois - 6

Completely at fault for Aguero's equaliser - a rare lapse in concentration. Showed his strengths moments later though to deny Sane a one-on-one chance on goal.

2/22 Cesar Azpilicueta - 6

Decision making was on point for much of the evening and kept a calm head under pressure.

3/22 Kurt Zouma - 7

A respectable return to the starting line-up. After months on the sideline he seemed to cope well with both the pace and intensity of the game.

4/22 David Luiz - 7

A fierce and fiery performance from the Brazilian. Hit hard in his challenges and dealt with Aguero well.

5/22 Gary Cahill - 6

Solid as ever in his reading of the game and challenges, both on the deck and in the air.

6/22 Marcos Alonso - 6

Handled his defensive duties well and proved effective on the front foot.

7/22 N'Golo Kante - 6

Industrious as ever with his running and positioning but one of his more quiet evenings. Conceded a sloppy foul on the edge of his own box which City nearly equalised from.

8/22 Cesc Fabregas - 6

Kept the ball moving well in the middle and was relatively effective in dictating the flow of the game.

9/22 Pedro - 7

Dealt well with his defensive responsibilities tonight and got well forward to put the City defence under pressure. Questionable touches/passes here and there but overall a good night from him.

10/22 Eden Hazard - 8

Once again, Hazard proved to be the difference. Took his first goal well from a difficult angle and reacted well in his penalty attempt to grab Chelsea's second.

11/22 Diego Costa - 6

Another mixed performance. Menaced the City backline with his physical presence but his hold-up play was found wanting at times. It ultimately fell to others to make the difference tonight.

12/22 Willy Caballero - 6

Completely misjudged Hazard's first goal. Despite taking an unfortunate deflection off Kompany, he should have done better in dealing with the strike. To his credit, he saved Hazard's initial penalty kick but couldn't stop the forward from following up.

13/22 Fernandinho - 5

His reckless challenge on Pedro cost City dearly and handed the home side their second goal. Too hot-headed.

14/22 John Stones - 6

Dominated in his aerial battles but struggled to deal with Hazard's pace and quick feet. Had a glorious chance to equalise in the second half but couldn't find the goal.

15/22 Vincent Kompany - 5

For all his fight and heart, there was a certain sharpness missing to his game tonight. His weak positioning afforded Hazard the space for his first goal while his lack of pace saw him struggle to keep up with the tempo of the game at times.

16/22 Gael Clichy - 6

Linked up with City's forward players well and was a nuisance in getting in behind the Blues defence.

17/22 Fabian Delph - 5

A series of early, well-timed challenges boded well but he looked out of depth at times. Not a surprise given his lack of Premier League football this season.

18/22 Jesus Navas - 5

A quiet evening as a whole. Had very little say for himself.

19/22 Kevin de Bruyne - 6

Sloppy passing in the centre of park let team-mates down on occasion. Kept him self busy nonetheless and wasn't afraid to take on his opposite men.

20/22 David Silva - 7

One of City's more effective players - especially in the first half. His slick passing and clever link-up play kept the visitors' midfield ticking over. Created numerous chances too and found himself well positioned to set up City's equaliser. Couldn't find that all important equaliser though.

21/22 Leroy Sane - 6

Had the chance to put City ahead after Aguero's equaliser in the first half. Flashed with brilliance but couldn't sustain such form throughout the night.

22/22 Sergio Aguero - 6

A classic poachers finish for City's goal. Certainly kept the Chelsea backline busy but it wasn't to be his night.
Chelsea have played significantly fewer games than their top six rivals by virtue of being so unspeakably poor last year. The absence of European football has given Conte a lot of breathing space and time on the training ground, priceless if you are a manager drilling a new tactical approach into your squad.
Guardiola, battling on multiple fronts, has had less time with his charges and it shows. But it still doesn't explain away the world of difference between these two sides over the whole campaign.
On the night, though, the difference wasn't that big. It was an average performance from a side with purpose and direction up against an average performance from a side who sparkle, fizzle out and then snap. City remain confusing, summed up by Pep Guardiola's curious selection and his extravagant touchline grappling with his own emotions.
Debate over the Catalan, and what he must do better next season, is for another time though. Tonight felt very much like it was about Chelsea and the final whistle was greeted with more than the usual roar. This, they felt, was it.
Putting 14 points between themselves and City turned out to be easier than Chelsea would probably have imagined. The sky blues didn't have a clear chance after going behind, the closest being John Stones' late header that was straight at Thibaut Courtois.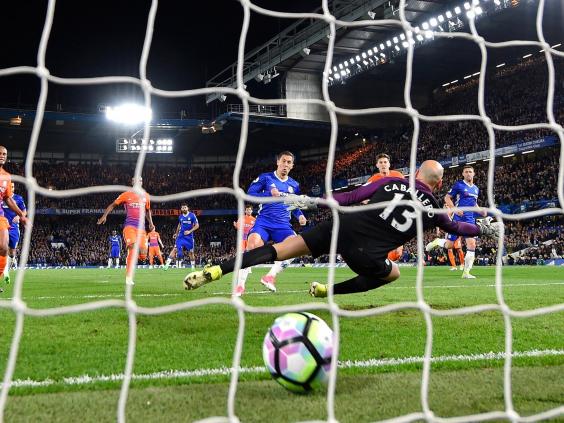 But otherwise, for a side so blessed with attacking talent, there wasn't that much. The goal came from a Courtois error. Leroy Sane ran through one-on-one after David Silva's exquisite pass at 1-1 and that could have been the turning point. A sliding doors moment.
And yet it never felt like being City's day. They felt like the guests at Chelsea's title pre-party. The evening was not a coronation, but it was the starting point of the countdown to the inevitable.
Chelsea weren't outstanding but they didn't need to be. Instead they were controlling, frustrating and strong. As they have been all season.
Tottenham will no doubt be buoyed by their comeback win over Swansea, and with good reason.
But the gap seems too big to make up. Chelsea seem too good. Stamford Bridge seems too sure.
If this was not the night the title was won, it was the night that it was put beyond all reasonable doubt
Reuse content