Chelsea winger Eden Hazard has revealed that he did send Jose Mourinho a farewell message after the Portuguese manager was sacked by the club in December.
Hazard, last season's Player of the Year, was criticised by Chelsea fans as one of the 'three rats', along with Diego Costa and to a lesser extend Cesc Fabregas, as a key player who was performing poorly in an attempt to get rid of Mourinho.
That perception didn't go away in the aftermath of Mourinho's sacking, when only John Terry, Fabregas and Cesar Azpilicueta sent a public message of farewell and thanks to the manager who had led the Blues to their first Premier League title in five years just six months earlier.
However, Hazard has now said that he did send Mourinho a private message.
"I sent him the message to say I was sorry he had gone and … well … just that I was sorry," the Belgian told the Guardian. "We'd enjoyed all that success together last season, but this time round we hadn't. I felt a little bit guilty because I'd been player of the year. I'd been one of the most decisive players, and this year I'd performed less well.
"I hadn't been at the same level. So I sent that text to José and he came back to me, wishing me all the best for the future. For a team of champions to go through what we have this year even I can't explain. Things have been better recently, but we're still not winning games quite as we used to. No one can put his finger on what's happened at Chelsea."
Hazard has not scored in 24 Premier League matches for the Blues stretching back to May last year against Crystal Palace - the day the title was confirmed.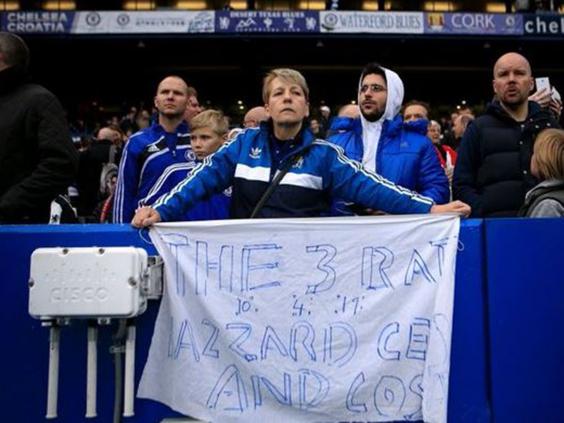 His penalty against MK Dons in the FA Cup ended a spell of 30 matches in all competitions without a goal but Hazard, who got 11 assists in all competitions last season, only has four so far in this campaign.
The most fouled player in the Premier League last season, the 25-year-old says his loss of form is down to a variety of factors.
"Pressure has been there for five years because I'm always the man people look at," he added. "Maybe this season a bit more than last year, given last season was exceptional. We knew Chelsea would be the team to beat this year. That made life harder, but it doesn't explain everything. Personally, it's nice to have a good season, but to follow it up again is even better still.
"This is my fourth year in English football so, maybe, a spell like this was always on the cards. Maybe I should have seen it coming. It's been an accumulation of things: a bit of tiredness, a bit of this, a bit of that. I'm not looking for excuses. And it's been an important period in my development. I've learned from it. Like with the injuries. I've been used to the kicks, they're normal. I know how to protect myself. I've learned that over the years, but I'd hardly experienced this number of little injuries before, and it's about learning if you are rushing back too early, or if you're properly fit and ready to come back."
hazard, surprisingly left on the bench for the 0-0 draw at Watford in midweek, is expected to return to the starting line-up against Manchester United on Sunday.
Reuse content