If there's anything Jose Mourinho enjoys more than being proved right, it's being proved right amid the thought that the world is against him.
After Victor Valdes's addition to the fine canon of slapstick comedy presented Antonio Valencia with the third goal in Manchester United's 3-1 win over Middlesbrough on Sunday, Mourinho skipped down the tunnel with a look of supreme justification on his face.
This presumably proved that Mourinho was right to play a back three, to select Marouane Fellaini, to remove a forward and play the last 20 or so minutes with four centre-backs after going 2-0 up. When Valdes's legs splayed like a drunk foal and donated the ball to Valencia, Mourinho was proved right.
Even defeating a team who are second-bottom of the table and have just parted from their manager, Mourinho did his best to portray the win as a Sisyphean task completed, a victory against significant odds.
United made seven changes to the team that beat Rostov in the Europa League in the week, and set up in a 3-4-2-1 formation with Marcus Rashford up front in place of the suspended Zlatan Ibrahimovic.
Middlesbrough 1 Manchester United 3 player ratings
Middlesbrough 1 Manchester United 3 player ratings
1/22 Victor Valdes – 5 out of 10

His double save was a moment of excellence, but he was beaten twice by Fellaini and Lingard and conceded a calamitous third.

AFP/Getty Images

2/22 Antonio Barragan – 5 out of 10

Held his shape well at the back, but was beaten by the occasional over the top ball.

Getty Images

3/22 Bernardo Espinosa – 3 out of 10

Really struggled against the pace of Rashford and the other United forwards. An afternoon to forget.

AFP/Getty Images

4/22 Ben Gibson – 5 out of 10

Tried in vain to start attacks by hitting long-passes forward but had a difficult afternoon.

Getty Images

5/22 Fabio – 6 out of 10

Looked assured in possession and did well going forwards; one of Middlesbrough's better players.

Getty Images

6/22 Marten De Roon – 5 out of 10

He worked relentlessly, but ultimately failed to make an impact on the game. He was outplayed in the midfield.

AFP/Getty Images

7/22 Adam Clayton – 4 out of 10

He looked lost at times – drifting in and out the game. Lost possession quickly and failed to read the game.

Man Utd via Getty Images

8/22 Grant Leadbitter – 6 out of 10

Was a key element to almost every Boro move – making clever and quick decisions in possession.

Getty Images

9/22 Stewart Downing – 5 out of 10

Wasteful in possession and failed to make an impact going forward.

Getty Images

10/22 Alvaro Negredo – 5 out of 10

Was Middlesbrough's principal target man but he was always surrounded by a sea of United shirts.

Getty Images

11/22 Gaston Ramirez – 6 out of 10

Caused a nuisance of himself, but was guilty of dropping too deep at times.

Getty Images

12/22 David De Gea – 5 out of 10

Had very little to do. Unfortunate with Middlesbrough's goal.

Getty Images

13/22 Eric Bailly – 5 out of 10

Ramirez was getting the better of him at times due to his slack man-marking.

Getty Images

14/22 Chris Smalling – 6 out of 10

Intercepted a handful of important crosses and led the United defence well. Could have done better to clear the ball for Gestede's goal.

Getty Images

15/22 Phil Jones – 5 out of 10

Held his own at the back, but made a number of unnecessary fouls.

Getty Images

16/22 Ashley Young – 6 out of 10

His assist for the opening goal was an example of his ability, although he drifted out of the game late on.

Man Utd via Getty Images

17/22 Michael Carrick – 6 out of 10

A textbook Carrick display. He created chances, defended well and his work rate was relentless.

AFP/Getty Images

18/22 Marouane Fellaini – 7 out of 10

Opened the scoring for United with a header. Tough tackling and used possession well throughout.

Getty Images

19/22 Antonio Valencia - 5 out of 10

Defended well, but looked even better going forward to support the strikers.

Getty Images

20/22 Juan Mata – 7 out of 10

Looked dangerous going forward and classy on the ball.

Getty Images

21/22 Jesse Lingard – 7 out of 10

His goal was an example of his individual ability – fully deserved. He linked well with Rashford throughout.

Getty Images

22/22 Marcus Rashford – 6 out of 10

Should have scored, especially in the first half. Worked well, but needs to be more clinical.

AFP/Getty Images
"We changed a lot of players," Mourinho said after the game. "We tried to protect others in the way we played. Valencia played in a position where I tried to protect him a little bit, instead of 100m up and down.
"I tried to protect the central defenders in the last part of the game. I had to protect Mata after 60 minutes because he played 90 against Rostov. I had no central midfielders on the bench so had to play with Carrick and Fellaini for 90 minutes."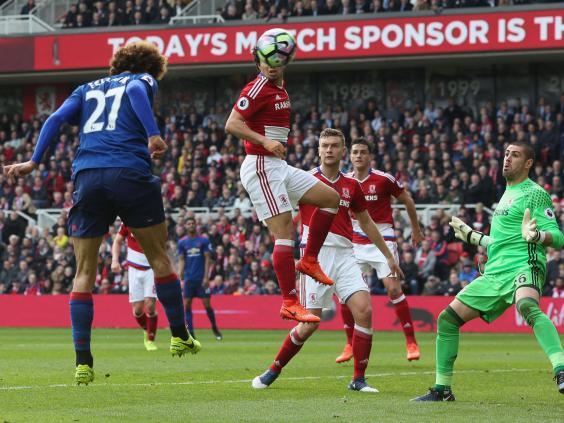 United now haven't lost a league game since October 23, and have finally clambered into the top five after what seemed like eons in sixth.
Although actually it's 105 days, if you discount a couple of hours in February: and if you only count full rounds of fixtures, it's 184 days. Either way, it's been a while.
They're now in touch with the Champions League places, even if Mourinho completed an impressive about-turn by claiming the Europa League is now his priority for the season.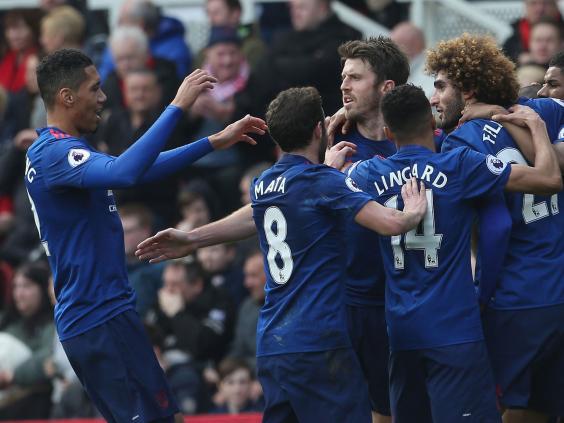 "That gives us Champions League football, but also gives us a trophy, prestige, and the European Super Cup," he said, having significantly changed his tune since the days he mocked Rafa Benitez winning that trophy at Chelsea.
"It would be a big disappointment to me," he said back in 2013, but now in 2017, life has changed. "Maybe we won't win the Europa League, so we have to fight to try to finish fourth."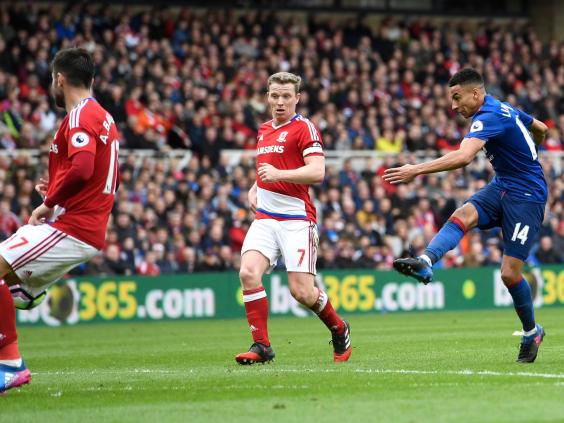 In truth the 3-1 scoreline flattered United rather, and if Boro's defence had been more competent then they may have struggled even more than Mourinho thought they did.
Fellaini put United ahead in the first-half, after Ashley Young was allowed to cut back onto his right foot and deliver a perfect cross to the back post, headed home by the Belgian. They were two up when the whole defence backed off with Jesse Lingard – a fine player but not exactly someone to be terrified of – and allowed him time to spank the ball into the top corner.
Lingard limped off with an ankle injury late on, but Mourinho professed his optimism that he would be fit to report for England duty this week.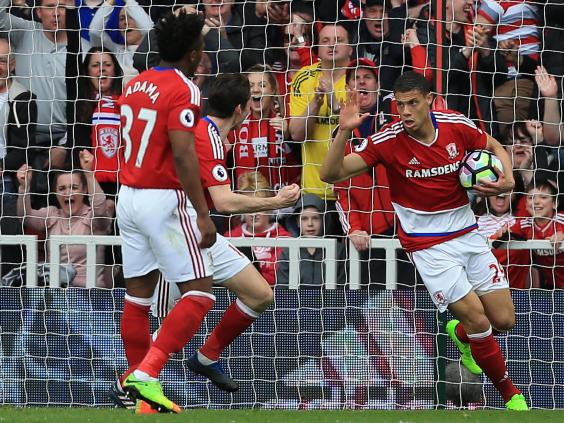 Then, after Boro substitute Rudy Gestede had pulled one back and made the closing stages rather ticklish, came Valdes's error, slipping while trying to clear.
"These things happen in football," said Boro's caretaker manager Steve Agnew, trying to spin the calamity as a positive. "Sometimes things like that bring the group even tighter together."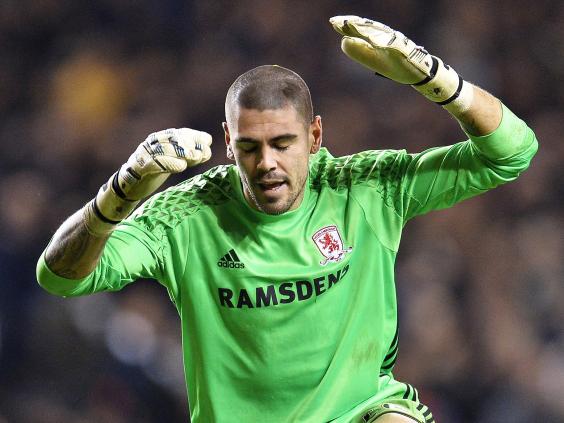 After the game, after United held on and after Mourinho had disappeared from the touchline ("It's hard to work out his next move, but we shook hands," said Agnew, when asked if he felt disrespected), there was a brief bout of jostling in the tunnel, seemingly a spill-over from an incident involving Gestede and Eric Bailly in the second-half.
Neither manager could – or would – shed any light on that episode of shoving, both preferring to concentrate on their own side's fighting spirit.
This was a United win that few would describe as pretty or even convincing. "I have to admit it was difficult for us," Mourinho solemnly intoned. But you suspect he wouldn't have it any other way.
Reuse content