Brendan Rodgers has conceded there will be no Champions League football at Anfield next season, but told Raheem Sterling he is going nowhere after turning up the heat on the player's agent.
Sterling's refusal to sign a contract worth £100,000 a week and his unsanctioned BBC interview was as much on the Liverpool manager's mind as the 4-1 defeat at Arsenal following the game.
The club had not granted Sterling permission to give his interview, which was understood to be the work of his agent, Aidy Ward.
Rodgers hinted as much as he said: "Much of all this has nothing to do with him. The kid gives me everything every time he trains and plays. A 20-year-old kid doesn't pick up the phone and  ask to speak to the BBC. He just wants to play football."
Arsenal 4 Liverpool 1 player ratings
Arsenal 4 Liverpool 1 player ratings
1/23 David Ospina - 6/10

He didn't have a save to make until the 56th minute. A very comfortable game for a goalkeeper who has took permanent charge in the Arsenal goal in recent months.

Getty Images

2/23 Hector Bellerin - 8

Made an excellent incisive run before curling a left-footed effort beyond Mignolet. Defensively he was strong and Moreno didn't enjoy the Spain right-back's dangerous runs down the right.

Getty Images

3/23 Per Mertesacker - 7

Enjoyed his time against Sterling in the first half, especially when Liverpool went direct with the long ball. Positionally, he looked comfortable.

Getty Images

4/23 Laurent Koscielny - 6

Replaced by Gabriel Paulista in the second half after suffering a knock. He was overstretching in the first half but was rarely under pressure.

Getty Images

5/23 Nacho Monreal - 6

He found himself under threat by Coutinho who never stopped trying to unlock the Arsenal defence. He did handle the danger of Sturridge well in the second half, though.

Getty Images

6/23 Francis Coquelin - 7

A very assured performance by the young defensive midfielder. He proved very effective in tidying up just in front of the Arsenal defence. Allen found things touch against him.

Getty Images

7/23 Aaron Ramsey - 7

Replaced by Flamini. Assisted Bellerin and Sanchez for their goals. Replicated the excellent form that he showed on international duty for Wales.

Getty Images

8/23 Alexis Sanchez - 8

As dangerous as ever. Scored his 20th Arsenal goal of the season with a superb effort from outside the Liverpool area.

Getty Images

9/23 Mesut Ozil - 7

Showed skill throughout the match. Scored with a sumptuous free-kick. He was replaced by Welbeck in the second half.

Getty Images

10/23 Santi Cazorla - 7

Tricky and effective. So dangerous going forward but did find himself running into trouble a little too often.

Getty Images

11/23 Olivier Giroud - 7

Held the ball up well, provided a calmness to Arsenal's attack, and scored his side's fourth goal.

Getty Images

12/23 Simon Mignolet - 4

Should have done better for Arsenal's first two goals. Too easily beaten down to his right.

Getty Images

13/23 Emre Can - 4

Picked up a needless booking early in the second half and was sent off with minutes remaining for a second bookable offence when he took down Welbeck.

Getty Images

14/23 Kolo Toure - 5

Looked unfit when faced with the speed of Sanchez.

Getty Images

15/23 Mamadou Sakho - 5

Clumsy to bring down Ozil before the German stepped up to score Arsenal's second. Failed to keep the shape of the Liverpool back three.

Getty Images

16/23 Lazar Markovic - 5

Dangerous in the first half but was replaced by Sturridge at half-time as Liverpool went for a more attacking front line.

Getty Images

17/23 Lucas - 6

Didn't control the midfield very well but at least he tried to connect the midfield and attack.

Getty Images

18/23 Jordan Henderson - 6

Scored the penalty to give Liverpool a chance but he failed to dictate the game probably because he was played as a right wing back - a position that doesn't suit him.

Getty Images

19/23 Joe Allen - 6

A poor game for the Wales midfielder. He had improved recently but his performance here was not great.

Getty Images

20/23 Alberto Moreno - 6

His error led to Arsenal's first goal. Didn't get close enough to Bellerin.

Getty Images

21/23 Coutinho - 7

One of Liverpool's more influential players. Tricky and skillful - a lot of creativity but no one around him could take advantage.

Getty Images

22/23 Raheem Sterling - 6

Won the penalty after a clever run but his impact was little. Too often Mertesacker got above him. A frustrating day to end a rollercoaster week for the 20-year-old.

Getty Images

23/23 Daniel Sturridge - 6

Came on at half-time to provide a more clinical edge to Liverpool's attack. He played ahead of Sterling and Coutinho and was a threat. He still looks a little off the pace, though.

Getty Images
Sterling has 27 months left on his £35,000-a-week contract, and Rodgers said: "The only thing I will say is for his football development, and financially, Liverpool is the best place for him.
"I've had a good chat with him and given my opinion. I think he enjoys being here and knows he is privileged to play in front of the Liverpool supporters.
"He won't be going anywhere in the summer and we will sit down and try and find a solution."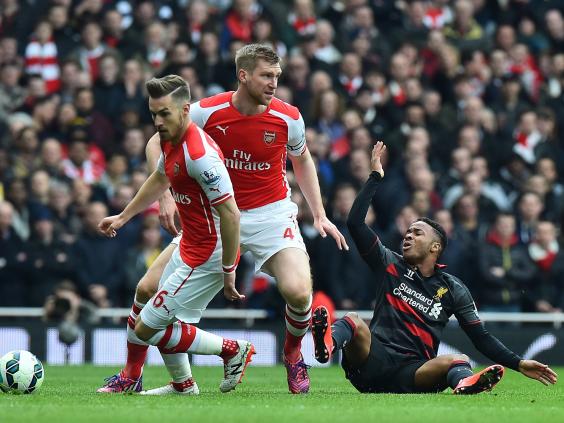 Rodgers admitted that Sterling and the rest of the Liverpool squad would not be playing in the Champions League next season after yesterday's setback.
"We very much won't be in the top four," he said. "There's too much ground to make up. We have been dealt two big blows in our last two games. Now we must focus on the FA Cup." Consecutive defeats to Manchester United and now Arsenal, their big rivals for the final two Champions League places, leaves Liverpool eight points behind United with seven games to play.
Rodgers said: "It was a disappointing scoreline. Right from kick-off we were too negative. Normally we go forward. We defended very poorly for all of the goals. In the second half we worked well but it's easy when you're 3-0 behind."
Sterling played reasonably well yesterday, leading the line for much of the game and winning a penalty late on that produced a goal which proved only a consolation.
Reuse content