When Arsenal last came to Anfield, they were savagely beaten, four down inside 20 minutes, enduring what Arsène Wenger called "a scar in your heart forever".
The bruises were not confined to the Arsenal manager's chest. As he walked through the entrance to Liverpool's Lime Street Station for the journey back to London, he slipped and fell flat on his back, helped to his feet by two policemen. The photographs were published the next day, a further symbol of Wenger's humiliation.
After being booed as he boarded a train at Stoke after a 3-2 defeat at the Britannia Stadium, Wenger probably does not care too much for railway stations. His counterpart this afternoon, Brendan Rodgers, does not care too much for those Arsenal fans who carried a banner to the Hawthorns demanding that the man who revolutionised their club should resign.
"He has been an iconic figure for football, he has been amazing," said the Liverpool manager. "You get criticised when you don't win games but some of the personal stuff he takes is disgraceful, absolutely disgraceful.
Liverpool vs Arsenal combined XI
Liverpool vs Arsenal combined XI
1/9 GK: Wojciech Szczesny

Brad Jones shouldn't be the first-choice goalkeeper for a team with Champions League ambitions. Committed himself too early for two of Manchester United's goals. Szczesny is far superior.

Getty Images

2/9 RB: Mathieu Debuchy

Showed against Newcastle how reliable a defender he can be with a stint in the middle, Debuchy is an excellent right-back. Differences in formation see him compared with Kolo Toure who has been decent for Liverpool, but the Ivorian is still error prone.

Getty Images

3/9 CB: Per Mertesacker

The big German was terrible against Stoke, partially at fault for all three goals but found some form against Newcastle. Dejan Lovren has been poor since his big-money move, but there are signs of improvement in a new look system.

Getty Images

4/9 LB: Kieran Gibbs

Lazar Markovic has actually done pretty well in a game and a half at wing-back, but Gibbs is an excellent full-back who would be an upgrade for over most left-backs in the Premier League.

GETTY IMAGES

5/9 CM: Alex Oxlade-Chamberlain

Adam Lallana was brilliant against Championship Bournemouth in midweek but his recent Premier League and Champions League performances have not been so good, although cracked ribs have affected him. This selection could have gone either way, but Oxlade-Chamberlain has had a better time in the top flight recently.

GETTY IMAGES

6/9 CM: Santi Cazorla

Steven Gerrard is the shock omission from this team, but the aging star has done little to justify a starting place in recent weeks. Better in midweek but, again, that was against inferior opposition. Cazorla, on the other hand, has been one of Arsenal's best players in recent weeks, with superb displays against Dortmund, West Brom, Southampton and two superb goals against Newcastle.

Getty Images

7/9 FW: Alexis Sanchez

The best player on either team and the man that Brendan Rodgers might have had in the summer. How Liverpool fans will wish he was playing regularly at Anfield.

Getty Images

8/9 FW: Raheem Sterling

Liverpool's biggest attacking threat, he may have made a meal of a number of chances at Old Trafford but hit back with a couple against Bournemouth; Liverpool will need him to show that same composure on Sunday. Danny Welbeck brings work rate and athleticism to Arsenal but has just one goal in his last 10 matches.

GETTY IMAGES

9/9 ST: Olivier Giroud

Back from injury and showing Arsenal exactly what they were missing, Giroud is a strong and powerful target man with supreme skills and an eye for goal. Until Daniel Sturridge comes back, Liverpool - counting Mario Balotelli - don't have anyone to compare.

Getty Images
"He fell over in a train station and they were videoing it, taking pictures of him, and then people print it. What happened to him the other week at West Brom was absolutely disgraceful, as a leading figure in football, a real statesman of the game, it was really poor. But that is the modern world, unfortunately. Six or seven months ago, I was the manager of the year. I was going to be this and that and tactically I was this and that. But because we lost two world-class players [Luis Suarez and Daniel Sturridge] – one out of the club, one injured – I am useless."
The 5-1 rout of Arsenal in February was the first of 11 straight victories that carried Liverpool to within an ace of breaking the Manchester-London cartel that has dominated the Premier League since its inception.
That was 10 months ago, but in this Instagram age, fuelled by Twitter, phone-ins and rolling 24-hour sports news, Rodgers is no longer the great white hope of British football management, he is a fraud, who got lucky for one season. The fact that he has lost two players who between them provided 55 of Liverpool's goals is sometimes lost in the wash.
Among football fans of a certain age on Merseyside, one of the favourite topics of conversation is how Bill Shankly would have coped with the modern game. One thing seems clear: had Shankly gone six years without a trophy as he did before rallying the club to win the championship in 1973, he would have been hounded from office. It is a subject that Rodgers might raise with Jürgen Klopp at the next Uefa coaches conference. The man tipped to take over at Arsenal and Liverpool has also sustained scars to the heart as Borussia Dortmund flounder in the Bundesliga.
"If you look at Klopp's example at Dortmund, he knows there are going to be certain players who will move on each year but the minute he takes Robert Lewandowski out of his side he loses a world-class player," said Rodgers. "You have seen where they have been this year, how they are struggling. You take two players out of a team that had come through  unexpectedly, like we did last year but which was improving and developing, that is a massive, massive loss to any group. It has taken us that bit of time to try to recover our way of working, to find that balance."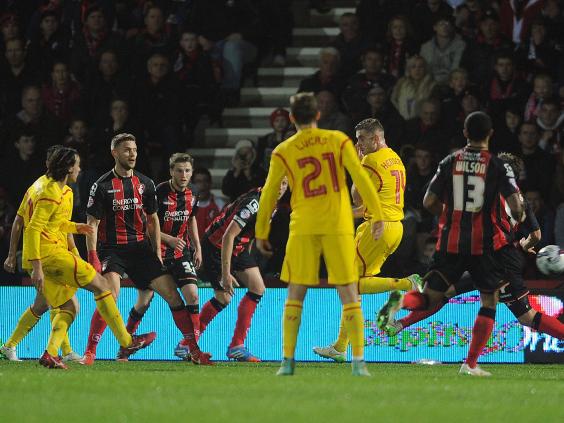 At least Wednesday night's victory at Bournemouth has given Rodgers a few inches of breathing space and a place in the semi-finals of the Capital One Cup. The performance of Lazar Markovic, one of the number of young, expensive and largely underperforming players brought to Anfield, was a glimmer on what has been a dark horizon.
"The other night at Bournemouth, in an attempt to find a solution, we were playing 3-4-3. A British coach playing 3-4-3? He must have fallen on to that system by luck," he said in a voice loaded with sarcasm. "It might not have been that I was awake until the early hours of the morning thinking how we might do it?
"A foreign coach would be a tactical genius – playing Markovic wide, using Raheem Sterling as a free number nine, moving with penetration, playing with a box midfield and a back three – I must have just dreamt that and thrown it out there."
Rodgers was angry in the same way that one of his predecessors, Gérard Houllier, used to be angered by the battery of former Liverpool players lined up by the media to dissect his teams. "I can vouch for that!" he laughed. Graeme Souness and Jamie Carragher have been especially effective critics of Rodgers's third season at Anfield.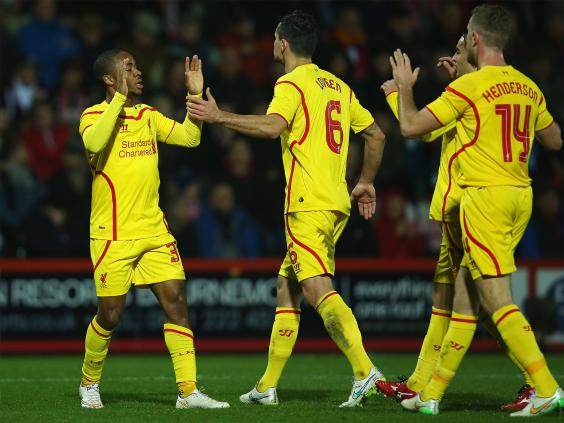 The chief criticism of Rodgers has been that he has ploughed the Suarez money into what Liverpool's former captain, Alan Hansen, would call "maybe players" – young footballers who might shine but thus far have not. "Listen, this is the world we live in," he said. "In the past, young players would come in here and be given six months or two years to develop. Modern players, because of the media and social media, they don't get that time. They are expected to be unbelievable straight away."
And with that, he is done, through the double doors and back to his  office to prepare for training. Unlike Wenger at Lime Street, Rodgers stays on his feet.
Reuse content