To live with the Manchester City of 2014, you will have to be as close to perfect as possible and last night even the team that lost the league to them last season by a margin of two points discovered that they are not gaining on City, but falling further behind.
It was only April that Phillipe Coutinho scored a late winner against City at Anfield and Liverpool started to believe for the first time that season they might be serious contenders for the title. Since then City have won the Premier League title for the second time in the Sheikh Mansour era and signed many of their best players to long–term contracts.
As for Liverpool, they have sold their best player who, even if he had stayed, would not have been eligible to play on Monday night. Had Luis Suarez still been at Liverpool, perhaps Rodgers would not have been permitted the level of investment he has made in his team this summer. Yet step back a moment to look at the bigger picture and City belong to a different category of club to Liverpool; one that makes the possibilities boundless for Manuel Pellegrini's side.
A line can be drawn through the football hierarchy, towards the very top, and its great clubs can be divided into two groups: those who sell their best players, and those buy the best players. And City no longer have to sell their best players; they are in the business of buying other teams' best.
When a player of the quality of Sergio Aguero can be dispatched as a substitute, ostensibly the third-choice striker on the night, then beating the modern City can be a daunting prospect. Their progress is relentless and those chasing them cannot permit themselves a backward step, let alone lose the best they have.
There is no shame in being one of the sellers, a group even Manchester United have belonged to since losing Cristiano Ronaldo to Real Madrid. And aside from Suarez, there was plenty of evidence to suggest that it is Rodgers' new defenders, Dejan Lovren and Alberto Moreno, who could be a concern for some time to come. Up in the directors' box, watching his new team-mates, was Mario Balotelli, a signing that Rodgers was prepared to admit was a "risk".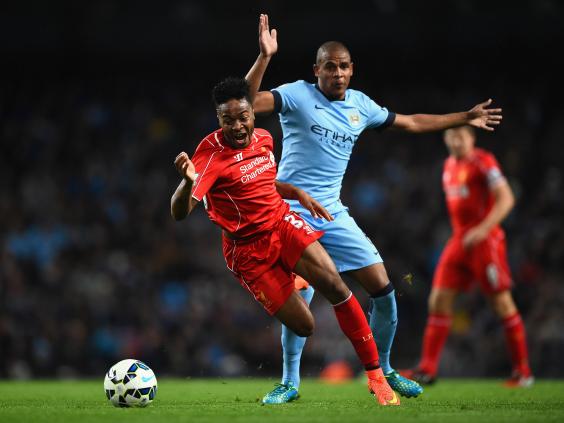 Despite all that, Liverpool still look good for a place in the top four even if it would be hard to see them running City close this time. At times Rodgers' side were excellent. They had the best of the first half and Rickie Lambert, as a substitute, led an admirable late surge that led to their goal but by the end it did not feel close.
City have a squad of remarkable depth, with a work ethic that allows them to break down teams over time. Jovetic is emerging as a fine Premier League-ready player. Having been on the back foot for much of the first half, they gradually shut down the biggest threats that Liverpool posed them, through Daniel Sturridge and Raheem Sterling, and went about the business of winning the game.
It takes just a moment at this level for a mistake to be made, an advantage to be gained and a goal to be scored. So it was four minutes before half-time when Moreno's pink boot failed to connect with the loose ball in his own box and a minor catastrophe unfolded for him. A heartbeat earlier, Jovetic had steered it away and then, with his next touch, hit a shot so hard it went through Simon Mignolet's legs before he could snap them shut.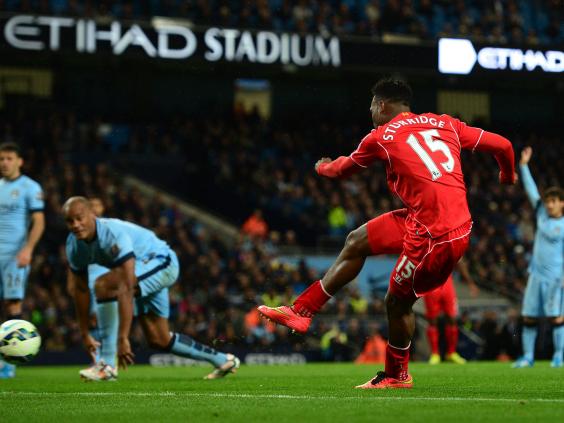 For Moreno, it was an introduction to life at the top of the Premier League where, for defenders in particular, reputations are made and lost in moments like that. This had been a first half between two beautifully balanced teams with no margin for error at either end, as the man from Seville discovered to his cost.
Until then Liverpool had the best of it, closing City down relentlessly in midfield. Coutinho wriggled clear of Yaya Toure on 29 minutes and the big City midfielder earned himself a booking as he reached down to try to drag the little Brazilian back into his range of influence. Sturridge's turn and shot in the City area four minutes later was the best individual moment for his side.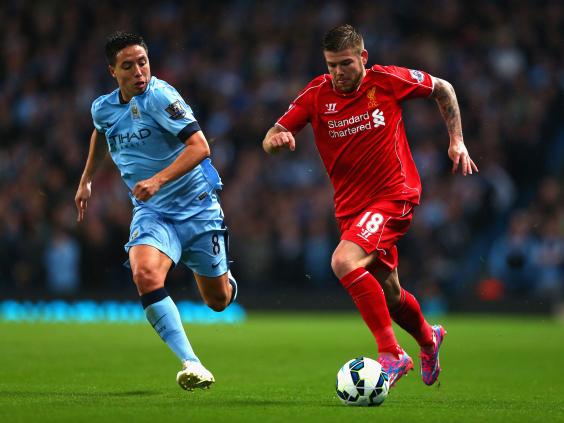 On that occasion Vincent Kompany flung his arms wide to indicate to the referee he was beaten and that he would not be doing anything daft to try to reel Sturridge in. It was that kind of penalty box sharpness that England lacked so badly in Brazil this summer at the end of a long tiring season. Sturridge hit his shot straight at Joe Hart and City got away with it.
If there was a regret for Rodgers in his team's attacking play it was that Sterling, one of five Englishmen in the starting XI for Liverpool, did not find himself on the ball enough. His staggering pace threatened to expose Pablo Zabaleta on one occasion, but City managed to prevent the winger from isolating their defenders more often. As ever, Liverpool are not wedded to the slow build-up and will look to Steven Gerrard for the quick ball over the top.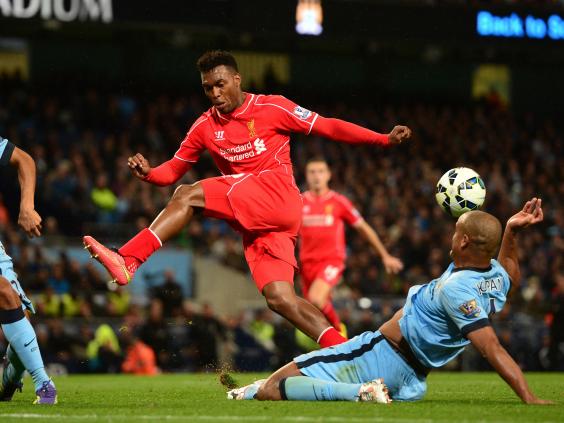 But City are a resolute bunch and it was Samir Nasri's excellent chip into David Silva from the right that began the sequence that led to the goal. Lovren cleared well with a header, Moreno failed to react quick enough and Jovetic did the rest.
There was a marvellous burst past Fernando from Sterling early in the second half which drew a foul from the Brazilian in the way that Brazilians have been doing to English midfielders for years. But Liverpool could not find the equaliser and on 55 minutes Jovetic pounced again.
This time it was a flick from Silva's ball into the path of Samir Nasri on the right who crossed to the back of the box where Jovetic's run took him into the right position to stroke the ball in with his left foot. Aguero came on for the injured Dzeko on 68 minutes and a moment later angled his run across Lovren, beat the defender for sheer pace, and tucked the ball past Mignolet.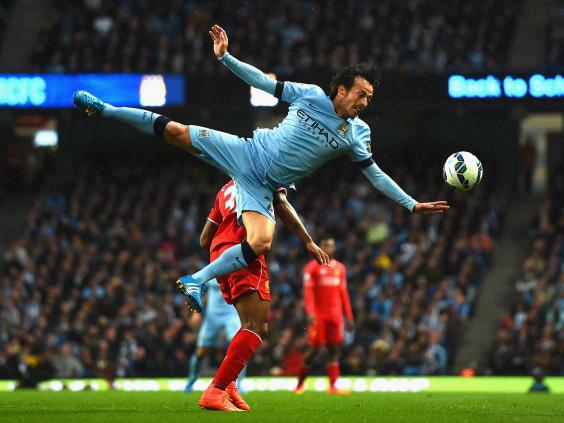 That was the game, although there was time for Lambert to force a goal for Liverpool when he met Sturridge's outside-of-the-foot cross at the back post. Hart did well to save that but could do nothing to keep out the rebound off Zabaleta from close range. This season there will be few who get as close to City as Liverpool managed this time, but that will be scant consolation when they remember that victory over in April, and the realities of life chasing the clubs at the very top.
Manchester City (4-2-3-1): Hart; Zabaleta, Kompany, Demichelis, Clichy;  Fernando, Toure; Nasri, Dzeko, Silva; Jovetic.
Subs: Navas/Silva 65, Aguero/Dzeko 68, Fernandinho/Jovetic 80
Liverpool (4-2-3-1): Mignolet; Johnson, Skrtel, Lovren, Moreno; Henderson, Gerrard; Sterling, Allen, Coutinho; Sturridge.
Subs: Markovic/Coutinho 60, Can/Allen 75, Lambert/Sterling 79
Booked: Manchester City Toure Liverpool Can
Referee: M Oliver
Man of the match: Jovetic
Rating: 7
Reuse content