Having spent much of his season away from the limelight, toiling away in the shadows as he bids to prove his worth to Jose Mourinho, Luke Shaw finally appears to have been handed the glimmer of hope needed to kick-start his Manchester United career.
After Mourinho confirmed that the defender would feature in United's match-day squad for their Premier League tie with Bournemouth, the Portuguese went on to back Shaw to become one of the best left-backs in the game.
"In practical terms we have lots of left backs," Mourinho said on Friday. "It doesn't look like it but the reality is that Blind, Shaw, Rojo, Darmian are all playing left back and can play there.
"They are different players. I think the one that should be the best of all in a couple of years - because potentially he should have all the conditions to be the best - is Luke Shaw."
It's the sort of endorsement Shaw has desperately craved during his frustrating time at Old Trafford. The 21-year-old has been plagued by injury and illness this season as he attempts to recover, both physically and psychologically, from the horrific leg break he suffered against PVS Eindhoven in September 2015.
With just six league starts to his name this term, and a lack of stand-out performances to shout about, Shaw has gradually drifted to the periphery of the United squad, so much so that speculation has now arisen with regards to a potential summer exit.
But the omnipotent Mourinho works in mysterious ways – as his latest remarks attest to. Having conceded last month that the youngster has been suffering from a "difficult period" in his career, sparking conjecture that this was to be Shaw's last season at Old Trafford, the United manager has now thrown his support behind the former Southampton player.
EFL Cup final ratings
EFL Cup final ratings
1/22 David de Gea - 7 out of 10

Had no answer to Gabbiadini's strikes, but made good first half saves to deny Tadic and Ward-Prowse.

2/22 Antonio Valencia - 6 out of 10

Was given a difficult afternoon by Redmond, but utilised his experience as the game grew old.

3/22 Eric Bailly - 6 out of 10

A shaky start in which he was troubled by Bertrand's pace. Another who improved in the second half.

4/22 Chris Smalling - 7 out of 10

Had his hands full with Gabbiadini, but demonstrated fine positioning and awareness.

5/22 Marcos Rojo - 5 out of 10

Uncomfortable at left-back although he was pivotal in laying on Lingard's goal.

6/22 Ander Herrera - 8 out of 10

Oozes class at times, emphasised by his pinpoint cross for the winner. Occasionally guilty of chasing the game.

7/22 Paul Pogba - 6 out of 10

Fielded in a deeper midfield role, his bursting runs were impressive but few and far between.

8/22 Juan Mata - 5 out of 10

Saw little action and was replaced at the break for the more positioned-minded Carrick.

9/22 Jesse Lingard - 6 out of 10

Kept a cool head to score another Wembley goal, but almost lost it when fouling Redmond when on a yellow card.

10/22 Anthony Martial - 5 out of 10

Kept under wraps by Cedric for long periods, his deliveries were questionable.

11/22 Zlatan Ibrahimovic - 9 out of 10

The biggest man for the big occasion. Started and ended the scoring to win his first major trophy for Manchester United.

12/22 Fraser Forster - 5 out of 10

Questioned for his positioning for Ibrahimovic's free-kick, there was little he could do with the other two United goals.

13/22 Cedric - 7 out of 10

Lacked discipline at times, but impressed when on the attack and delivering from the right.

14/22 Jack Stephens - 6 out of 10

Yellow carded for a tough challenge on Martial, the youngster competed fiercely.

15/22 Maya Yoshida - 6 out of 10

Executed a great tackle to deny Lingard. Occasionally allowed his opponents too much space in the area.

16/22 Ryan Bertrand - 8 out of 10

Like Cedric on the other flank, the full-back was excellent in getting forward and crossing at pace.

17/22 Oriol Romeu - 7 out of 10

Competed well against Herrera, and almost won the tie himself with a header that crashed against the post.

18/22 Steven Davis - 8 out of 10

The captain was a delight in midfield. He held his position well and was at the heart of Southampton's best play.

19/22 Nathan Redmond - 7 out of 10

An exciting talent but too often tried to be hero, shooting when teammates were better placed.

20/22 Dusan Tadic - 7 out of 10

Had a habit of finding pockets of space between United's defence and midfield in which he could show off his close control.

21/22 James Ward-Prowse - 8 out of 10

Wonderful distribution, particularly from dead ball situations. Able to weight passes beautifully.

22/22 Manolo Gabbiadini - 9 out of 10

Southampton's new hero scored twice and had another incorrectly ruled out. Deserved to end the match as a cup winner.
Such an endorsement does not come completely out of the blue, however. Mourinho has, on occasion this season, let it be known that he still has faith in Shaw. He insisted three months ago that he 'needs the defender back' in his side and, two months later, stated that the young Englishman had been showing "great character" and was "contributing well".
The road forward, then, does not seem as bleak and daunting as it initially looked at the turn of the year.
Nonetheless, Mourinho has a record for publicly backing his players – whether rightly or wrongly. Antonio Valencia? "I think I have the best right-back in the world… I think Antonia Valencia is absolutely phenomenal," he added on Friday. David Luiz? Has potential to be the 'best defender in the world'. Eden Hazard? Better than Cristiano Ronaldo (during the 2014/15 season…). The list goes on. Having been liberal with these sort of comments in the past, his latest words will be naturally seen as another attempt to provoke a response from Shaw. 
And as is to be expected with the United boss, such an admission came with one of Mourinho's age-old warnings: namely that the 21-year-old needs to keep working, keep grinding away in a bid to unlock his true potential.
"By age, physicality, intensity, being aggressive going forward, he [Shaw] should be the best," he added.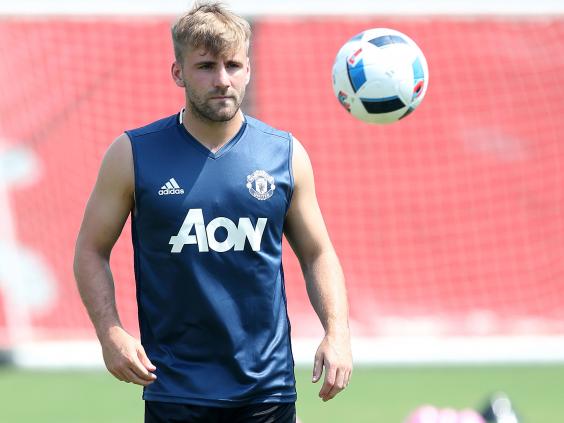 "But to be the best you need to work hard. It's what he's trying to do."
Such words sound familiar. Only two weeks ago Mourinho issued a rallying call to Shaw as he urged the left-back to keep "fighting hard". "I don't have any problem and he's working well," he said. "He's fighting hard, there is no problem with him. He has to work and wait."
With his name on the team sheet for Saturday's Premier League clash against Eddie Howe's visitors, Shaw now stands at a cross-road. Should he make it off the bench at Old Trafford, or even start for that matter (unlikely as that is), the defender cannot afford to buckle under the pressure. A convincing, rounded performance is what he now needs to add weight to Mourinho's words.
Reuse content