If Jose Mourinho seemed to be frustrated in his media appearances after Manchester United's dismal 0-0 home draw with West Brom, some behind the scenes say it was nothing compared to what he was like in private. The Portuguese was highly irritated, most of all with the team's on-going inability to finish chances, and it is understood he has now instructed the club hierarchy to go all out for Atletico Madrid's Antoine Griezmann no matter how complicated it is.
Pep Guardiola wasn't overtly angry after Manchester City's own draw at Arsenal, but the general sentiment around his club has been the same: that they need to buy to fix things. The Catalan is known to have been struck by how deficient in tactical understanding a lot of his squad are in contrast to his Barcelona and Bayern Munich teams, and wants to bring in more suitable players.
So, the response from two of the game's most successful ever managers on suffering rare under-performance at two of the most over-spending clubs in the game is pretty much the same: to spend a bit more.
The players Mourinho has fallen out with
The players Mourinho has fallen out with
1/14 The players Jose Mourinho has fallen out with

Mourinho's treatment of the young full-back Luke Shaw has made headlines, with the manager angrily accusing the 21-year-old of not applying himself in training, before hinting he could farm the player out on loan. But Shaw is far from the first player Mourinho has spectacularly fallen out with...

Getty

2/14 Vitor Baia

The former Portugal goalkeeper started and ended a glittering career at Porto, having also spent two years at Barcelona. But Baia did not have it all his own way during his second spell, losing his first-team place and suspended for disciplinary reasons in Mourinho's maiden season as boss following a reported training ground row with his compatriot. Baia remained at the club until he retired in 2007, three years after Mourinho left for his first stint at Chelsea.

AFP/Getty

3/14 Ricardo Quaresma

Quaresma was meant to be Inter's star player under Mourinho, but the manager grew impatient with his ill-discipline and resorted to critiquing him in the press, which didn't go down well with the player. "My biggest regret was joining Inter," Quaresma later said. "I felt on the margins of the squad and woke up crying when I had to attend training sessions."

Getty

4/14 David Suazo

Mourinho failed to give David Suazo much of a chance when he took over at Inter in 2008 and criticised him in the press before farming him out on loan to Benfica. "Mourinho is arrogant and selfish, and likes to assert his dominance," Suazo later told the Honduran publication, Diez.

AFP/Getty

5/14 Romelu Lukaku

"The thinking behind the move was the fact that Romelu was always very clear with us, in his mentality, in his approach, he was not highly motivated to come to a competitive situation at Chelsea," Mourinho said after allowing Lukaku to leave Chelsea for Everton in 2014, for £28m. The striker has recently been linked with a summer move to Mourinho's United, for £65m.

Getty

6/14 Kevin de Bruyne

The Belgian infamously revealed that he gave up on his Chelsea career after Mourinho had embarrassed him in front of his team-mates. "He called in all the attacking midfielders," said De Bruyne of his final weeks in west London. "He showed us the stats of his six players - assists, goals, passing percentage, key passes, dribbles. He wanted to prove I didn't perform on the level of the others. I simply answered him: 'Sorry, that's not logical. I've played less games than the others. How can you compare me to the others?' That was just not fair in my eyes."

AFP/Getty

7/14 Juan Mata

Mata became a fans' favourite at Stamford Bridge after arriving at Chelsea from Valencia in 2011. However, the Spaniard struggled to adapt to Mourinho's style of play during his second spell in charge of the Blues and was sold to Manchester United in 2014. Mata and Mourinho were later reunited at Old Trafford and the former has now become an important player for his manager in Manchester.

Getty

8/14 Iker Casillas

The Madrid legend was one of the first players Mourinho fell out with after joining the club in 2010. Mourinho was disgusted that Casillas regularly spoke to Barcelona players and was said to be suspicious of his girlfriend, who worked as a journalist. "Mourinho saw him as a grass, a mole, a traitor and an egoist," Diego Torres wrote in his biography, 'The Special One'.

Getty

9/14 Sergio Ramos

Current Real captain Ramos was a key player during Mourinho's three year stay in Madrid, although the pair were far from friends. Ramos went public with his dismay at Mourinho's treatment of Mesut Özil and insisted in a 2014 interview that he had forgotten who Mourinho was.

AFP/Getty

10/14 Pepe

The pair frequently bickered during Mourinho's time at Real, although like Ramos, Pepe remained a key part of Madrid's starting XI. Pepe accused Mourinho's treatment of his friend Casillas as being "not adequate". Mourinho replied: "It is easy to analyse the Pepe thing. His problem has a name, and it is Raphael Varane," suggesting that Pepe wasan inferior player to the emerging 20 year old.

AFP/Getty

11/14 Pedro Leon

Similar to Luke Shaw, Pedro Leon was a young player inherited by Mourinho whom he almost immediately dismissed. The Guardian's Sid Lowe reported that "Mourinho told Leon that even if the team plane crashed without him on it and he was the only man available, he still would not play the following week." Leon accused Mourinho of workplace bullying before being sold to Getafe.

AFP/Getty

12/14 David Luiz

Mourinho sold Luiz upon his return to Chelsea and insisted that the defender "would not be missed". The pair have regularly traded jibes since and Luiz perhaps got the last laugh when Chelsea resigned him in 2016, under Antonio Conte.

AFP/Getty

13/14 Bastian Schweinsteiger

Frustrated with Schweinsteiger's habit of flying back to Germany when injured, Mourinho banished the veteran midfielder to training with the reserves. However, in a possible sign that he had mellowed, Mourinho later admitted to feeling regret over his handling of the player. "After knowing him as a person and a professional and the way he was respecting my decisions as a manager, yes I regret [it] and there is no problem for me to admit it, because I have told him," he said after selling the midfielder to the Chicago Fire.

Getty

14/14 Luke Shaw

Mourinho's rant on Shaw's lack of effort in recent months was one of his most explosive yet. "It is difficult for him to be on the bench," Mourinho said. "I cannot compare him with Ashley Young, with Matteo Darmian, with Daley Blind. I cannot compare the way he trains, the way he commits, the focus, the ambition. I cannot compare. He is a long way behind."

Getty
That is a superficial comparison and the contexts of the situations obviously have to be taken into account, but it does neatly fit with something that has become increasingly apparent this season as Mourinho and Guardiola have worked in the same city: they are much more alike than has often been considered. Some of those who know them from their time together at Barcelona, from 1996 to 2000, even believe that they have similar tactical roots in terms of their ideological approach to the game and how they view space on a pitch. They may have embarked on different interpretations, but the notion remains that they are just two sides of the same coin.
Even those contrasts between their playing philosophy and personality feed into this. Guardiola evangelises the most extroverted football possible, basing his game on high pressing and high command of the ball, but comes across as more personally introspective, as if always so deeply thinking about the game and how he can reach his ideal. Mourinho has always been the ultra-pragmatist, but his scorpion-and-the-frog natural response to difficulty on the pitch is usually to go as deep as possible and shut everything down in self-protection before then going on the front foot in the media afterwards. 
The 1-0 FA Cup defeat to Chelsea was a case study in this, but it is so pointed in general how the two have reacted to similar challenges and the taxing questions that follow. Whereas Mourinho came across as so unnecessarily aggressive in his flash interview with the BBC on Saturday, one of Guardiola's most notorious media exchanges of the season saw him express some extreme passive-aggressiveness after the 2-1 win over Burnley.
Both have come across so conspicuously abrasive when questioned, and it certainly smashes a few perceptions about Guardiola's supposedly more urbane persona from when he was winning everything at Barcelona, as Mourinho got involved in a series of battles while at Real Madrid. That, of course, also reflects the fact that it's a lot easier to be charming when you're winning, and England so far hasn't seen some of the regular flashpoints that Antonio Conte got into in Italy - precisely because Chelsea have been performing so well.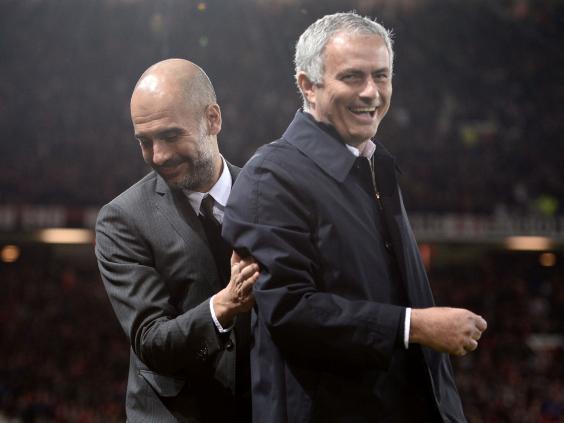 It probably says something about modern top-level management, too. To be capable of winning to that degree, it undeniably helps to be an intensely involved obsessive who rages against imperfection. You could even argue it's one reason why the comparatively more relaxed Carlo Ancelotti has not won that many league titles.
Right now, despite all of that, both Mourinho and Guardiola look some way off winning the league title themselves. United struggle to score when really required, City struggle to defend when really required, again touching on those contrasts.
They now need to respond with more than just difficult interviews, and appeals to their players to do the same things but better. It could reasonably be asked of Mourinho, for example, what he is doing on the training ground to try and improve the scoring rate of his side. Why is it that vibrant young attackers like Marcus Rashford and Anthony Martial have apparently regressed under him?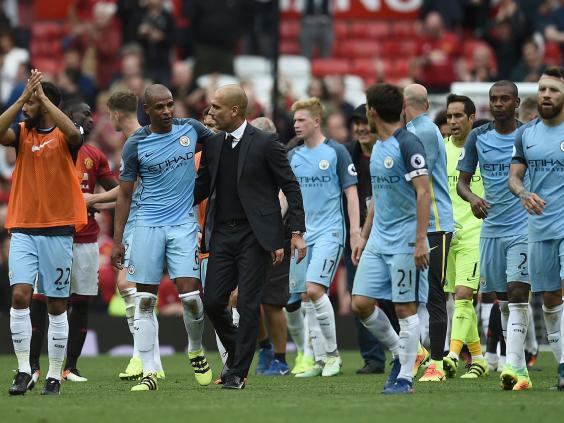 It could reasonably be asked of Guardiola, meanwhile, why he can't just make some temporary compromises to this constant pursuit of a football ideal. Because, when it's not working at 100 per cent, City can often look remarkably and disproportionately fragile.
This is not to say there haven't been elements to admire about their seasons. Mourinho could yet win two trophies and get back into the Champions League, while some of City's football has been genuinely sublime, and often the most impressive in the Premier League for the slick choreography of their movement.
The bottom line, though, is that much more should fairly have been expected of both managers. It is underperformance to not challenge for the title. Going into the season, they had the resources, the squads, the aura and managerial talent to do exactly that. The debates about the quality of the personnel have only come later, along with those questions they have reacted with such hostility to.
Either way, both need to show exactly why they are rightfully worth so much as managers, rather than why their signings should be. Don't get angry. Get even better.
Reuse content