Brendan Rodgers has insisted he is still the best man for the job at Liverpool after their season took another disappointing turn when they were knocked out of the Champions League by Basel in midweek.
Liverpool travel to Old Trafford on Sunday lunchtime to face rivals Manchester United, and Rodgers can barely afford another defeat with his team languishing in mid-table.
It is all a far cry from last season, when they took the title race to the last day of the season before finishing second to Manchester City.
Rodgers has borne the brunt of the criticism but said he was working hard to turn the corner.
Manchester United vs Liverpool: Combined XI
Manchester United vs Liverpool: Combined XI
1/8 David De Gea (Man United 1 Liverpool 0)

Has arguably been United's best player this season, with a number of impressive performances and great saves that have earned his side crucial points. Simon Mignolet, on the other hand, looks like he could be replaced in January, with Liverpool linked to numerous goalkeepers.

GETTY IMAGES

2/8 Antonio Valencia (Man United 2 Liverpool 0)

A problem position with the two sides playing very different formations, Valencia gets in ahead of Glen Johnson because he is a bigger attacking threat - both are terrible defenders.

Getty Images

3/8 Kolo Toure (Man United 2 Liverpool 1)

Kolo Toure's presence in this team shows just how far these two sides have fallen, as well as the defensive injury crisis currently engulfing United. His opposite number Paddy McNair has potential but was so bad against Southampton he was replaced after 37 minutes, with Michael Carrick dropping into defence.

GETTY IMAGES

4/8 Martin Skrtel (Man United 2 Liverpool 2)

Again, Skrtel has been far from impressive this season, though he is the best of a bad bunch. Jonny Evans is arguably his equal but will be starting his first match since September; the Slovakian just shades it.

Getty

5/8 Marcos Rojo (Man United 3 Liverpool 2)

Rojo not enjoyed the greatest of starts at Old Trafford but Albert Moreno, though impressive at times, has also struggled and lapses in concentration have cost Liverpool goals.

GETTY IMAGES

6/8 Steven Gerrard (Man United 4 Liverpool 3)

Gerrard has endured a poor season and is lucky to be in this team - the man opposite him is Marouane Fellaini, one of the worst signings of the last couple of years. Gerrard's sparkling form from a year ago has deserted him and he's badly in need of a rest - despite his wonderful free-kick against Basel. Liverpool are so bad without him Brendan Rodgers can't afford him one.

Getty

7/8 Juan Mata (Man United 5 Liverpool 3)

Choosing between Mata and Jordan Henderson is probably the toughest decision to make in this team. It is a matter of opinion and tactical preference whether you go for the crafty, attacking talents of the Spaniard or the high-energy Englishman. Henderson, like Gerrard, has not been as good as last year and Mata just shades it on current form.

Getty Images

8/8 Raheem Sterling (Man United 5 Liverpool 4)

Another Liverpool player who has failed to hit the heights of last season. However, Sterling remains the side's most potent attacker with Daniel Sturridge out and Luis Suarez departed. Ashley Young has done a good job at wing-back for Louis van Gaal, but Sterling is a potential match-winner.

Getty
"I think the message from me is clear: I don't think there would be anyone better to do the job here," he told several national newspapers. "Seven months ago we nearly won the title unexpectedly, I had time to work with players and we took them beyond where the club has been in a long time.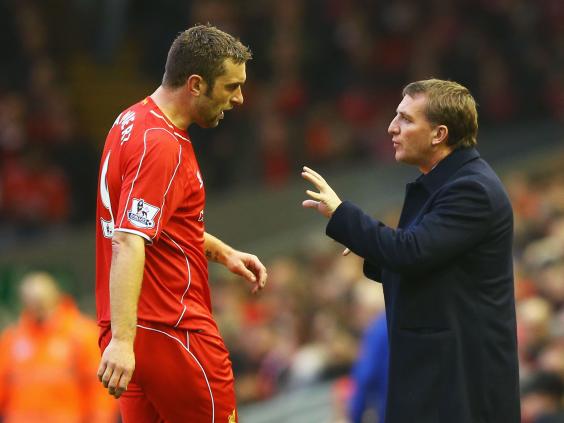 "This has been a difficult start with new players, less coaching time, young players; we are virtually starting again. I don't think there is anybody better equipped to deal with that having been here for the last two and a half years and experienced what this club is about and seeing what we get from the players whenever we are at our best.
"Criticism comes with the territory when you don't win games. Football is very short term. The same people who are criticising me now were maybe saying I couldn't do anything wrong six or seven months ago. That is the way football works. You have to accept that as a manager and fight even harder to bring success. This period has ensured I will do that for sure."
Liverpool have struggled to score goals since the departure of Luis Suarez, with Daniel Sturridge's season to date ruined by injuries and summer signing Mario Balotelli failing to fire.
The Italian has been no stranger to controversy, and has provided written mitigation arguing his case in an attempt to lessen his punishment after accepting a Football Association misconduct charge in relation to making racist and anti-semitic comments on social media.
Balotelli, who could face United after recovering from a groin injury, opted against requesting a personal hearing but Press Association Sport understands the 24-year-old has written to the disciplinary panel to explain his actions.
Balotelli was charged a week ago with breaching FA rule E3(1) as a result of his posting of an image of computer game character Super Mario on Instagram which included the words "jumps like a black man and grabs coins like a Jew" and his offence was deemed to be an 'aggravated breach', as defined by rule E3(2), as it included a reference to ethnic origin, colour, race, nationality or religion or belief.
PA
Reuse content