Before his first defeat in a Manchester derby, Manuel Pellegrini admitted that in the space of a month Manchester City had "thrown our season in the garbage". As the final whistle went it was time to sift through the trash and examine what, if anything, might be salvaged for next season.
This was their fourth defeat in five matches and, although losing beneath the steepling stands of Old Trafford should not logically carry the embarrassment of defeats at Turf Moor or Selhurst Park, it will have hurt more. Ever since Roberto Mancini's side put six past Sir Alex Ferguson's stunned, disintegrating team in October 2011, the colour of Manchester's football has usually been blue. This was quite a payback.
As Pellegrini stood on the touchline, the City manager was assailed from every corner of Old Trafford by chants that he would be sacked in the morning. You would hope the achievement of steering City to the Premier League title last season would have earned a thoroughly decent and talented man more than 11 months.
However, you could have said the same of Carlo Ancelotti before he was taken out and fired in Goodison Park's narrow, wood-panelled corridors the season after he delivered the Double to Chelsea in 2010. The coming weeks  will test how vicious City want to be.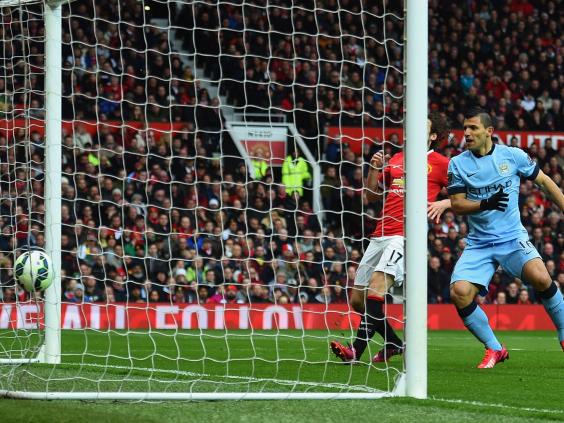 It is, however, surely the beginning of the end of the praetorian guard Mancini assembled around him. The team Pellegrini sent out was essentially the one that had dominated this fixture for the past four seasons. Men like Yaya Touré, Vincent Kompany, Pablo Zabaleta and David Silva; men who deserve to be placed alongside the Bells and the Summerbees in City's pantheon. For all except Silva, whose beautiful touch set up the first goal of an extraordinary afternoon, their time may be coming to an end.
For the Manchester United of Louis van Gaal, this may just be the beginning. After overcoming Tottenham and Liverpool, this was United's third important win and it carried echoes of Van Gaal's biggest victory as an international manager, the demolition of a Spain side who came to Salvador as champions of the world and lost 5-1.
Then, as now, the team he managed went a goal behind before relentlessly punishing their opponents with a series of superbly timed counter-attacks. Ashley Young, who scored the first and created the second for Marouane Fellaini, said that once they went ahead nobody in that United side felt they would lose.
Manchester United 4 Manchester City 2 player ratings
Manchester United 4 Manchester City 2 player ratings
1/23 David De Gea

Stood his ground smartly when facing Aguero one-on-one early on, setting the tone for another calm performance. 6

GETTY IMAGES

2/23 Antonio Valencia

With Mata drifting infield he kept the right flank comfortably under control. Always dangerous going forward but it was his defensive covering that impressed today. 7

GETTY IMAGES

3/23 Chris Smalling

He is still prone to brainless moments, as when he was caught in the middle of the park bringing the ball forward, but his goal capped off another solid display. 6

GETTY IMAGES

4/23 Phil Jones

Watched City cut his defence apart for the opener but that at least encouraged him to wake up and he became more assured as the game wore on. 5

GETTY IMAGES

5/23 Daley Blind

United kept attacking down the left because of the danger Blind brought through fine deliveries and a great understanding with Young. 7

GETTY IMAGES

6/23 Michael Carrick

A solid, composed performance, keeping possession throughout and stepping back to help out in defence. Exactly what Louis van Gaal would have wanted from his vice-captain. 7

GETTY IMAGES

7/23 Juan Mata

An excellent display of playmaking from wide, he found space for himself and teammates. Capped another fine performance with a well-taken third. 8

GETTY IMAGES

8/23 Ander Herrera

The Spaniard is quickly becoming the all-round midfielder United have been searching for for a decade. He brought a strong passing range and confident dribbling to United's victory. 8

GETTY IMAGES

9/23 Marouane Fellaini

From someone with no clear position in the United side he now seems to take up every one. Poacher, enforcer, target man: He did it all excellently. 9

GETTY IMAGES

10/23 Ashley Young

He deserved the lucky break for his goal as he put in an excellent performance on the left. His cross for Fellaini's goal would have made David Beckham proud. 9

GETTY IMAGES

11/23 Wayne Rooney

For once the captain was peripheral in a Manchester derby, though he was still able to produce an assist for Mata and combine well with Fellaini. 6

GETTY IMAGES

12/23 Off the Bench: Marcos Rojo

He couldn't have asked for an easier assignment than 15 minutes against a shell-shocked City. A quiet afternoon for the Argentine. 6

GETTY IMAGES

13/23 Joe Hart

Should have done much better with two United goals, in particular letting a soft Fellaini header through him. 4

GETTY IMAGES

14/23 Vincent Kompany

His first booking for diving in on Blind showed a man off pace, it was little wonder he was taken off at half-time. 3

GETTY IMAGES

15/23 Pablo Zabaleta

Was given a torrid time by Young, so concerned was he that he rarely if ever ventured forward, leaving his side light on attacking promise. 5

16/23 Martin Demichelis

Provided no support for full-backs when Fellaini consistently peeled off to the back post, showed no leadership or organisation after Kompany went off. 4

GETTY IMAGES

17/23 Gael Clichy

Switched off to allow Young to ghost in for United's first and didn't switch back on again after. Too often he left space out wide for Valencia to attack. 4

GETTY IMAGES

18/23 Jesus Navas

His crosses seemed to be City's best outlet as United grew in confidence, however he too often left Zabaleta alone to defend the right flank. 5

GETTY IMAGES

19/23 Yaya Toure

An anonymous presence who did little in either box and was overrun in the middle of the park. His defensive deficiencies are becoming more pronounced in each big match he plays. 4

GETTY IMAGES

20/23 Fernandinho

Out-skilled and out-thought by Herrera and co, never more so than when a quick change of feet by the Spaniard left the Brazilian on the floor. 5

GETTY IMAGES

21/23 David Silva

Another who started brightly, but the manager's decision to station him out on the left backfired as he was unable to get on the ball and influence the game. 6

GETTY IMAGES

22/23 James Milner

Hi reverse-pass to Silva created the first goal but after that he began to make atypical mistakes. Pellegrini was right to replace him with Nasri. 5

GETTY IMAGES

23/23 Sergio Aguero

Took his early goal smartly but was left without support or creativity behind him. When he was given an opportunity, he took it. 7

GETTY IMAGES
City began the match, just as they had the last Manchester derby at Old Trafford, with some fast, relentless attacks that climaxed with a couple of superbly weighted passes between James Milner and Silva, a quick low cross  and the sight of Sergio Aguero driving home his first  goal for two months from close range.
 Those tactics had triggered a wholesale collapse of the side managed by David Moyes but this is a rather more resilient Manchester United and within 19 minutes they were ahead.
Van Gaal's replacement of Moyes should have marked the end of the road for both Young and Fellaini. The latter had been mocked as a leaden-footed makeweight brought in by Moyes because he had run out of options in the transfer market. Young was not only an embarrassment with a reputation as a diver, he had seen the club spend nearly £60m on Angel Di Maria, who played in his position.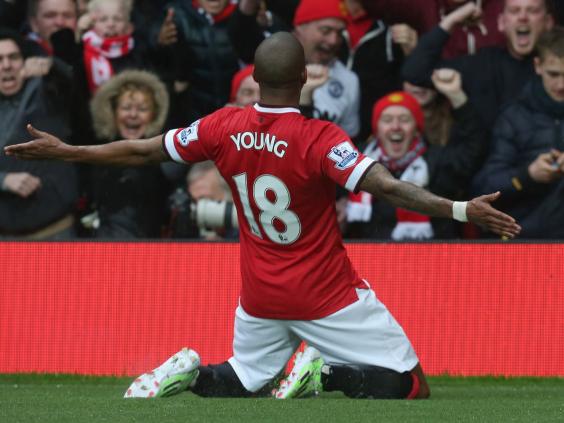 Di Maria and Radamel Falcao did come on but only when United were 4-1 up and neither did anything worthwhile. There were other, less obvious, heroes.
The game was 13 minutes old, the rain was crashing down and those in the away end were chanting "Champions of England, we know what we are," when City demonstrated why they will not be champions of England for very much longer.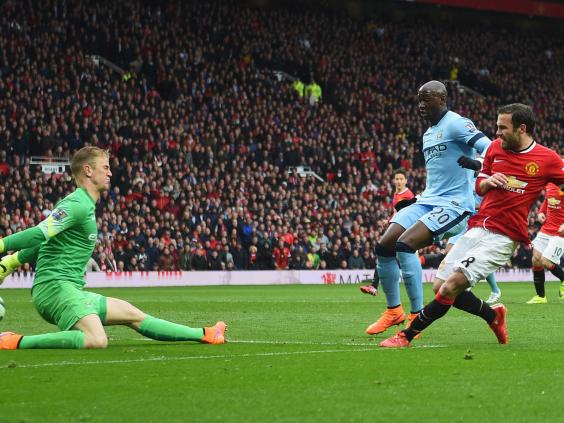 The slide began when an error from Phil Jones sent Aguero running through on goal. David De Gea dashed out to launch the ball to safety but it proved considerably more than an aimless punt. Fellaini headed it down and Ander Herrera sent over a low cross that might have been meant for Wayne Rooney but was met by both Young and Gaël Clichy. It rebounded off the defender's back and was turned into the net by Young, displaying a combination of athleticism and opportunism.
 Juan Mata, who scored United's third, confessed that in the opening exchanges City had been "brilliant" but, once United were level, there appeared only one likely outcome. A neat interplay between Young and Daley Blind produced a cross that went beyond Clichy and was headed powerfully home by Fellaini at the far post, striking Joe Hart's forearm as it sped into the net.
City were losing their grip and losing control. A reckless tackle from Kompany sent Blind flying and the referee, Mark Clattenburg, consulted with his assistant before deciding it was a yellow rather than red card. The damage, however, was done. The City captain had injured himself in the tackle and did not reappear after the interval.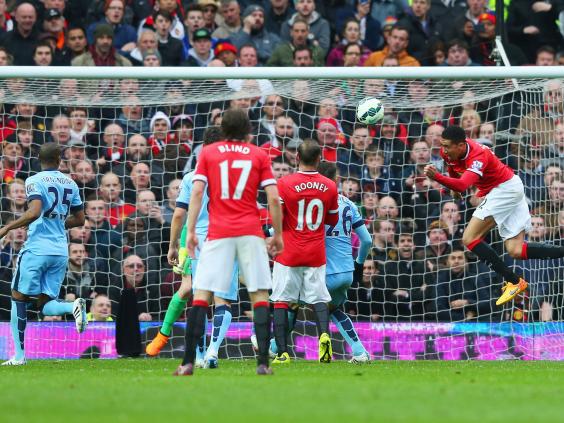 If United had turned the tide in the first half, the second was a full blown flood towards the Stretford End. Wayne Rooney, who had been a strangely peripheral figure in a fixture that has drawn some of his finest performances, came increasingly into his own.
Touré was pushed further back and for the third goal was accused of a "dereliction of duty" by Gary Neville in the Sky Sports studios for failing to protect his back four as Mata was played through. The Spaniard appeared to have delayed his shot too long but, when it came, it was driven perfectly through Hart's legs.
For City the game was up and, when Chris Smalling headed the fourth, they will have longed for it to finish. There was, however, still time for Aguero to clip home his 100th Manchester City goal and it would be hard to imagine an emptier milestone.
Reuse content