Arsene Wenger has revealed that Mesut Özil felt a "crack" in his knee during the 2-0 defeat to Chelsea, and that he knew about it at half-time yet still kept the midfielder on for the full 90 minutes.
Özil reported for international duty during the international break but Germany's medical staff revealed the full extent of the knee injury that threatens to keep him out of action for up to three months.
The 25-year-old didn't enjoy his best game at Stamford Bridge as he repeatedly lost the ball when Arsenal were on the attack, but despite the injury being made apparent to Wenger after 45 minutes, the Frenchman chose to substitute Alexis Sanchez, Jack Wilshere and Santi Cazorla rather than take off Özil.
Speaking in an exclusive interview with beIN Sports which is due to broadcast on Thursday and be repeated on Saturday, Wenger revealed that Özil's pain was caused by a crack in his knee, which puzzled the Gunners' manager as he had not collided with anyone else.
Arsenal's injury list
Arsenal's injury list
1/5 Mikel Arteta (midfield)

Like Diaby, the Spaniard is closing in on a return but the Swansea match will come to soon. The club captain last played in November.

Getty Images

2/5 Mathieu Debuchy (defender)

Returned in the FA Cup semi-final win over Reading but has since been ruled out with injury and Wenger confirmed he remains 'unavailable'.

GETTY IMAGES

3/5 Alex Oxlade-Chamberlain (midfield)

Suffered a hamstring injury against Manchester United in the FA Cup and hasn't played since as it has exacerbated a groin problem. Out at least until May and facing surgery in the summer.

4/5 Aaron Ramsey (midfield)

Aaron Ramsey caught a kick on his calf during the win over Hull and was later substituted. The Welshman was rated 50/50 for the Swansea match by Wenger, but it now appears that he is a major doubt for the clash at the Emirates.

Getty Images

5/5 Danny Welbeck (forward)

Danny Welbeck has not played since the goalless draw with Chelsea towards the end of April after suffering a knee injury. Wenger has confirmed that the injury is 'nothing major', and that he should return to full fitness before the end of the season.

GETTY IMAGES
"He had a little problem just before he went out at half-time," said Wenger. "He had a little pain with his knee, he felt a crack.
"I said to our physio to keep an eye on him and if there was anything wrong with him, tell me because when you're 1-0 down, you want to keep your offensive players on the pitch.
"I am deeply shocked. He wasn't involved in a collision with anybody.
"It was just after making a pass with the outside of his foot that he injured his leg so it's very hard to believe that you can damage your ligament with just making a simple pass and it's very difficult to take that he will be out for a while."
Özil's absence adds to Arsenal's woes as they are already missing several key players through injury, with Olivier Giroud and Aaron Ramsey among those ruled out with long-term injuries. Wenger went on to stress that the lengthy injury list, which now adds up to nine first team players, has not been caused by anything other than coincidence.
The Arsenal manager has received criticism for Arsenal's persistent injury troubles, given the likes of Ramsey, Wilshere and Tomas Rosicky suffering numerous injuries in the past. Recently departed captain Thomas Vermaelen missed the entire 2008-09 Premier League season through injury, while Abou Diaby has picked up no fewer than 40 injuries since signing for the North London club.
"I am not a great believer in coincidences but this time it really is coincidence," Wenger added in defence of his training methods.
"You cannot say our injuries are preparation mistakes. The big injuries we have are really accidental.
"Scientifically we are quite good. We have been hit hard after seven games. I would never have thought we would have had so many bad injuries."
Arsenal face Hull this weekend as the Premier League resumes following the international break, and they'll be looking to banish the memories of the defeat to Chelsea that saw them comprehensively outplayed once again against a Jose Mourinho side.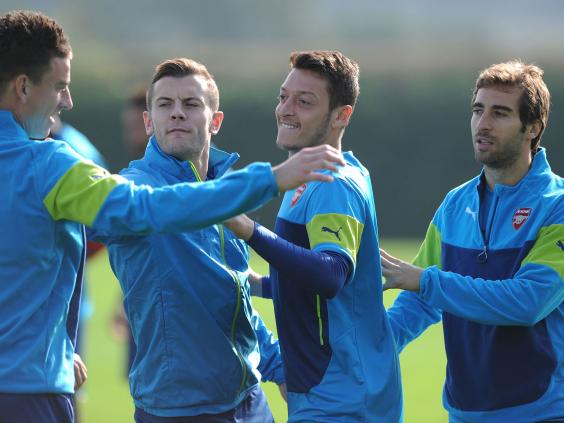 Wenger is yet to beat the Portuguese, and the two clashed on the sidelines during the match which saw Wenger shove his adversary in the chest before both managers were warned by referee Martin Atkinson. 64-year-old Wenger has since apologised for the incident, but has faced further criticism for his tactics in the match with claims suggesting Arsenal have no back-up plan when things aren't going their way.
"That's an old, ridiculous debate - I honestly never understand what is Plan A and Plan B and C. It's a debate of another age," Wenger responded.
"I've watched the Chelsea game again and we were guilty of not taking the first chances which were there for us and guilty of making a defensive mistake on their goal, but there was very little between the two teams on the day.
"I think we came out angry and frustrated but also coming that we have an important part to play in this championship."
However, Wenger did lament the way in which Arsenal conceded the two goals and described the defeat as a "traumatic" experience. Laurent Koscielny gave away a first-half penalty when Eden Hazard ghosted past the Arsenal midfield, and the Frenchman and Per Mertesacker were caught flat-footed by a Cesc Fabregas lofted ball that allowed Diego Costa to chi over goalkeeper Wojciech Szczesny to secure the win for the Blues.
"We can only look at ourselves and think if we want to get something out of the big games we cannot afford to make the mistakes we made on the two goals," said Wenger.
"It was traumatic for me. The way we lost was very difficult to take. The quality of the team is to make the maximum with what you produce on the day and that's where we failed."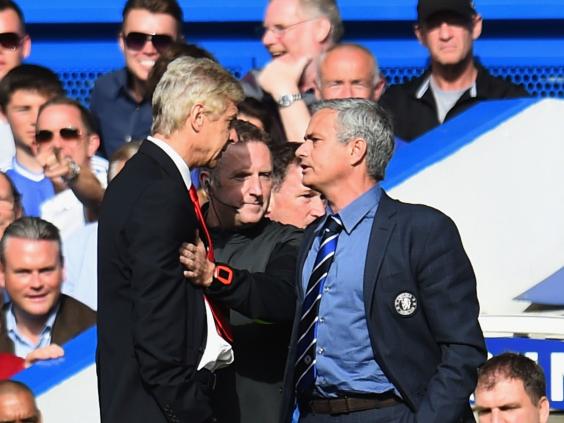 The Gunners now sit nine points off Premier League leaders Chelsea, who have looked formidable in their unbeaten start to the season. They will have a chance to respond against Hull, knowing that the last time the two sides met they lifted the FA Cup trophy in last season's nail-biting final.
Wenger believes that his side are in a stronger position to recover from the defeat, and sent a jibe towards Mourinho's side in claiming that Manchester Coty are better suited in the race for the title due to having more options in attack.
"I believe that maybe going forward, City are a bit more complete," he claimed.
"City are more offensive. Chelsea defensively are better but it's very difficult to say who will be in front but what we want to do is be in front of both of them.
"It is massive, the nine points after seven games, I agree completely, but it is not lost."
Reuse content