The cover shot for the Newcastle programme is a drawing of Jack Colback patting his Newcastle badge with the Tyne Bridge in the background.
Colback was a Sunderland player for 14 years before moving to Newcastle in the summer. It is a transfer that still makes both clubs bristle.
When it was confirmed that he had moved 13 miles north in June, Sunderland responded by putting a picture of Colback celebrating after scoring in their 3-0 victory at St James' Park on the club's Twitter account, when the player had made a shushing noise over his mouth with one finger.
They issued a 159-word statement in which they said the transfer "left a bitter taste" and there was "no chance for Sunderland to recover any of the significant investment that it has made in him as a player".
PROGRAMME: A first glimpse at Sunday's bumper 116-page programme. Just £3 around SJP! #blackandwhitederby #NUFC pic.twitter.com/nFQtZBrlKR

— Newcastle United FC (@NUFC) December 19, 2014
Those close to the player insist the initial offer of a new deal from Sunderland in the summer of 2013 was derogatory and his salary at the time was one of the worst in the first team.
That allowed him to run down his contract and move for nothing to the club he had secretly supported since he was a boy – Colback was born in Killingworth, in North Tyneside – something the former Sunderland chairman Niall Quinn felt was wrong. "We didn't bring him through and work on him to make Newcastle stronger," he said.
The Sunderland manager, Gus Poyet, admitted yesterday he was still unhappy with the move. "It is difficult," he said. "It was a massive decision that Jack took, not easy and not too many can make it. The best thing for me is he made it, we didn't push it and he cannot say nothing against us.
"He helped us a lot. I will always think about what he did for me. I wish him very well, but not on Sunday."
Alan Pardew countered that Colback was frustrated by what had happened. "I think he feels a bit aggrieved about the way it ended at Sunderland," he said. "I think he's handled the move impeccably because he took a bit of criticism after it and he didn't respond, which I think is the right thing."
Pardew, who has lost three and drawn two of the last five derbies between Newcastle and Sunderland, also spoke of the concern that one of his own players, Steven Taylor, will struggle with the emotion of the day.
"I will be looking at one or two who maybe get emotionally involved," he added. "Probably the one who worries me the most is Steven Taylor. He wears his heart on his sleeve and he plays like that sometimes in this fixture. I've spoken to him about it. I think this time around he will be a lot calmer."
Two seasons ago Taylor claimed he would rather collect stamps than play for Sunderland. The Sunderland supporters responded by singing they wished he was dead.
Poyet spoke passionately yesterday about how Sunderland are as big a club as Newcastle. "From the outside, for some reason, Newcastle are apparently a bigger club than Sunderland but when you are here, you realise there is no difference," he said.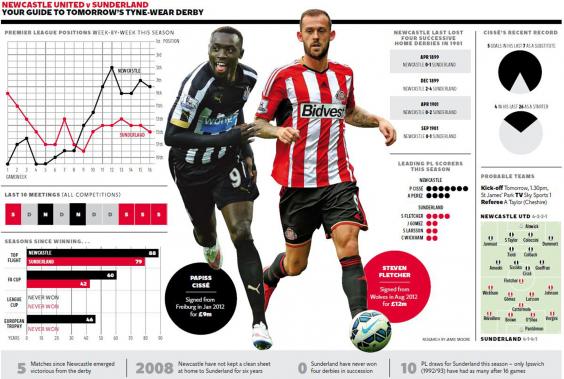 "Sometimes you base it on the capacity of a stadium or how much noise the fans make. Others think it is about how many trophies you win or when you last won. You pick and choose, depending what is good for your argument.
"We have a region, the North-east, which is desperate to win silverware, absolutely desperate and I am sure the manager who can produce that is going to be a hero.
"From the outside, everyone is looking at who can be the one to change history and make one team apparently better than the other, at least for a few years. I think it is a good challenge.  Maybe [people think Newcastle are a bigger club] because of the publicity it gets, the city or maybe even the airport which is in  Newcastle. Sunderland does not have one."
This was the scene-setting backdrop to a game that had been billed as "a derby to be proud of" in the aftermath of the tragic deaths in July of two Newcastle fans, John Alder and Liam Sweeney, when their flight, MH17, was shot down over Ukraine as they went to watch their team in New Zealand, and the donations that poured forward from Sunderland supporters.
Sunderland fans who arrive at Newcastle Central Station at around lunchtime tomorrow will not have a police escort, for the first time in living memory. This is the attempt to make the derby more supporter-friendly. It does not quite sit with the continued acrimony that was again bubbling under the surface yesterday from issues as wide ranging as the transfer of a 24-year-old to the lack of an airport.
Poyet admitted that 16 months ago he did not understand the significance of the fixture. Now, after managing, and winning, at both grounds, he backed the opinion of Roy Keane and Pardew that it is the biggest derby he has come across. "I agree, because you have to live it to know it," he said. "If you had said to me a year and a half ago this was the biggest one I would have said, yeah, right [sarcastically]. It is best explained by this: derbies are usually played between two teams from the same city, or two big teams from different cities far apart.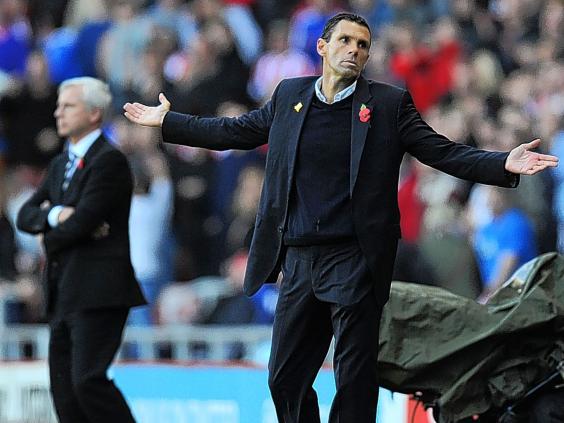 "But we are next to each other, we are connected. We are two different cities but everything is so close and that's why it is special, it is unique. There is a line in Gateshead where this side is red and white and then the other side of the road it is the other team. That is so close, so unique. The passion is so special and that's one of the reasons. It's coming now, the big game and the players know there is something extra on this.
"The win there last season was the greatest feeling to have as a manager. You go away from home at your biggest rivals and you play one of your best games and you win, that is something very special as a manager."
Pardew cannot contemplate a fourth successive defeat, something that has not happened in 116 years of the fixture. He was less effusive than Poyet yesterday. When asked about the possibility of becoming the first manger to lose four in a row, he said: "Few have been here as long as me."
Back in February, Poyet waited until the home fans had left the stadium, following a second successive 3-0 destruction of Newcastle. Only then did he truly celebrate the win, along with 3,000 Sunderland fans, high up in Level Seven in the Leazes End of St James' Park.
"It was very personal," he said. "Our fans were the only ones in the ground. I punched the air then, but didn't do it beforehand because I was very respectful."
It is a characteristic those at the game's epicentre must rediscover, when the white heat of the fixture burns at its brightest.
Reuse content