Phil Neville rolled back the years as he turned out for Manchester United's Legends side in their friendly match against their Bayern Munich counterparts on Sunday night, but the former professional footballer-turned-TV pundit got a surprise he didn't bargain for.
The 38-year-old took part in the game at Old Trafford that ended in a 4-2 result in United's favour, with Neville joined by the likes of The Independent columist Paul Scholes, Andy Cole and Edwin van der Sar.
While his brother, Gary, couldn't be in attendance due to his coaching commitments with England and a successful trip to Slovenia, Phil was on hand to represent the Neville name in the legends match, and was more than ready to celebrate United's success in a throwback to that famous night in 1999 when United won the Champions League against Bayern to clinch the treble.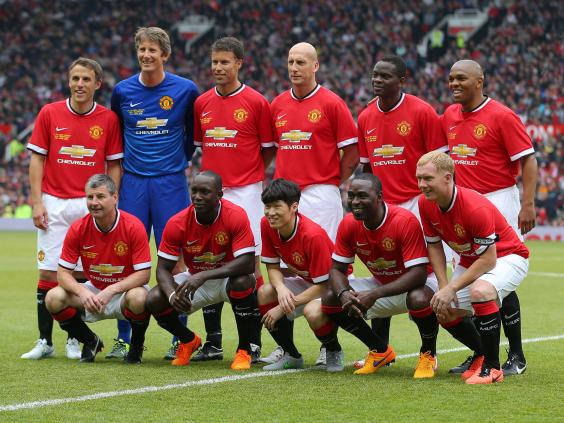 However, much to Neville's embarrassment, no one informed him about the pyrtotechnics that would go off when United lifted the trophy.
The ex-defender nearly leapt out of his skin after the fireworks and flash bangs went off, and a picture posted on Neville's own Instagram account displayed just how scared he was.
Neville included the caption: "Spot me on the left when the pyro technics we're going off!!!"
At least Neville can take solace from the fact that he wasn't the only player surprised by the pyrotechnics as the picture shows, but credit must go to the ice cool Mikael Silvestre who remained unmoved – although the same couldn't be said for Dwight Yorke.
Reuse content