Steven Gerrard is a very, very good player, a Liverpool legend.
He'll quit the club this summer third on the list of all-time appearances (710 should he play at Stoke on Sunday), fifth on their list of goal scorers (currently 185) and the best player the club has had for a generation.
He's inspired the team numerous times of over the years, Olympiacos, the Champions League final and FA Cup win the most memorable examples, and consistently been among the club's top two or three players for the entirety of his 17 years. He's been among the best in the world in his position at certain points.
Steven Gerrard's final match at Anfield
Steven Gerrard's final match at Anfield
1/26 1)

Getty Images

2/26 2)

Getty Images

3/26 3)

Getty Images

4/26 4)

Getty Images

5/26 5)

Getty Images

6/26 6)

Getty Images

7/26 7)

Getty Images

8/26 8)

Getty Images

9/26 9)

Getty Images

10/26 10)

Getty Images

11/26 11)

Getty Images

12/26 12)

Getty Images

13/26 13)

Getty Images

14/26 14)

Getty Images

15/26 15)

Getty Images

16/26 16)

Getty Images

17/26 17)

Getty Images

18/26 18)

Getty Images

19/26 19)

Getty IMages

20/26 20)

Getty IMages

21/26 21)

Steven Gerrard during his final appearance at Anfield

Getty Images

22/26 22)

Getty Images

23/26 23)

Getty Images

24/26 24)

Getty Images

25/26 25)

Getty Images

26/26 26)

Getty Images
He's won the Champions League, the FA Cup twice, three League Cups and the Uefa Cup, lost in three other finals and been handed numerous individual awards for his performances.
His send off at the weekend was something to behold. Thousands of column inches were dedicated to the captain in the build-up to his final game at Anfiled, tickets were sold for thousands of pounds and Sky Sports dedicated (vomit-inducing) coverage to Gerrard as Liverpool lost to Crystal Palace on Saturday evening.
It all seemed very fitting for the boyhood hero who once stood on the terraces at Anfield before going on to captain the side to glory. Roy of the Rovers stuff.
And all very manufactured.
VOTE BELOW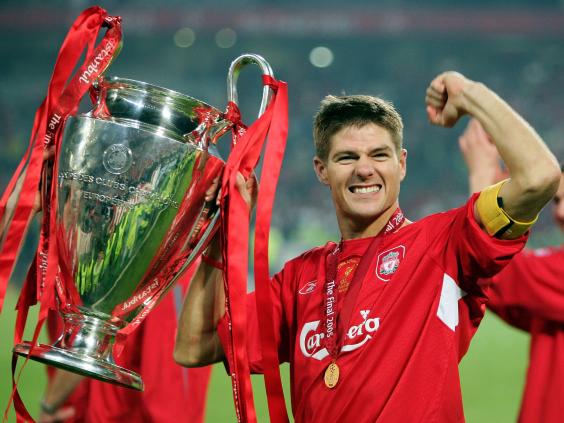 Gerrard is one of Liverpool's best ever. The trouble is, Liverpool are not the great, dominating team of the past, they have only been an above average side since the 1980s, occasionally reaching lofty heights but failing to sustain them. Winning matters.
As their most influential player over the past 20 years, Gerrard takes much credit for their astonishing highs and should also take criticism for the failures.
He has never won a Premier League title, of course. In his time at Anfield Liverpool have only genuinely challenged for the title on a handful of occasions, finishing second three times and third three times since 1998.
They've also finished outside of the top four eight times in his career, and between 2009 and 2013 had a particularly bad run of finishing 7th, 6th, 8th and 7th.
Football is a team game and Gerrard staying mostly loyal to the club (his near exit to Chelsea in 2005 is always glossed over in his narrative of greatness) has cost him winners' medals, definitely.
If he'd have joined Chelsea or Real Madrid or whoever he have undoubtedly won a league title or two - although the same can be said for Roy Keane, Ryan Giggs, Paul Scholes, Frank Lampard and so on, who were all courted by European giants during the course of their careers.
None of those players, garnered the kind of attention Gerrard received in their final games for the clubs. The circumstances were different (Keane forced his way out of the club, Scholes retired on the same day as Sir Alex Ferguson, Lampard left at short notice) but it's hard to imagine them having the kind of attention lavished at their goodbyes even if they had wanted it that way.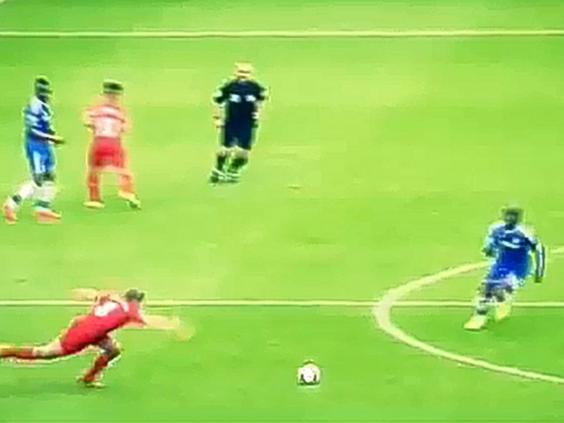 If one was to put together a Premier League XI, Gerrard would be considered. But would he definitely get in ahead of Keane, Scholes, Vieria or Lampard? Plenty would have him in there, plenty wouldn't. In a European team of the past decade is he definitely better than any of the above plys Xavi, Andres Iniesta, Andrea Pirlo or Bastian Schweinsteiger?
Again, he is a very, very good player, but he just falls short of being a great.
A hefty portion of blame for his lack of a title can be put at the door of his managers, his team-mates and especially the hierarchy for failed spending and under-par performances.
Liverpool's estimated net spend of £325million in the Premier League era is only beaten by three other clubs - Chelsea (£640m), Manchester City (£630m) and Manchester United (£400m) - and far outstrips Arsenal (£128m).
Those four clubs have all won the title in that time and with that kind of spending they should have done better, more often.
Gerrard has played alongside some real duds, Gerard Houllier, Rafa Benitez and Roy Hodgson all have their limitations, whilst Brendan Rodgers was not expected to challenge for the title. Liverpool's rivals have also gone through peaks and troughs over the years and the Reds have had their chances, last season being the biggest.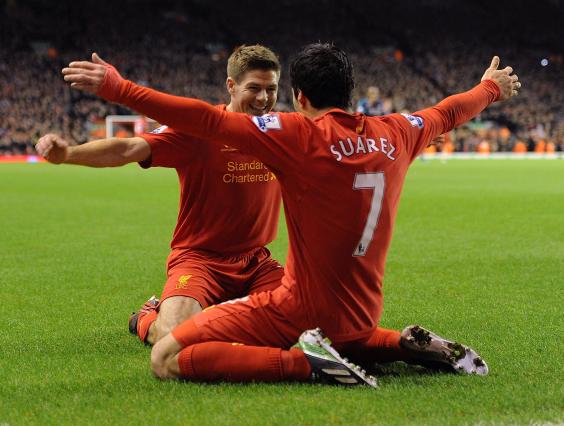 There have been fantastic players who have passed through the club in Gerrard's time. Luis Suarez, Xabi Alonso, Javier Mascherano, Michael Owen, Fernando Torres. If Gerrard truly was that great perhaps we should have expected more now we can look back?
He is clearly respected by his peers, with a record eight selections in the PFA Team of the Year. Frank Lampard, whose career seems forever entwined with his Liverpool rival, only has three. Evidence enough for some. But then one remembers that PFA voting is tactical, personal and political.
A quick example, in 2009-10, Chelsea won a League and Cup double, with a then-record goal haul in the Premier League, whilst Liverpool came seventh.
Lampard scored 22 goals and added 14 assists, Gerrard scored nine with seven assists. In the PFA Team of the Year that season was Gerrard alongside Manchester United's Darren Fletcher (he started 29 matches and scored one goal).   
For all the highs, he has had some crushing lows. The slip against Chelsea last season that cost the Reds the title. Important red cards against Everton and Manchester United. An own goal in the League Cup final in 2004, a poor back pass against the Blues in 2010, a poor back pass against France for England at Euro 2004.
That back pass against France is one of many disappointments in the white of England. The former Three Lions captain himself rates his international career (114 caps, 21 goals) as only a 6/7 out of 10.
That's perhaps a bit harsh, but whilst one could argue 8/10 is far, he is not close to a 9 or a 10, with England never getting beyond the quarter-final of a major tournament - never mind the failed qualifying campaign for Euro 2008 or the group stage exit in Brazil last summer.
As stated at the start, Gerrard has been very, very good, but not quite great, no matter what the narrative and pundits say. A great for Liverpool and easily one of the best English players of the past 20 years. But that doesn't stop him from being overrated.
Reuse content