Sergio Aguero snapped at Pablo Zabaleta when a pass aimed for the Manchester City striker failed to find its intended target. The striker turned around, berated his fellow Argentinian and stewed as play continued. The match was the FA Cup win over Huddersfield Town, the score was already 4-1, and Aguero was looking for his hat-trick after scoring twice.
It's this attitude that pleases Pep Guardiola, with the City manager impressed by Aguero's desire and belief that he's shown since coming back into the starting line-up. Guardiola took the big decision to drop Aguero when Gabriel Jesus arrived at the club, but fortune favoured the City stalwart as Jesus suffered what could prove to be a season-ending ankle injury, paving the way for Aguero to return to the side.
Aguero has since scored two goals in two games where City have found the back of the net 10 times, and it's not surprise that word Guardiola was keen to use so freely was "happy" on Friday afternoon.
"I love him, the way he played, he was involved," Guardiola said. "How he was angry, for example, with the decisions of the referee, how he reacted. How he made the transitions when he lost the ball, how he was involved, not just in scoring goals, in the way we play. So that's why I said it's the best performance.
"He was shouting at Pablo [Zabaleta] when he was not happy with one pass. That desire, when that happens, you are in the game. When you're in the game, after that, you're aggressive with the penalty, his first touch is good.
"When that happens Sergio really is an unbelievable player, not just in the box, in all terms. That's why we were so happy and I know that he is so happy, despite what people say. I know he is so happy."
Questions about Aguero's future beyond the end of the season caused Guardiola to snap back at reporters on Friday during his live broadcast, with the manager growing tired of being asked if the striker will leave in the summer, despite Aguero's revelation that he will hold talks with the Spaniard when the campaign finishes.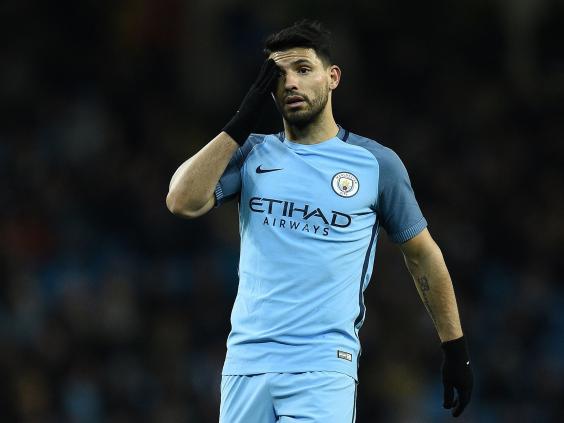 With games coming thick and fast, Guardiola is more concerned with how his players will be able to cope with the physical demands of four games in 10 days. But Guardiola would not have it any other way, as it means his side are challenging on all fronts if they have plenty of fixtures at this time of the year.
"I love it. I prefer to be there than to be out of the competition," he added. "It is what it is about the scandal or the problem or how many games. I am not the right guy to discuss your rules and how you decide to play the games and the amount of games.
"When I was young and a player at Barcelona I used to hear the managers and players complain about it so I am not the right guy to analyse that. The scandal is the scandal, the games are the games. If it is the schedule, we go, we play. Monday, Tuesday, Wednesday we go, we play."