Tottenham will finish above Arsenal for the first time in 22 years after beating their rivals 2-0 in the final north London derby at White Hart Lane.
Goals from Dele Alli and Harry Kane, the latter from the penalty spot, condemned the Gunners to defeat and further complicated their pursuit of Champions League qualification.
The hosts dominated the first half but struggled to stay composed in big moments, missing a couple of big chances before the break. 
But whereas Arsenal might previously have rallied to overpower their neighbours, Spurs stayed strong and Alli capitalised on sloppy defending to stab home from close range.
Tottenham vs Arsenal player ratings
Tottenham vs Arsenal player ratings
1/23 Player ratings

We run the rule over the two teams after Tottenham's derby victory.

Getty

2/23 Hugo Lloris - 7

Rarely called into action but on those occasions when he was tested he held his nerve to keep Arsenal out.

Getty Images

3/23 Kieran Trippier - 6

Not his best of performances. Made a hash of a number of crosses and was quiet at times. Some of his tackling was impressive, though.

Tottenham Hotspur FC via Getty I

4/23 Toby Alderweireld - 7

Defensively solid both in the air and on the deck. Rarely gifted Arsenal's front men the space or time to trouble the Tottenham goal.

AFP/Getty Images

5/23 Jan Vertonghen - 8

Tested Cech on a number of occasions with some sharp shooting. A real threat at corners. Fierce at the back. Excellent defensive display.

Tottenham Hotspur FC via Getty I

6/23 Ben Davies - 7

Hit the ground running and provided Spurs with a real sense of danger down the left flank.

Tottenham Hotspur FC via Getty I

7/23 Eric Dier - 7

An assured and rounded performance. Kept the Tottenham midfield ticking over all game long.

AFP/Getty Images

8/23 Victor Wanyama - 8

A true warrior at times. Seemed to emerge victorious from all of his challenges and was brilliant at dictating the tempo of Tottenham's game.

Getty Images

9/23 Christian Eriksen - 7

Provided the magic to open up Arsenal for Tottenham's first. Particularly dangerous in the visitors' final third. Passing was on point.

Tottenham Hotspur FC via Getty I

10/23 Dele Alli - 8

Showed real desire and fight for the first goal. An absolute menace across the entire front line for Tottenham. Very rounded performance.

AFP/Getty Images

11/23 Son Heung-min - 7

Was moved back into his preferred position and looked all the better for it. Enjoyed some piercing runs early on.

Tottenham Hotspur FC via Getty I

12/23 Harry Kane - 7

Excellent penalty to double Arsenal's lead. Hard working and tireless in his movement.

Getty Images

13/23 Petr Cech - 7 out of 10

Was tested by a number of challenging shots in the first half and put in some fantastic saves late on to limit the damage. One of the best shot-stoppers in the league. Would have been more were it not for him.

Tottenham Hotspur FC via Getty I

14/23 Gabriel - 5

A disappointing and uninspiring performance from him. His reckless challenge handed Spurs their second goal after Kane converted from the spot.

Getty Images

15/23 Laurent Koscielny - 6

Was off the pace for Tottenham's first. Should have moved quicker to close down Alli. Up until then he'd battled relatively well with the home side's front line.

Tottenham Hotspur FC via Getty I

16/23 Nacho Monreal - 4

Outclassed for much of the game. A considerable chink in Arsenal's weak armour.

Getty Images

17/23 Alex Oxlade-Chamberlain - 5

Out of his depth. Defensively poor and offered little going forward.

Tottenham Hotspur FC via Getty I

18/23 Aaron Ramsey - 6

Got a grasp of the game as it wore on and was one of the few Arsenal players to really test Lloris. Drifted out of the game though.

Getty Images

19/23 Granit Xhaka - 5

Made some solid challenges here and there but largely directionless in his play.

Getty Images

20/23 Kieran Gibbs - 4

Made little impact on the game. Another player who looked out of their depth.

Getty Images

21/23 Mesut Özil - 4

Another game in which he went missing. Dreadful display.

Getty Images

22/23 Alexis Sánchez - 6

Like Ramsey, the Chilean took a while to get going but by the end of the first half he was starting to have an influence on the run of play. Went off the boil in the second half though.

Getty Images

23/23 Olivier Giroud - 6

Willing to get back and help out his team mates defensively but failed to provide any real danger and creativity up front.

Getty Images
Moments later Kane had won a spot-kick, converting it himself, to double the lead. 
And that was that for an Arsenal team lacking in fight, cohesion and quality. 
But what did we learn? Here are five things....
1. Spurs show steel to get over missed chances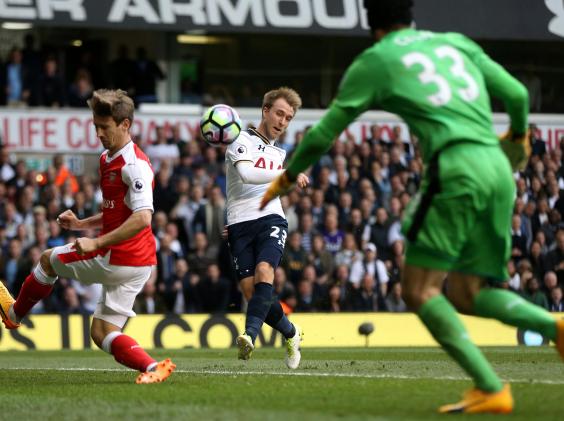 Tottenham were the better side in the first half and really should have taken the lead.
Dele Alli looked for all the world as if he would head the hosts in front but managed to only guide it wide of the post with no keeper to beat. 
Christian Eriksen's miss minutes later was possibly worse, side-footing over on the volley when all he needed to do was keep the ball down to break the deadlock and give his side the lead that their superiority had deserved.
When Arsenal eventually woke up and came into the game, those missed chances fed into the uneasiness that Spurs were going to do a Spurs, that they were on the brink of tossing away their title hopes in the final north London derby to be held in this historic stadium.
But when Alli scrambled home a second-half opener, it triggered a second within minutes. The first goal was met with the roar of relief, the second with joy. 
Tottenham had showed a mental fortitude they'd been accused of lacking, shrugging off some blown opportunities to put their arch rivals to bed. 
It hasn't been the case for a long time, but Tottenham are the better side than Arsenal and this season they will have the league position to prove it.
2. The balance of power does seem to have shifted in north London
Thierry Henry made something of a stir in the run-up to this game by suggesting that Alexis Sanchez is the only Arsenal player that could get into the Tottenham team.
Given Henry's legendary contribution to the Gunners over the years it was a headline-worthy statement but not by any means a fanciful one, and watching today you'd argue he was even perhaps a little generous to his former club in his assessment. It's not an exaggeration to say that Tottenham are now, undoubtedly, the superior side.
Player-for-player they had the upper hand across the board today while the difference in the dugout may be even more significant. Every home player won his one-on-one battle this afternoon as the hosts dominated from the outset.
While Arsene Wenger may be right in terms of how far Spurs still have to go as a club with a tricky transition to a new stadium to come, watching the two teams go to work on the same pitch it's hard not to come to the conclusion that the balance of power really has shifted.
3. It's the north London derby - but not as you know it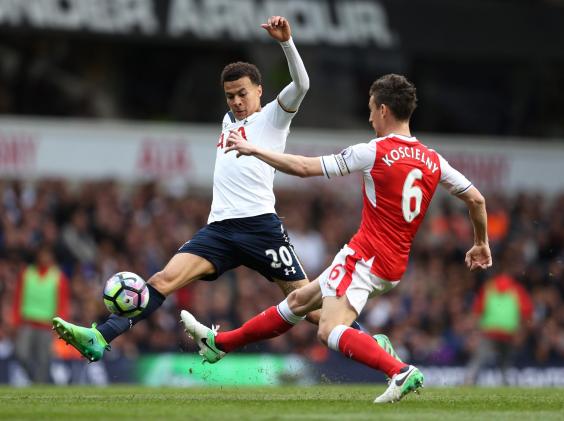 Not only did Tottenham outplay Arsenal in the north London derby, but they will now finish above Arsenal in the league.
That is enough to make this into an unusual renewal of this rivalry, which at times didn't even feel like one, such was the lack of animosity.
Indeed, the Gunners will depart White Hart Lane for the final time with a whimper. There was little fight, little bluster, little anything from them. Not so much as a booking for their troubles until the 70th minute and the closest they came to showing they cared was Danny Welbeck's tame spat with Toby Alderweireld.
Such a lack of, well, anything from Arsenal was not the sort of performance Arsene Wenger needed with his job under pressure. 
4. Alli has added goals to his guile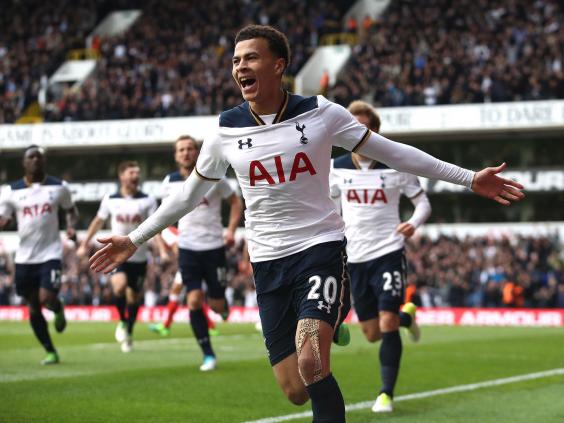 Dele Alli's all-important second-half goal was his 17th of the season, an absolutely remarkable achievement for a player who occasionally lacked poise in front of goal last year. He is comfortably the highest-scoring midfielder in the league and his (albeit scuffed) finish means he has now scored as many times as Zlatan Ibrahimovic this season.
At the tender age of 21, Alli has already reached a level where he is one of Tottenham's most likely goal-threats no matter what position he plays in. In the enforced absence of Mousa Dembélé, Alli played in a slightly deeper role with Heung Min-Son and Christian Eriksen positioned further forward alongside Harry Kane, and yet it was still Alli who seized the initiative and broke the deadlock.
It is hard not to get carried away with a young English talent when he is playing at this level week-in, week-out. But the Tottenham man is on the brink of becoming something spectacular and Tottenham's future should be built around his unique talents.
5. Missing: Mesut Ozil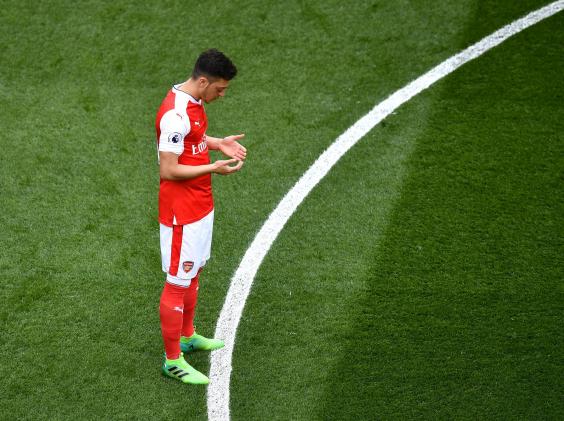 The German playmaker was included in the starting lineup but you wouldn't have known it from watching the game.
Another invisible display from the former Real Madrid man does little to endear him to the fans who are already angered by his refusal to sign a new deal. 
Ozil's supporters, rabid as they are, point to the little things he does. Here they were so little as to be microscopic, either that or simply non-existent. 
It was another big game where Ozil has been a non-entity, and it's the game that would hurt fans the most.
Reuse content