Mesut Özil spoke more openly about his Arsenal future than he has ever done before, telling German magazine Kicker that he was happy to stay at the club, as long as Arsène Wenger would do the same.
It was Wenger, after all, who convinced Özil to leave Real Madrid for Arsenal back in 2013. Özil enjoys playing for the team, loves living in London and basks in the trust of his manager. He is happy with his lot, especially given the pay-rise on the way, if he does eventually put pen to paper.
"I am very, very happy at Arsenal and have let the club know that I would be ready to sign a new contract," Özil told Kicker. "The club knows that I am here most of all because of Arsène Wenger. He is the one who signed me and he is the one whose trust I have. The club also knows that I want to be clear on who the manager is going to be."
Wenger has had a two-year extension on the table for some time but has not decided yet if he should sign it. If he does, between now and the end of the season, it seems likely that Özil will do the same.
But while Özil is happy with the direction of the club, Alexis Sanchez does not look quite so satisfied. That was the message of his fury at the end of the 3-3 draw at Bournemouth last Tuesday, or when Arsenal took the lead and then slumped to defeat in those two defining away games at Everton and Manchester City last month. He is hard on his team-mates at the best of times, not afraid to lambast them on the pitch or to make it very clear that they have dropped below his own high standards.
Sanchez, in short, looks less happy at Arsenal than Özil and will require more convincing to keep him at the club. If Özil wants Arsenal to stay on the same path, Sanchez looks like he wants a change of direction, with all that implies.
It is very easy to see a scenario in which Wenger signs, Özil signs and Sanchez leaves this summer. Next year Olivier Giroud and Danny Welbeck will share the striking duties and Arsenal's 2017-18 season will end up like any of the last five, ten or even 12.
Arsenal's potential January transfers
Arsenal's potential January transfers
1/10 In: Miralem Pjanic

The Bosnian attacking-midfielder is a dead ball specialist but it remains to be seen whether Arsenal really need him. One thing that Arsenal do not lack is creativity. Needless to say though, Pjanic is a wonderful player and one that would complement this team. Reports suggest that Arsene Wenger has already lodged a £28m bid.

2/10 In: Ricardo Rodriguez

The Wolfsburg left-back has been regarded as one of the most promising full-backs of his generation and it's a position that Arsenal particularly struggle in. The Swiss international, like Pjanic, excels in dead ball situations but they will face stiff competition from Europe's elite to secure his services.

3/10 In: Steven N'Zonzi

Arsenal have struggled in recent years to get a player nailed down in that defensive midfield position to give security to the defence. The former Stoke City man has been in dazzling form of late and Arsenal are reportedly looking to bring him back to the Premier League for a reported £20m.

4/10 In: Chris Smalling

This deal could be a realistic one, especially if Manchester United sign another defender like long-term target Victor Lindelof. In a season plagued by injury, Smalling could be deemed surplus to requirements if United do end up signing the Swede, and he'd be a good fit in that Arsenal back-line. Though, it is unknown whether Wenger will want to sign another centre-back after shelling out £35m in the summer for Shkodran Mustafi.

5/10 In: Dimitri Payet

The Frenchman was one of the players of the season in the Premeir League last term, but his form has dipped dramatically this season. Despite this, everyone knows his qualities and he'd be a good fit in the Gunners side. West Ham won't be letting him go on the cheap though.

6/10 In: Alexandre Lacazette

It seems as though the Lyon striker is linked with London club at every opportunity, but it never materialises. There is still a possibility that he could be making his way across the English Channel however after he said that he will be considering his options before the season is done. He could be the signing that Arsenal need.

7/10 In: Moussa Dembele

Since signing from Fulham in the summer, the Celtic frontman has struck nine times in 20 matches and has also grabbed five assists. If Wenger brought him to the Emirates it'd be hard to believe that he'd get in the team immediately but could be a good deal for the future.

8/10 Out: Alexis Sanchez

Arsenal's main man has been in superb form this season and potential suitors are swarming from all over Europe to try and prise him away. Juventus have been heavily linked with the Chilean and have the money to bring him back to Serie A.

9/10 Out: Chuba Akpom

Struggling to break in to the Arsenal setup, it looks increasingly likely that Akpom will be loaned out with Ipswich reportedly waiting in the wings. If the Nigerian was to depart on loan this transfer window, it'd be his fourth loan move in just two years.

10/10 Out: Carl Jenkinson

The young full-back is out-of-favour with the French boss and West Ham could be looking to re-sign the young Englishman on loan for the third time. His second stint with the Hammers was cut short due to a cruciate ligament injury.
Although Arsenal fans could wonder if there might be another way. Whether they come fourth or not this year it looks like the team are not about to turn a corner, and are not about to catch up with Liverpool. After so many years of doing the same thing, they look like they are in need of a change. Many fans will think that Sanchez, and not Ozil, is right.
Both are world-class players but Sanchez is more unique, and therefore more valuable to Arsenal. There are quite a few brilliant number 10s out there who could be persuaded to come to Arsenal. Neither Isco nor James Rodriguez is fully settled at Real Madrid, Mario Götze is at Borussia Dortmund and even Julian Draxler, at Paris Saint Germain, might still want to come to England one day. Modern European football creates players with these qualities and they are not hard to find.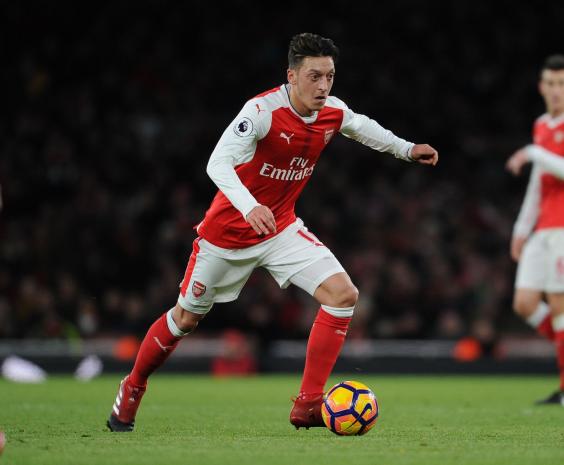 But how many players like Sanchez are there in the modern game? If Arsenal lost him, how would they replace him? Paulo Dybala at Juventus is a fantastic player but does not have Sanchez's same bullish physique. Antoine Griezmann is a second striker, not a lead man, and might be out of Arsenal's price range. If Sanchez goes to PSG, China or wherever else, he will not be replaced like-for-like.
So what if Sanchez, rather than Özil or Wenger is the man that is the most important to keep at Arsenal? What if he is the person whose demands should be met, financially and across the board? It would be expensive but it would be a sound investment in the top player at the top of his game. Even if it means ripping up everything else.
Reuse content