Arsene Wenger has confirmed Arsenal's interest in Riyad Mahrez and suggested the club may bid for the Leicester winger.
The Algerian handed in a transfer request at Leicester earlier in the week, stating that "now is the time to move on to a new experience".
The Foxes failed to secure European football for next season and the "fiercely ambitious" Mahrez has expressed his desire to take on new challenges elsewhere, despite only signing a new contract at the former champions last summer.
Arsenal summer transfer targets
Arsenal summer transfer targets
1/10 Arsenal summer transfer targets

Which players might Arsenal attempt to sign this summer?

2/10 Alexandre Lacazette, Lyon

Last summer saw Arsenal attempt to sign Lacazette, only for Lyon to refuse to sell the "irreplaceable" striker. It is more widely expected that he will depart this summer, however, in a recent interview the player confirmed he will be looking to play Champions League football. With Arsenal unable to qualify for the competition, it seems unlikely he'll be willing to join the side with a number of other clubs closely circling. Murmurs of a £60m price-tag will make him available to a select few teams.

3/10 Arda Turan, Barcelona

It has been strongly rumoured that Arsenal will target the 30-year-old Turkish midfielder this summer. Turan has not had the desired impact at the Camp Nou, registering just three goals and assists in 18 league appearances this term. While this increases the likelihood that Barcelona will offload the playmaker, it also raises questions over whether Arsenal will risk bringing him in. £25m is the touted price, which is certainly within the club's reach.

4/10 Pablo Fornals, Malaga

At just 21, central midfielder Pablo Fornals has impressed domestically with strugglers Malaga this season, so much so that he has already been handed his full debut for Spain by manager Julien Lopetegui. Santi Cazorla's injury ravaged season has cast doubts over his future at Arsenal and at 32 years old, it would be sensible to find a replacement. Arsenal have struggled to identify a reliable midfield partnership since Cazorla's season-ending injury and the pragmatic Fornals, at around £15m, is reported to be a prime target for the club to solve the issue.

5/10 Patrik Schick, Sampdoria

The 21-year-old Czech centre forward has made headlines recently after a series of impressive performances for his club and country. With 13 goals in 31 appearances in Serie A this season, he is not the most prolific of strikers but has proven his impressive technical ability and physical attributes. With Olivier Giroud rumoured to be nearing an exit, 6ft 2in Schick could be viewed as an ideal replacement. Chelsea and Tottenham are also rumoured to be interested, as well as a host of foreign clubs, and there is believed to be a £21 million release clause in the player's contract, meaning the highly rated striker is affordable.

6/10 Ben Chilwell, Leicester

The 20-year-old left-back is a realistic target for the Gunners, who are reportedly long term admirers of the player. Chilwell is capped by England at U18 level and would be an affordable and logical signing. First choice left back Nacho Monreal is now 31 and back up Kieran Gibbs has failed to assert himself at the top level. The potential of selling Gibbs, as well as other home-grown players, also means that Arsenal will need to sign another one to ensure they meet the FA's regulations. His contract runs until 2021 and it is likely he would cost between £5-7m.

7/10 Rick Karsdorp, Feyenoord

Arsenal were said to be keen on a move for the young Dutch back in January until Arsene Wenger shut down the rumours. His words, however, were that although Karsdorp is a 'good player', Arsenal were not 'in the transfer market' in January. With the summer window beckoning, the club look sure to offload Carl Jenkinson and Mathieu Debuchy who have fallen far out of favour. Karsdorp, 22, recently signed an improved contract offer until 2021 - yet this could realistically mean little if Arsenal are serious about signing him.

8/10 Leon Goretzka, Schalke:

The 22-year-old German midfielder is the second Schalke midfielder on this list. When playing at VfL Bochum, Goretzka's head coach Peter Neuruer described him as the "talent of the century". He is a versatile player who is most comfortable deployed as a central midfielder but has played behind the striker and out wide in his time at Schalke. Sporting Director Christian Heidel recently confirmed that he has not yet held decisive talks with Goretzka amid doubts over his future, with just one season remaining on his contract. This situation means he could be snapped up for around £20m.

9/10 Virgil van Dijk, Southampton

With Per Mertesacker nearing the end of his Arsenal career, despite that stellar FA Cup performance, van Dijk will certainly come into consideration. The 25 year-old centre back is highly sought-after in the league and is a realistic target for anybody with money. With Arsenal out of the Champions League, it would be difficult to compete with the likes of Manchester United, Liverpool, Chelsea and Manchester City for both financial and footballing reasons. Southampton are thought to want around £50m for the Dutchman.

10/10 Kylian Mbappe, Monaco

Mbappe is one of the hottest properties in Europe and is perhaps a surprise inclusion on the list. Robert Pires shocked supporters when he declared that he believes his former club 'will sign' the French starlet, coinciding with Wenger's confession that Arsenal are interested in Mbappe. However, the financial muscle and prestige of other clubs will likely prove an issue. Reports that Real Madrid are preparing a bid of more than £80,000,000 will blow the likes of Arsenal out of the water. Don't hold your breath on this one.
Mahrez has since been linked with a move to Arsenal, who made a move to land him last year, and Wenger has not ruled out returning to sign the 26-year-old.
The Frenchman did confirm that no bid has yet been made, though.
"We have not made a bid for him but personally I like the player, yes," Wenger said.
"I think he had a huge impact at Leicester when they won the championship, like everybody else.
"It's been a different season this year but it doesn't take anything away from his qualities.
"Have we made a bid for him? No. Not yet. Not yet means it could happen, it could not happen."
Mahrez won the PFA player of the year award last year after helping the Foxes to the Premier League title, scoring 17 goals.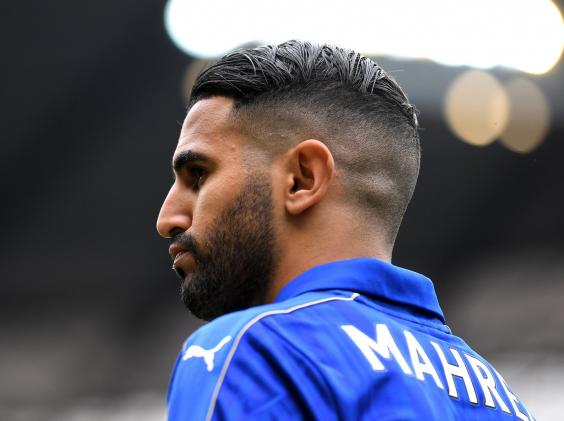 However, the winger failed to deliver across the past season and in a statement released on Tuesday stated his desire to leave.
The Algerian said: "Out of the huge admiration and respect I hold for Leicester City Football Club I wanted to be totally honest and transparent with them and have therefore informed the club that I feel now is the time for me to move on.
"I had a good discussion with the Chairman last summer and we agreed at that time that I would stay for another year in order to help the club as best as I could following the transition of winning the title and in the Champions League.
"However, I am fiercely ambitious and feel that now is the time to move on to a new experience."
After committing Mahrez to a new four-year deal in August, Leicester are now in a strong bargaining position and reports suggest the club have priced the winger at £35m.
Reuse content