David De Gea has signed a new contract with Manchester United to remain at Old Trafford for the next 10 years. Not that he knows it.
The Spaniard has been linked with a move back to his native Spain with Real Madrid determined to sign him as the long-term successor to Iker Casillas. The outgoing European champions are believed to be willing to pay up to 30m euros for the 24-year-old goalkeeper, and hopes of keeping him at United are beginning to fade.
However, that has not stopped one group of internet pranksters from drawing up a mock De Gea contract – and getting the goalkeeper himself to sign it outside of the Theatre of Dreams.
Manchester United 1 Arsenal 1 player ratings
Manchester United 1 Arsenal 1 player ratings
1/24 David De Gea

Didn't have a single shot (either on or off target) to contend with in the first half as Manchester United kept Arsenal at arm's length. Alarmingly for the Old Trafford faithful, his departure felt like it could be his last. 7

GETTY IMAGES

2/24 Antonio Valencia

Galloped down the flank with intent and was prepared to track back when required. 7

GETTY IMAGES

3/24 Chris Smalling

A surprise choice to captain the Red Devils, in Wayne Rooney's absence, the England defender delivered a composed and authoritative display. 7

GETTY IMAGES

4/24 Phil Jones

His head-first 'slide tackle' is likely to be lighting up Twitter news feeds this evening but it was an instance which underlined his determination to succeed at Manchester United. 7

GETTY IMAGES

5/24 Marcos Rojo

Was on hand to denyAaron Ramsey in the second half on one of the rare occasions where Arsenal managed to forge a way through the United backline. 7

GETTY IMAGES

6/24 Daley Blind

An assured and impressive display from one of the more reliable figures at Louis Van Gaal's disposal. 7

GETTY IMAGES

7/24 Juan Mata

The Spaniard likes to pull the strings and, with Marouane Fellaini and Ander Herrera by his side, he was given licence to do just that. 7

GETTY IMAGES

8/24 Ander Herrera

Another excellent and exuberant performance from the little man in midfield. If he wasn't 'dancing' through his Arsenal peers, he was spraying the ball across the pitch to his United colleagues. 8

GETTY IMAGES

9/24 Marouane Fellaini

A quieter outing than usual for the former Everton man. Gave United his typically menacing aerial threat but nothing much else. 6

GETTY IMAGES

10/24 Ashley Young

Never stopped running after lost causes and creating opportunities out of nowhere. If Ashley Young does not receive an England call-up, football pundits across the land should eat their hats. 9

GETTY IMAGES

11/24 Radamel Falcao

He tried, of course he did, but it just isn't going for the Colombian at Old Trafford. Leaving the pitch, to make way for Robin van Persie, he even appeared to wave to the United supporters. 6

GETTY IMAGES

12/24 Off the Bench: Víctor Valdes

Made his quite awaited debut during second half where he replaced an injured David De Gea. Had no responsibility for the equaliser but only played for 20 minutes. 4

GETTY IMAGES

13/24 David Ospina

Like David De Gea at the other end, the Arsenal goalkeeper had precious little to do. He could have read today's copy of the Independent on Sunday on occasions. 7

GETTY IMAGES

14/24 Hector Bellerin

Faster than Theo Walcott, you sometimes wish the former Barcelona man would run at opponents more often. Nonetheless this was an impressive outing. 7

GETTY IMAGES

15/24 Per Mertesacker

Luckily for the German defender, Manchester United don't have too many pacey attackers at their disposal at the moment. His aerial talents continue to play their part. 7

GETTY IMAGES

16/24 Laurent Koscielny

Had to be alert with Ashley Young stalking the flanks with intent but stood firm when crosses were fired his way. 7

GETTY IMAGES

17/24 Nacho Monreal

Often liable to be caught in possession, Nacho Monreal was clearly keen to keep the ball and distribute well this afternoon. As far as that ambition goes, he did well. 7

GETTY IMAGES

18/24 Francis Coquelin

The Frenchman's superb breakthrough season continues. This was a hardly glittering display from the ex-Charlton loanee but he played his part in a valuable away point. 7

GETTY IMAGES

19/24 Santi Cazorla

With his wasp-like attitude to chasing lost causes, the Arsenal playmaker was a menace without doing anything too menacing. His presence is enough to alarm defenders and, on another day, he could have won it for Arsene Wenger. 7

GETTY IMAGES

20/24 Aaron Ramsey

One of Arsenal's best players. The Welshman always knew where his teammates were and has the quality to find them with an unrivalled precision. 8

GETTY IMAGES

21/24 Mesut Ozil

Another quiet outing from Mesut Ozil but, considering his brilliant form of late, we'll forgive him for one off-day. The German toiled with Marouane Fellaini in the centre of the park but often came off second best. 6

GETTY IMAGES

22/24 Alexis Sanchez

If Arsenal were to have a foray into the United half, it would usually have something to do with their Chilean superstar. Alexis Sanchez is the sort of player Arsene Wenger can build a team around. 7

GETTY IMAGES

23/24 Olivier Giroud

It's been an odd season for the Gunners' forward but his head has never dropped and that is most definitely to his testament. 6

GETTY IMAGES

24/24 Best of the Bench: Theo Walcott

Benefited from a very generous slice of luck to drag Arsenal level but nonetheless had to be in the right place at the right time to score his goal. 7

GETTY IMAGES
Following the 1-1 draw with Arsenal on Sunday, a number of United players took to the fans to sign autographs and take pictures after the final home game of the season. But lurking among the adoring supporters were YouTube pranksters CheekySport, and as their video revealed, they had managed to get De Gea to sign the long-term contract.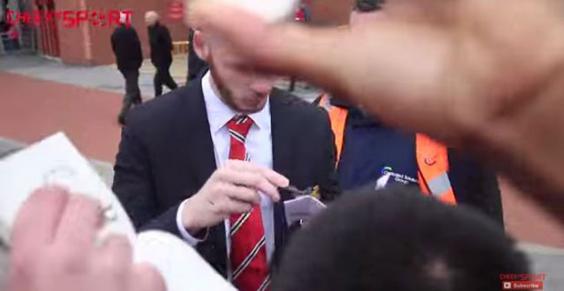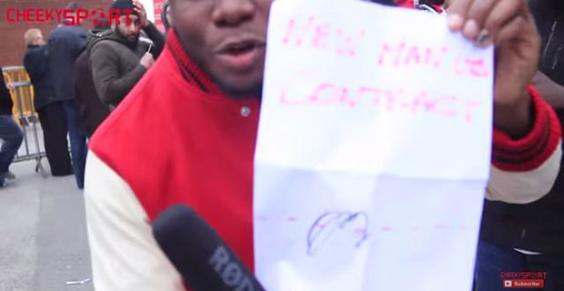 Watch the video below (skip to 3:55 to see the De Gea signing):
The release clause? If United miss out on the Champions League two years running, De Gea is free to leave.
Reuse content