Liverpool boss Brendan Rodgers insists the club did everything they could to keep hold of Luis Suarez prior to his move to Barcelona.
The Catalan giants announced on Wednesday that the controversial Uruguayan was "100 per cent" a Barca player, although the striker was conspicuous by his absence at a press conference due to his four-month FIFA ban from all football-related activity after biting Italian defender Giorgio Chiellini's shoulder at the World Cup.
That incident, the third time in Suarez's career that he had been banned for biting, prompted many in the game to urge Rodgers to get rid of his star forward before the start of the season.
But the Northern Irishman is adamant that the 27-year-old's exit was more down to his desire to move to Catalonia than his antics in Brazil.
Who could Liverpool replace Luis Suarez with?
Who could Liverpool replace Luis Suarez with?
1/3 Wilfried Bony

The top target for Brendan Rodgers if the reports prove true, Bony's work rate off the ball has led many club's including Liverpool and Spurs to take an interest in the Ivorian. Bony scored 16 goals in his debut Premier League season, a record that is not to be taken lightly, but Swansea – or any club that swoops for the £18m-valued striker – will hope he doesn't suffer the famous second-season drop-off.

GETTY IMAGES

2/3 Mario Balotelli

The troublesome Italian didn't enjoy the best of World Cup's – yet still scored against England – and he looks to be on the move once again, just a year after joining AC Milan. Arsenal were linked with the 23-year-old, but the signing of Alexis Sanchez looks to have ended their interest, and Balotelli would be keen on a return to the Premier League.

Getty Images

3/3 Karim Benzema

Benzema has long been linked with a move away from Real Madrid despite his impressive record in Spain. At just 26, it feels like the Frenchman has been around for an eternity, but his best years should be ahead of him. Enjoyed a very good World Cup despite France's quarter-final exit, and while he would be an expensive option costing around £25m-£30m, he would no doubt offer the quality that the departed Suarez did.

Getty Images
"We did everything we could as a club to keep Luis," he told the Liverpool Echo.
"He wanted to go and play in Spain, and unfortunately when a player no longer wants to play for you, we need as a club to look at it.
"It was his decision for him to go, he's gone to Barcelona, a club he wanted to play for and now we'll move on.
"I'm not sure if he would have gone regardless of the World Cup. But I never felt that towards the end of the season, and likewise he never said he would give us another year either. He had obviously signed a new deal so we had that.
Video: Suarez in Barcelona
"But I think we have had great service out of Luis and it's one that we can't worry too much about now, it's done, it's gone and our focus is here.
"There is a lot of work going on with the recruitment team in terms of getting in the right player and I am sure we can identify that.
"This club and many other clubs have shown over a period of time you move on, and believe me, it will be a really exciting season for us."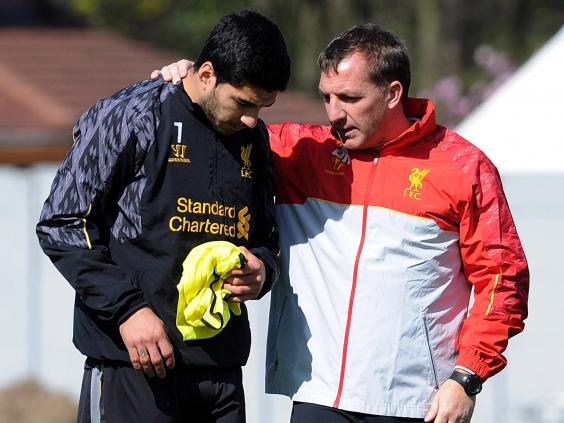 Suarez will be ineligible to play for Barca, who reportedly paid 94million euros (£75million) for his services - or even to train with his team-mates - unless any appeal lodged with the Court of Arbitration for Sport (CAS) is successful.
PA
Reuse content