Chelsea outbid Liverpool for the Basel winger Mohamed Salah with a bigger down payment for the player on Thursday after their Premier League rivals offered a deal worth well over £15m including add-ons.
The west London side tied up the purchase of Basel's 21-year-old midfielder rapidly and were able to announce him as their own before Manchester United could even complete a medical on Juan Mata. The Spaniard remained in London on Thursday night, though United's players have been told they will have to sacrifice their day off today and train at Carrington to help Mata integrate.
Chelsea have secured assurances from Salah that he did not make anti-Israeli remarks, having avoided a pre-match handshake before a game against the Israeli club Maccabi Tel Aviv, six months ago.
Chelsea have checked with the player and his representatives as to the veracity of quotes attributed to him. He denies saying the remarks. With the club owned by Roman Abramovich, who is Jewish, and a supporter of the state of Israel, there is considerable sensitivity around the issue.
Liverpool are understood to have offered a total of £15m for the player – when add-ons are included – and Chelsea have  gone higher to wrest away a player who they wanted in a hurry and whom they could have purchased far more cheaply this summer, when he would have been out of contract. The club were keen to quell any unrest among fans about the sale of Mata and may also try adding Internazionale's Colombian midfielder Fredy Guarin to their ranks.
Related stories...
Inter have harboured hopes that Guarin – who plays right or central midfield – might be sold to United, with Javier Hernandez heading to Italy as part of the same deal. But Chelsea see potential to move opportunistically for an £8m player whom they feel they would be getting on the cheap.
Guarin's swap deal with Mirko Vucinic from Juventus has fallen through and Inter have instructed the 27-year-old's agent to find a club for the player as they need the money. Chelsea view that as an opportunity to sign Guarin at a discount price. Their income from the Mata deal gives them the potential to go into the transfer market without jeopardising their hopes of complying with Uefa's Financial Fair Play rules.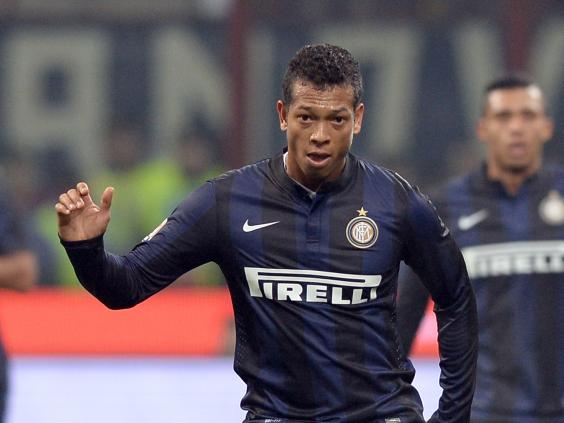 There is no realistic chance of Chelsea securing the services of Everton's highly regarded midfielder Ross Barkley – the player firmly in their sights as a potential successor to Mata – until the summer.  Everton are determined to keep hold of their most promising player as they launch a push to qualify for  Champions League football next season. If they finish in the top four this season and reach the top table of European football it could revolutionise the finances of the club.
Mata is expected in Manchester today, with United relaxed last night about the delay to the deal. They were unable to secure permission from Chelsea for Mata's medical until a deal had been agreed.
Who else might be on their way to Chelsea this month?
Chelsea - January transfer targets
Chelsea - January transfer targets
1/18 Luke Shaw - Another potential long term successor to Ashley Cole, the Southampton youngster has impressed everyone and would surely command a fairly hefty fee given his side's recent success.

2/18 Sami Khedira - Currently out with a long term injury so a January signing looks unlikely but Jose Mourinho is said to be keen to link up with his former charge and the German is just the sort of player Chelsea need in midfield.

3/18 Fredy Guarin - At one point very close to signing with the club, the £15m Colombian, cooled for a while. However, with the move to Juventus, stalling - Chelsea may with the use the funds from Mata's transfer to Man Utd and make another bid.

4/18 Andrea Ranocchia - Chelsea are one of a few Premier League clubs chasing the Inter defender and you can see why, the tall centre-back is a handy player.

5/18 Claudio Marchisio - Juventus' early Champions League exit may leave them a little strapped for cash with Marchisio being mooted as a player to be sold in order to cover the shortfall. Chelsea would no doubt be interested in his midfield class should he become available.

6/18 Eliaquim Mangala - Another defender Mourinho is reportedly very keen on, the Porto centre-back would not come cheap although his club have admitted they would be willing to sell him for the right price. Manchester City have since shown an interest however.

7/18 Luis Suarez - Chelsea need a goal-scoring striker, so who better than the league's top scorer? A very unlikely move for a lot of obvious reasons.

8/18 Diego Costa - The Atletico Madrid man is another striker in red hot form and consequently he has attracted the attention of several Premier League clubs. Mourinho would no doubt enjoy swiping him from under Arsene Wenger's nose.

9/18 Xabi Alonso - Another of Mourinho's former players who would add experience and quality to Chelsea's midfield. Given his age shouldn't prove too expensive.

10/18 Radamel Falcao - Linked with Chelsea for some time, the free-scoring Colombian would cost a fortune to prize away from mega-wealthy Monaco, but the promise of Champions League football would surely be enticing.

Radamel Falcao

Getty Images

11/18 Edinson Cavani - Another big name striker who would cost a lot to sign, this time from PSG, Cavani has again consistently been linked with a move to Stamford Bridge.

12/18 Hulk - Apparently fairly disenchanted at Zenit and another long time Chelsea target, nevertheless would seem an odd purchase given his usual berth is out wide - a position Chelsea have a ludicrous amount of depth in.

13/18 Jackson Martinez - Another Colombian reportedly on Chelsea's radar, the Porto forward has an excellent recent goal record but might represent more of a risk given he would still command a large transfer fee. With Juan Mata now in Chelsea's past, a new midfielder is needed.

14/18 Gonzalo Higuain - Seems unlikely given he only moved to Napoli in the summer, but Italian media are reporting that Chelsea are interested in the Argentine forward. Another of Mourinho's former men.

15/18 Wayne Rooney - Chelsea's main target over the summer and despite apparently being happier at Old Trafford has yet to sign a new contract. Failure to qualify for the Champions League would surely see Rooney depart. Will selling Mata to the champions make them loosen their tough stance on the England man?

16/18 Fabio Coentrao - With questions over Ashley Cole's place in the side, Chelsea are reportedly having a look at another Mourinho old boy, Real Madrid's Coentrao.

17/18 Mario Balotelli - Is a Premier League reunion with Super Mario back on the cards? That's what sections of the Italian press think. It seems unlikely given his previously very poor working relationship with Mourinho but you just never know.

18/18 Alberto Moreno - The young left back is another being touted as Ashley Cole's successor - with a buy out clause of £25m he wouldn't be cheap but then aged 21 he has a long future ahead of him.
Reuse content