It seems appropriate that Mo Farah should bring the competitive curtain down on a tumultuous week in the last race of the IAAF Diamond League in Birmingham shortly before five o'clock today. Countless times, at Olympic, World and European level, Farah has come away with the headlines, the trademark double golds in the 5,000m and 10,000m invariably the climactic moment.
But the headlines this week have been far from positive, as the Londoner hit out at his name being "dragged through the mud" following allegations against both his coach, Alberto Salazar, and his training partner, the American Galen Rupp. Far more important than what time he runs over 1500m at the Alexander Stadium is what lies in store when he flies back to Portland and turns up for work at Nike's Oregon Project under Salazar's tutelage. Since the story broke, athlete and coach have had just one phone conversation, on Friday night, with Salazar giving Farah assurances that he is not guilty of any wrongdoing and that more detailed assurances will follow.
In a press conference on Saturday Farah distanced himself from any wrongdoing in an angry, occasionally emotional, first public appearance since the BBC Panorama investigation on Wednesday night accused Salazar of violating anti-doping rules. Farah repeatedly made the point: "It is about Alberto," adding: "As soon as the race is over I will go back to Portland, I will sit down with him face to face. I will try to get evidence, clear evidence, which shows that these are just allegations."
Although Salazar has told Farah: "I can prove this to you", quite what he can say to allay the athlete's fears about any misdemeanours is unclear, such is the extent of the claims made against Salazar, dating back at least 13 years and from a litany of sources, seven of whom are believed to have contacted the United States Anti-Doping Agency voicing concerns.
Farah, who says that for now he will keep Salazar as his coach despite the potential damage to his own reputation, also needs to speak his close friend Rupp who, it is claimed, has been taking testosterone since the age of 16. The pair's lives are totally intertwined. They train together, play computer games together, andsociualise with their families.
Farah said of Rupp: "I've not seen anything to suggest he's on something, " and also pledged to track down and speak to those featured in the Panorama documentary, notably Steve Magness. Magness was employed as Salazar's No 2 at the Oregon Project in 2011, working closely with Farah until leaving the programme after London 2012.
"The easiest thing for me to do is jump to conclusions," Farah said, "but I'm not going to jump to conclusions. I need to find out. I need to find proof, so yes, I will be talking to people and asking questions, because at the end of the day it's my reputation. Because the headline is not Alberto, it's Mo's coach.
"And it's not fair on kids, my family, people who come out and watch me. At the Olympics, 75,000 people were cheering for me, and I think those 75,000 people should know what's going on. I should at least be honest with them."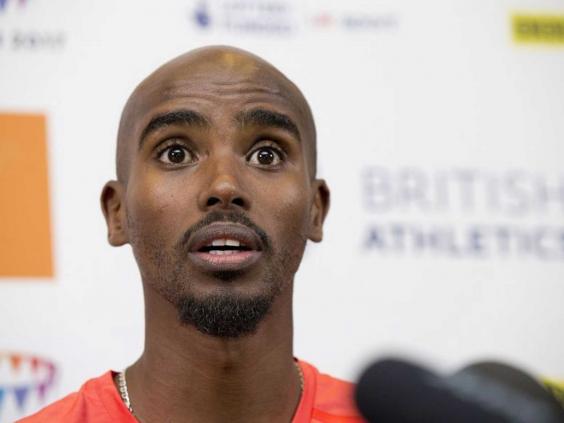 Two of the main accusations against Salazar concern therapeutic use exemption (TUE), by which an athlete is given dispensation to take a banned substance for a legitimate condition, and the abuse of thyroid medication. Kara Goucher, an American long-distance runner formerly trained by Salazar, claimed the man she described as "a father figure" had suggested she take thyroid medication to help lose weight following the birth of her son.
Farah was asked whether he had even taken or been recommended thyroid medication – "No, not at all" – or been granted a TUE: "Yes, I've had one TUE and that was in Park City[Utah, in July 2014]. I collapsed, was taken in an ambulance and put on a drip. That was the only one."
In addition, he has pledged to make all his blood values public to the appropriate bodies to show that he is competing clean. "I want people to know that I have got nothing to hide," he said.
In an initial statement UK Athletics (UKA) said they "had absolutely  concerns over the conduct and coaching methods of Alberto Salazar in relation to Mo Farah, or in his role as an endurance consultant [to UKA]". But they called for further investigation of the allegations by non-British athletes in the Salazar group and announced they will launch a review of their own. UKA's chief executive, Niels de Vos said: "If [our questions] can't be answered to our satisfaction then it would not be appropriate to retain [Salazar] as a consultant nor for Mo Farah to retain him as head coach."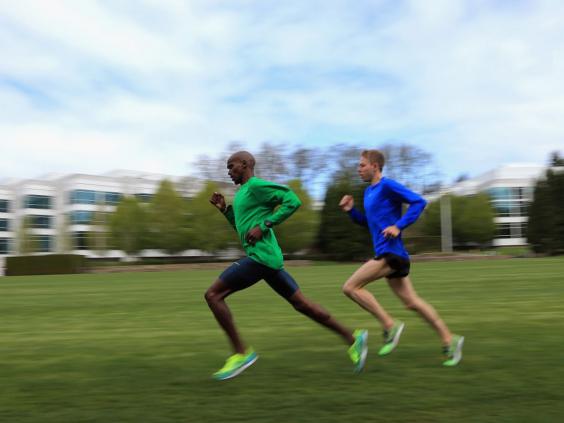 Whether UKA should have recommended Farah to work with Salazar in 2011 in the first place is another matter. because of past questions, relating to his work with the American distance runner Mary Slaney, who failed a drugs test in 1996. Farah said he  he had personally raised this with Salazar, whose response was,"No, he wasn't coaching her at the time she failed a drugs test".
But an interview in the New York Times in May 1996 – just a month before the American Olympic trials at which Slaney showed she had a testosterone-epitestosterone level higher than the 6:1 ratio allowed under international rules at the time – appeared to make made it clear that athlete and coach were still working together. There are also worries about Salazar's involvement with the disagraced cyclist Lance Armstrong, whom he coached for the New York Marathon.
Asked if he still expected strong British support, Farah said: "I hope I do because I haven't done anything. It's about Alberto, allegations made to him. It's not about me. I hope the public can understand that. There are answers needed. I hope I have done that. I hope I have answered what people need to know."
More questions will be asked, more answers required.
Reuse content