The theatrics will end at about 11pm on Saturday night when David Haye and Tony Bellew will get to do what they have been promising for so long and fight each other.
Their seemingly endless roadshow of insults, slaps, pushes, boasts and threats will vanish as their cornermen, backers, lackeys and assorted cheerleaders scramble for a ringside perch at a sold-out O2. Make no mistake this is a terrific fight and will be a spectacle.
During the last 24-hours there has been a transparent attempt to restore some dignity to the often vile slapstick, but it is far too late and on Monday morning, long after the fight has ended, they are both likely to receive their summons to appear before the British Boxing Board of Control to answer a series of questions about their behaviour. However, when the first bell tolls it will finally be about the fight and not the hype.
It could be a technical, thoughtful fight if Bellew's calculations and hopes are right, a fight that he wins by moving, not standing and trying to test Haye's proven power. "It's called boxing; the art of hitting and not getting hit," said Bellew. "I'm in control of my emotions, I will not do anything stupid." The Bellew plan is simple; stay out of trouble for four or five rounds, wait for Haye to run out of steam and then force the former world heavyweight champion to quit.
This honest calculation by Bellew is based on a bit of history and a bit of hope, some insight and a lot belief in his own ability to survive the inevitable early onslaught. He is not foolish, just extremely optimistic and it looked like there was a moment on Thursday when Haye suddenly realised that Bellew has no respect for his ability. Haye has never flinched during the verbal assaults, but creased his brow when he realised his talent was being questioned.
"What if I'm better now than I have ever been?" said Haye. "People can hope I'm going to fade, but what if I'm stronger, faster and I don't fade. Boxing is never that simple, there is always a twist." There is nothing wrong with Bellew's calculation, it does make some sense, but Haye has not faded in a fight since the first of his two losses and that was in 2004.
The Haye plan is far more destructive and he has spoken since last October of having the power to end the fight at any point if he can catch Bellew clean. Bellew is aware that Haye can take him out with just one punch and his concern is genuine. It is a fight of risks; Bellew will have to take many to win and Haye might get desperate looking for a finish if it goes more than three rounds. The great unknown in this fight will be what happens if there is a fourth and fifth round and that, not the creative swearing, is the attraction.
Joshua vs Martin - the boxing world predicts the winner
Joshua vs Martin - the boxing world predicts the winner
1/8 Carl Froch

"I remember when I'd won the WBC world title, my first defence was against Jermain Taylor out in America. That was a risk and this is a risk for Joshua. I do think it will pay off and he will become world champion, but don't think for a minute this will be easy."

Getty Images

2/8 Audley Harrison

"I just think Anthony Joshua has got that George Foreman, Frank Bruno brutish strength - that ingredient that is hard to hold him off. Charles Martin will be gallant, brave and it's a great fight potentially" said Harrison. "But I can't see him keeping back the steam train that is Anthony Joshua."

3/8 Frank Warren

"I think Anthony Joshua will beat Martin. It's a shame the heavyweight title got fragmented, but it's an opportunity for Joshua. You look at that fight and I think to myself Martin two fights ago was fighting Tom Dallas. Joshua a couple of fights ago was fighting Gary Cornish. You've got to look at the levels and I think he will have too much all round for him."

4/8 Peter Fury (Tyson Fury's uncle and trainer)

"I think differently. I think it's a hard fight for AJ. It's not an easy [fight] for him. He needs full credit. He's had 15 fights, is very raw still and has a lot to learn as far as I can see. The potential is there. He can definitely box, he can fight. He's a talent but like I said, I think it's early. I'd have to favour to Charles Martin, to be honest. This is boxing and anything can happen."

5/8 David Haye

"Charles Martin is not the ideal opponent for Anthony but it is the gateway towards Anthony becoming a world star and very rich."

6/8 Dereck Chisora

"Personally, I see AJ taking this fight a long distance and keeping himself composed. Then in the later rounds he'll take him out."

7/8 Barry McGuigan

"It's a hell of a gamble with 15 fights under his belt. I expected Joshua to get Dillian Whyte out of there in the first or second round in December last year but he made a real meal of that fight."

8/8 Anthony Joshua

"He will get sparked out, this fight is not going 12 rounds. I'm going to win. This is my destiny. He is just holding the belt."
In Bellew's corner is a man called Dave Coldwell, who once worked for Haye's old promotional company and was involved on some of Haye's biggest fight nights as part of the corner team. Coldwell has been brutal in his assessment of his former boss and has basically accused him of cowardice for his perceived lack of desire in the fight with Wladimir Klitschko in 2011.
"In that fight, when he knew he needed a knockout to win, he was not prepared to put himself in a position where he would get knocked out," said Coldwell, who Haye refers to as a "little rat". "If you are losing every round of a massive fight and you don't change, you might as well give it everything you have. He never did, Tony will." In that fight Haye was out on his feet and totally unresponsive in the corner for several rounds and the Coldwell comment is harsh, but it will be lost behind a wall of scum chants and promises of personal injury.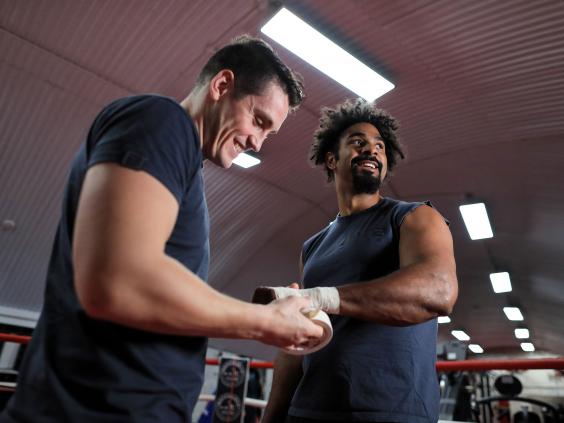 "Just make sure that your little rat doesn't pull you out in the corner," Haye said, but did make a strange confession about the Kiltshcko fight when he added: "Everybody has limits, I'm different now." The Klitschko fight was an odd, muted affair and Haye was suckered into revealing that he had an injured toe during the post-fight conference that was more savage than the fight. Klitschko is three inches taller than Bellew and about three stone heavier; there is no pattern for tonight's brawl and both their plans are sound. It could end inside the opening round.
Reuse content