It was a small hotel banquet room in Glasgow, dozens of drunk, topless fans were smeared in blood and exchanging bottles in the air as the paramedics struggled to get the stricken boxer from the ring to the ambulance.
The boxer died the next day, the news came the following morning and the inquests were as savage as the night had turned when Jimmy Murray lost his fight for the British bantamweight title, and then his life during a dramatic weekend for Scottish boxing. It was October 1995, a dark moment for British boxing.
Murray's death was at a time of genuine crisis in the boxing business, the grisly final moments and the incoherence of the sudden, sickening and bloody fighting in the venue added a footnote of horror to the list of the injured and the dead: in 1991 Michael Watson was operated on after losing to Chris Eubank, in 1994 Bradley Stone died after losing a British title fight and in early 1995 Gerald McClellan required emergency surgery to remove a massive blood clot from the surface of his brain. 
Last Thursday at another anonymous hotel in Glasgow the body of Mike Towell, who was fighting an eliminator for the British welterweight title, was secured on a stretcher, his head firmly locked in place, his air ways open and he was then rushed from the ring on a stretcher and taken to hospital. He died the following day and the mourning and recriminations started the moment his death was announced.
There is no fault, no blame, no fingers that can be pointed and that is because the British Boxing Board of Control's safety regulations are the best in the world; they follow a set of medical rules that have been meticulously crafted from the few deaths and the unimaginable suffering by a long list of fallen British fighters during the last 25 years. "It's nice to know I have saved boxers from death," said Michael Watson on the 20th anniversary of his fight with Eubank, when a catalogue of mishaps should have claimed Watson's life. Nobody in the neurosurgery world has any idea how he lived and how he lives a life now, but thankfully rules introduced when he was still in a coma work. The emergency medical services for Watson were similar to those at a Sunday fete, that changed and the trauma paramedics were instantly introduced and they have, I reckon, saved 16 boxers since that night at White Hart Lane. Watson had his day in court and won.
Watson had lost just three times in 29 fights before he was stopped in the 12th round, Towell was unbeaten in 12 fights, Stone had lost just once in 19 fights, Murray had lost just once in 16 fights and Michael Norgrove, who died in 2013, was unbeaten. There is no detectable science available to doctors or boxing experts that can predict a head trauma and there are boxers with awful records that sail through long and punishing careers with a smile.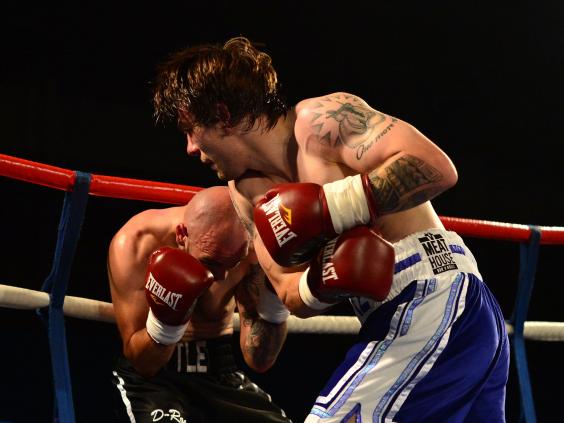 The boxers left behind, the winners on the night, react in different ways and seldom fully recover. The man that killed Bradley Stone was called Richie Wenton and in his next fight he experienced flashbacks and was stopped in seven rounds of a bizarre affair. "I kept seeing Brad, I kept seeing him in the other corner," he told me late that night in Cardiff. Eubank was accused of losing his ring nastiness after the Watson fight, but I believe that was selective by people trying to sugar coat the facts and find a positive from such a hellish outcome; Eubank remained a vicious fighter long after sending Watson to the operating theatre. I make no apologies when I write about brain injuries and death in boxing and it is futile to list sports where there are more deaths. Boxing is my business, which is the simple truth, and having been in too many intensive care units I understand how it works.
In Glasgow on Saturday night for another night of boxing, in fact for an eliminator for the British welterweight title, I looked long and hard at the crowd as they observed the traditional ten bell salute that all dead boxers receive. It was a grim spectacle and minutes later the first bell sounded and the boxing continued. It does that, the boxing continues, even when the memory of Murray's mother grabbing her son's leg and wailing as his body was taken from the ring on a stretcher is as fresh now as it was on the 13th October, 1995. As I said, I make no apologies for this brutal, beautiful and frustrating game. 

Reuse content