It was, depending on your interest in AC72 wing-sail catamaran racing, one of the great comebacks by inspirational athletes against all odds... or a victory of money over sporting spirit masterminded by a billionaire hobbyist on a playing field as level as the Atlantic in a hurricane.
Either way, the Oracle team's last-gasp victory in the America's Cup, still the most prestigious event in sailing, has elevated its master tactician Sir Ben Ainslie to a new level of personal fame and riches.
Ainslie, 36, was the weedy kid from Cornwall who defied playground bullies to win his first of five consecutive Olympic medals, the last four gold, while still in his teens. With his heavyweight's physique and bearded, billboard-ready face, he is known on dry land for his genial demeanour. Yet when he steps into a boat, he becomes an aggressive and ruthless water-borne warrior.
Ainslie was only called to the helm of Oracle's £60m flying machine when the team, bankrolled by computing mogul Larry Ellison, trailed its New Zealand rival by four races to one. He replaced veteran American John Kostecki in what the New York Times called "a move not unlike a football team changing quarterbacks – or, perhaps, the coach – at half-time of a one-sided game, looking for a spark."
For teams searching for a spark, Ainslie is a human angle-grinder. Yet his elevation did not bring instant success. From 4-1 down, Team New Zealand stretched their lead to 8-1, only to see an Ainslie-inspired US crew pip them to the prize in the final contest in San Francisco Bay on Wednesday.
The comeback is an Ainslie speciality. Carrying the weight of national expectation at the Olympics last year, he had lost the first six of the 11 races in the Finn regatta to Danish sailor Jonas Hogh-Christensen. Due to the way the scoring system works he was still alive in the race for gold, but only just. As he began his fightback in the waters off Weymouth, he accused his rival and a Dutch sailor of ganging up on him, later delivering one of the quotes of 2012. "They've made a mistake because I'm angry," he said. "And they didn't want to make me angry."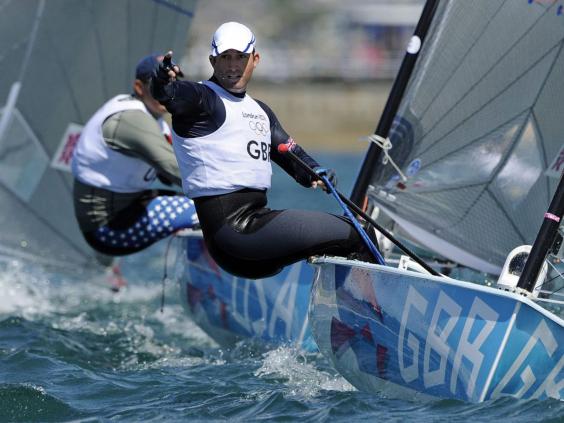 It was an almost pantomime threat, but Ainslie's steely eyes revealed his genuine fury and the anger seemed to galvanise him to eventually overtake his rivals. An unlikely winning streak earned him a fourth consecutive gold medal; only Sir Bradley Wiggins, Sir Steve Redgrave and Sir Chris Hoy have more British Olympic medals than Ainslie, who joined their ranks last January with a knighthood. In the America's Cup, he is the first British sailor to stand on a winning yacht for 110 years.
Ainslie quickly dedicated his latest win to the memory of Andrew Simpson, one of his best friends and a fellow Olympic champion who was killed in May when his catamaran capsized on the same San Francisco race course. Ainslie, who witnessed the incident, later admitted the shock had caused him to question his future in a sport that had already consumed his life and ravaged his body. 
Ainslie traces his fighting spirit to his school days in Cornwall. He is the son of a sailing-mad father, Rod Ainslie, who captained a yacht in the first Whitbread Round The World Race in 1973 and later sold the family home to finance his son's first bid for Olympic glory. Ainslie, who has a sister, Fleur, has credited his father and mother, Sue, with a balanced upbringing free from the pressures that might have put him off the sport.
In Truro, Ainslie's classmates were less supportive, picking on him throughout his early teens when an over-sensitivity to light caused his face to blister and break out in a rash.
"They never gave me a break," he wrote in his 2009 autobiography, Close to the Wind. "It made me ferociously determined to be good at something to prove to myself that I could be a success and that there was more to life than school and being picked on."
Ainslie found escape in the freedom of one-man dinghy sailing and soon became an accomplished racer with a hatred of losing. Aged 18, he won the Youth World Sailing Championships and realised he could mix it with the best. Just a year later he became the youngest British sailor to be selected for an Olympic squad – and won silver in the Laser class in Atlanta in 1996.
His take-no-prisoners approach  earned him global notoriety at the 2000 Games in Sydney when he returned to the Olympics a bulkier, manlier, and hungrier competitor. To win gold he would need to ensure the great Brazilian sailor Robert Scheidt, who beat him to gold four years earlier, finished outside the top 20. So he took what appeared to be a less sporting route to victory, blocking the Brazilian  and forcing a series of mistakes that eventually saw him disqualified. His tactics displeased, among others, the gentleman four-minute mile runner, Sir Roger Bannister, while Australian police also told him he had received death threats from Brazil and offered him protection during the medals ceremony.
"Critics like [Bannister] don't seem to understand the nature of the sport or the rules," said Ainslie in his book. "Nor do they seem to understand how hard it is to pull off something like that."
Gold number two came in Athens in 2004, when Ainslie was a man transformed, bursting out of his life jacket after gaining almost three stone in muscle on a diet of steak and protein shakes. He needed it to compete in the more physically demanding Finn class, in which he excelled, winning the first of three golds in the discipline. In Beijing in 2008, a French sailor who won bronze said Ainslie was "like Mike Tyson at his peak", while a reporter from the Chinese state news agency asked: "Are you Superman or from another planet?" Ainslie smiled before replying: "As far as I know, I'm human."
Ainslie's temper has occasionally rocked his own boat. At the World Championships in Perth, Australia, in 2011, he felt he had been impeded by a media dinghy. So he attempted to hijack it, grappling with its crew before diving into the water and returning to his own vessel. He was disqualified and feared being barred from the Olympics last year. The Royal Yachting Association thought better than to exclude its biggest star, and took no further action.
Despite occupying the heights of Britain's sporting hall of fame, Ainslie has struggled to win as much popularity or media coverage as the country's cyclists, swimmers or heroes of the track and field. He won two per cent of votes for the BBC Sports Personality of the Year in December, finishing ninth out of 12 nominees behind Sir Bradley Wiggins, albeit after a year of unprecendented national success. In previous, less glittering Olympic years in which he also took a gold medal, he still could not trouble the top three, blaming his sport's continued niche status.
"The profile of sailing has actually come a huge way in the last 10 years, with Olympic successes and people like Ellen MacArthur who have gone out and done fantastic things in offshore racing," he said before the London Games. "Sometimes it's a bit frustrating, for example at the Beijing Olympic Games sailing was actually more successful than cycling in terms of the number of medals available, but all the media concentrated on how amazing cycling was."
But within the limits of a sport that  struggles to enthrall the casual television viewer, Ainslie is a giant, and has scored lucrative sponsorship deals with JP Morgan and Volvo.
Home today is the Hampshire coast, where he leads a simple life in a circle of friends, country pubs and the Lymington Yacht Club. Those who've met him say he's down-to-earth, thoughtful, funny – a shadow of the fearsome tactician he becomes while at sea. He once named Newsnight as the thing he misses most while away from home. Last year, he was honoured with the opening leg of the Olympic torch relay from Land's End. Later, outside the Team GB kit room at Loughborough University, where athletes received their outfits for the parade during the 2012 opening ceremony, he stepped out to talk to journalists anxious to discover their top-secret designs. "We're going to look like an Elvis Presley tribute band," he told them (he was right).
Ainslie rarely talks about romance – a girlfriend in Switzerland gave up on him for his obsession with sailing – dedicating his life and career to Rita, the name he has given to his successive yachts. Now retired from Olympic sailing – the strain on his back was too much – he may yet get to christen a much larger Rita. He had joined the Oracle team this year with a view to racing his own America's Cup vessel, a childhood ambition that paralleled his quest for Olympic gold. If he fails to realise his second dream – and few could doubt a man with the determination of Sir Ben Ainslie – it won't be without a fight.
Reuse content