The economic ripples of the golf tournament were trickling down across the railroad tracks to the other side of Augusta's great class and race divide on Saturday afternoon, though not in a way to make anyone feel proud.
While the white people were being thrilled by the tightening tension of a golden afternoon, Cynthia Hayward was just glad to be back under the shade of her mother's veranda after another long shift at the Walton Quality Inn and 10 hours of the $7.25 (£4.80) per-hour minimum wage. "Yeah, there's more work just now because of the tournament an' all," she says, still in starched green hotel uniform and "Cynthia" name badge, but she wears a weariness as well as a smile. She has come back home to live here, with her 80-year-old mother, in one of the dead-end stretches off Old Savannah street, perhaps two miles from the Augusta National, and though the bright silver adornment on the front of the clapboard house tells you there's pride, it's a most desperate and unlovely place.
The roof of the rented property is disintegrating and the paint peeling but it's something that the building even still stands. All but three houses on this street have given up the ghost. They're collapsed or fire gutted and empty: abandoned to their fate. "People are dying round here. She died, and he died, and he died," Hayward says, nodding at the gutted remnants of three of the neighbouring structures which are succumbing to the collapse. "I had to come back here because things happened but I can't earn enough money to move on."  They say around here that the municipal authorities are waiting for the decay to become so endemic that the owners will give the places away and a rebuild can start. A few pockets of new development nearby bear out that notion, though this Augusta – the city out of camera shot - is Detroit by any other name.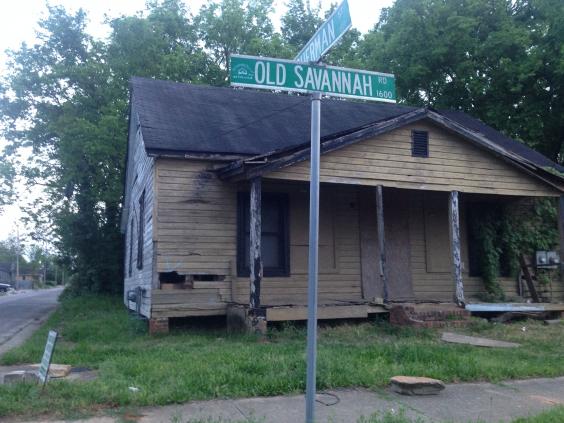 So don't expect much talk of golf, when the Washington Road has taken you down beyond the giant images of Phil Mickelson promoting Rolex watches. "It's not our game," says Esau Butler Jnr, as he leaves Hayward's place and heads off to nowhere in particular. "It's not the black man's game. We're baseball, boxing, football. It don't seem our natural thing." Tiger Woods, the only Afro-American playing the Masters, is flourishing on the back nine as we speak but they're not following him here. "Guys hitting a ball with sticks. Not our thing," says Butler.
It's the same over on Broad Street, where the young men sitting in the cool bar with the shutters down are fixated on football and music videos. There's suddenly a flash of footage of Jack Nicklaus at Augusta – it looks like early 1980s – but no-one's looking. "Not our game," says Al Bland. "There are places to play out here but they're high prices. You got to buy all the equipment. Black guys like me stick to the contact sports. We like what we like."
Masters 2015 in pictures
Masters 2015 in pictures
1/37 Masters Final Round

2016 Ryder Cup captain Darren Clarke takes a shot from the second hole

Getty Images

2/37 Masters Final Round

Paul Casey smiles after an eagle on the second

Getty Images

3/37 Masters Final Round

Jordan Spieth looked to maintain his gap to Justin Rose and the rest of the pack

Getty Images

4/37 Masters Final Round

Tiger Woods and Rory McIlroy fell out of contention on the final day early on

Getty Images

5/37 Masters Final Round

Tiger Woods appeared to hurt his hand when he hit a tree root on the ninth

Getty Images

6/37 Masters Final Round

Rose got into trouble at the fifth and dropped a shot

Getty Images

7/37 Masters Final Round

Phil Mickelson was not able to make in-roads in his front-nine to end his hopes of victory

Getty Images

8/37 Masters Final Round

Justin Rose opened his fourth round with two birdies

Getty Images

9/37 Masters Third Round

Justin Spieth calls out to fans after hitting a wayward drive on 14

Getty Images

10/37 Masters Third Round

Justin Rose reeled off five birdies on the back-nine to put himself in the final pairing come Sunday

Getty Images

11/37 Masters Third Round

Phil Mickelson celebrates after carding a third round 67 to move into contention

Getty Images

12/37 Masters Third Round

Jordan Spieth remained calm while others were catching him and stretched his lead with a birdie at 9

Getty Images

13/37 Masters Third Round

Jordan Spieth reacts after missing a par-putt at the fourth

Getty Images

14/37 Masters Third Round

Rory McIlroy carded a very impressive 68 but was unhappy to drop a shot on the 18th

Getty Images

15/37 Masters Third Round

Tiger Woods rolled back the years as he reeled off five birdies in his third round

Getty Images

16/37 Masters Third Round

Phil Mickelson was an early mover as he birdied two, three and four

Getty Images

17/37 Masters First Round

Masters overnight leader Jordan Spieth carded an impressive eight-under 64

Getty Images

18/37 Masters First Round

Justin Rose carded a 67 to share second place after the opening round

Getty Images

19/37 Masters First Round

England's Justin Rose enjoys sinking a birdie putt on the 10th during his brilliant five-under-par first round of the Masters at Augusta

Getty Images

20/37 Masters First Round

Rory McIlroy didn't have the start many expected as he carded a one-under 71

Getty Images

21/37 Masters First Round

Tiger Woods grimaces as he shanks his tee shot on the seventh

Getty Images

22/37 Masters First Round

Twice winner Tom Watson produced a one-under-par 71

AP

23/37 Masters First Round

Korean amateur Gunn Yang outdrove Watson at the first but struggled thereafter

EPA

24/37 Masters First Round

Gary Woodland challenged the front-runners early

Getty Images

25/37 Masters First Round

Bubba Watson tees off at the first yesterday to get his Masters defence under way at Augusta National

Reuters

26/37 Masters First Round

A shot of the Augusta National course on the opening day of the 79th Masters

Getty Images

27/37 Masters Second Round

Fans arrive on Day Two

28/37 Masters Second Round

Ernie Els started the morning well

29/37 Masters Second Round

Louis Oosthuizen made a blazing start to the day

30/37 Masters Second Round

Hunter Mahan chips out of a bunker

31/37 Masters Second Round

Tiger Woods went under par for the first time with back to back birdies

32/37 Masters Second Round

A bogey on the 11th hole saw Jason Day drop to -3

33/37 Masters Second Round

Runaway leader Jordan Spieth

34/37 Masters Second Round

Rory McIlroy reacts to a poor shot on the fifth

GETTY IMAGES

35/37 Masters Second Round

Dustin Johnson set a new Masters record with three eagles in a round

36/37 Masters Second Round

The 21-year-old American Spieth's total of 130 shots is the lowest ever set at the halfway stage at the Masters.

37/37 Masters Second Round

Tiger Woods' partner Lindsey Vonn at Augusta

AP
These streets are not entirely a golf desert. There's 23-year-old Arnold Taylor, waiting in the shade for his next transport job, driving people in and out of the National. He's a student at Georgia Regents University and plays there, professes an interest, though he's disinclined to watch the Masters on free TV. There are no visual references to the Masters on Broad Street, beyond the 'golf traffic' road signs pointing up the hill.
The elite, mono-racial nature of the tournament does not seem to worry the National. When the club's chairman, Billy Payne, gave his annual address last Wednesday, in a room flanked by  50 all-white National committee members and faced by maybe 100 all-white journalists, he talked of the  "growing emphasis on our efforts to help others grow the game".
The examples he cited were the sixth Asia Pacific Amateur Championship – "that important region of the world" – and the inaugural Latin America Amateur Championship in Buenos Aires. No notion that this immensely wealthy club might actually buy up a tract of land – as it periodically does when extending the free car parking – and spend some of its lavish TV income on the creation of a subsidised course, engendering a love of golf across the lines.
It's people like Carl Jackson and his brother, Jimmy Wright, who are taking up that mission. Jackson is the caddie whose 53 years at the Masters ended last week with his partner Ben Crenshaw's retirement from the competition. The charity taking his name – Carl's Kids – has been trying since 2009 to draw those from Old Savannah and other places on the wrong side of the tracks into golf and give them a sense of value and purpose. "The kids say, 'Oh no, I can't afford that'," says Wright. "'I'll never have the tools and the means to play golf.' But there's a gap in their lives and we think golf can fill it."
 Jackson and Wright are hoping that the National will see the charity as a vehicle for "taking away the negative stigma" and do something about the fact that the Masters "is more about itself than others". Making an individual donation to the charity is easy, through the website carlskids.com, but less so is getting the sport's big sponsors – and the National – to do the same. "We are still hoping that the National will embrace what we're doing," Wright says.
Hayward won't be looking out for an announcement. "Golf's not part of the way of life," she says. "I was at school at Barrett Elementary near the National but they never talked about it at school and we never played it. We need some place for the kids to play and make them want to call this place home."
Reuse content